Movement Detroit may end at midnight each night, but the party doesn't stop there – so here are six afterparties you shouldn't miss!
---
After a two-year pandemic hiatus, Movement Detroit is back for another round at Hart Plaza. Over the course of Memorial Day Weekend, the festival will feature some of the best artists in the house and techno scene as they celebrate dance music once again. But while the music stops at 12am, the afterparties take over the local clubs to keep the party going deeper into the night.
There are an enormous number of events that one could attend throughout the weekend – and if you've been to Movement Detroit before, you know that you'll often find the most memorable experiences at these intimate shows. To help guide you on your way, we've compiled a list of our top afters (and one pre-party) to help you choose.
Be sure to secure your tickets if you haven't already done so as many of these will sell out. (Some already have!) You can find a full list of official Movement after parties on the festival's website.
Six Can't-Miss Afterparties During Movement Detroit 2022
---
Desert Hearts Official Movement Pre-Party at the Magic Stick
Lineup: Mikey Lion, Lee Reynolds, Marbs, Porky, Dantiez Saunderson, King Saaidi, InsidethemindofJohnny
Date: Friday, May 27, 2022 @ 9:00 PM
Venue: Magic Stick, 4120 Woodward Ave., Detroit, MI 48201
Age Restriction: 21+
Cost: $25 – $35
Tickets: Purchase Here
Facebook Event Page: RSVP Here
---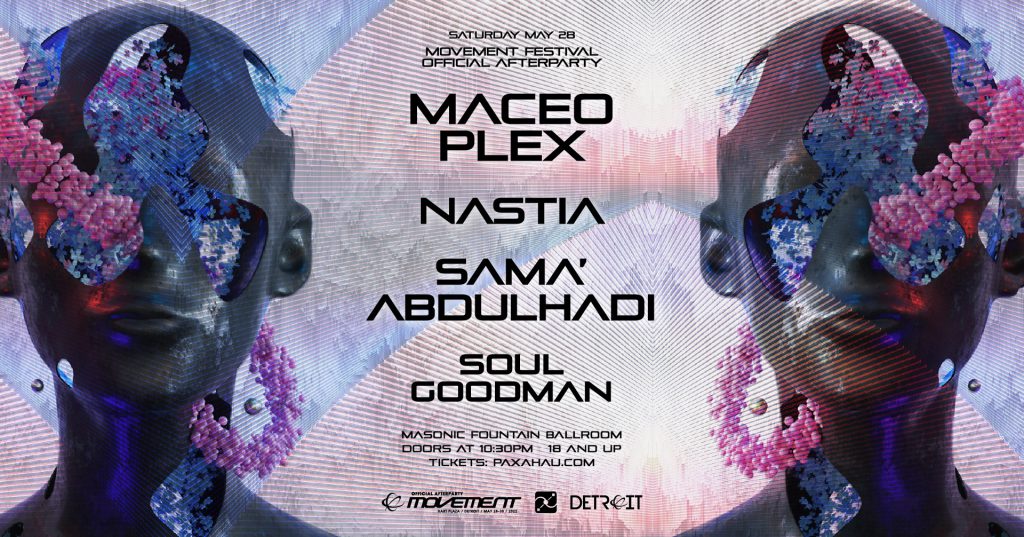 Maceo Plex, Nastia, Sama' Abdulhadi, Soul Goodman – Official Movement Afterparty
Lineup: Maceo Plex, Nastia, Sama' Abdulhadi, Soul Goodman
Date: Saturday, May 28, 2022 @ 10:30 PM
Venue: The Masonic Temple Fountain Ballroom, 500 Temple St, Detroit, MI 48201
Age Restriction: 18+
Cost: $45 – $50
Tickets: Purchase Here
Facebook Event Page: RSVP Here
---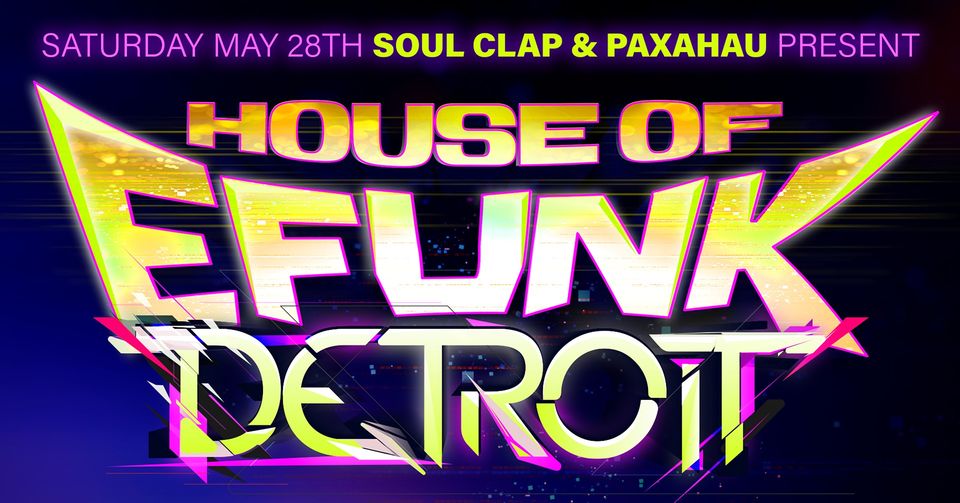 House of EFUNK Movement Afterparty
Lineup: Ash Lauryn B2B Ladymonix, Aux 88 (live), Beige, Byron the Aquarius, Derrick Carter, Kush Jones, Lauren Flax, Mike Servito B2B Derek Plaslaiko, Rochelle Jordan (live), Shaun J Wright, Soul Clap, ????? B2B Soul Clap, Stacey Hotwaxx Hale, Stacey Pullen, Todd Edwards, Toribio
Date: Saturday, May 28, 2022 @ 11:00 PM
Venue: TV Lounge, 2548 Grand River Ave, Detroit, MI 48201
Age Restriction: 21+
Cost: $50
Tickets: Purchase Here
Facebook Event Page: RSVP Here
---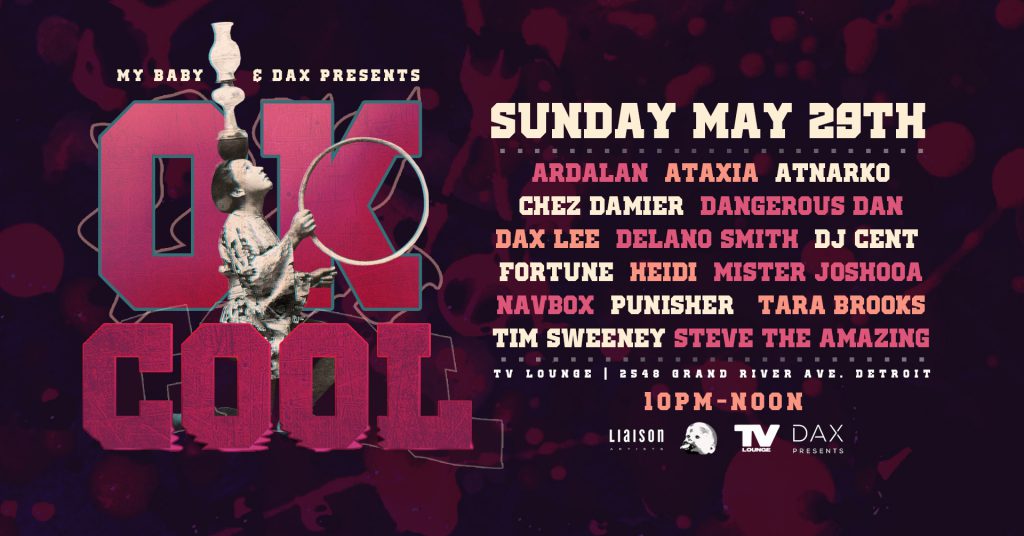 OK Cool Movement Afterparty
Lineup: Ardalan, Ataxia, Atnarko, Chez Damier, Dangerous Dan, Dax Lee, Delano Smith, DJ Cent, Fortune, Heidi, Mister Joshooa, Navbox, Punisher, Tara Brooks, Tim Sweeney
Date: Sun, May 29, 2022 @ 10:00 PM
Venue: TV Lounge, 2548 Grand River Ave, Detroit, MI 48201
Age Restriction: 21+
Cost: $40 – $50
Tickets: Purchase Here
---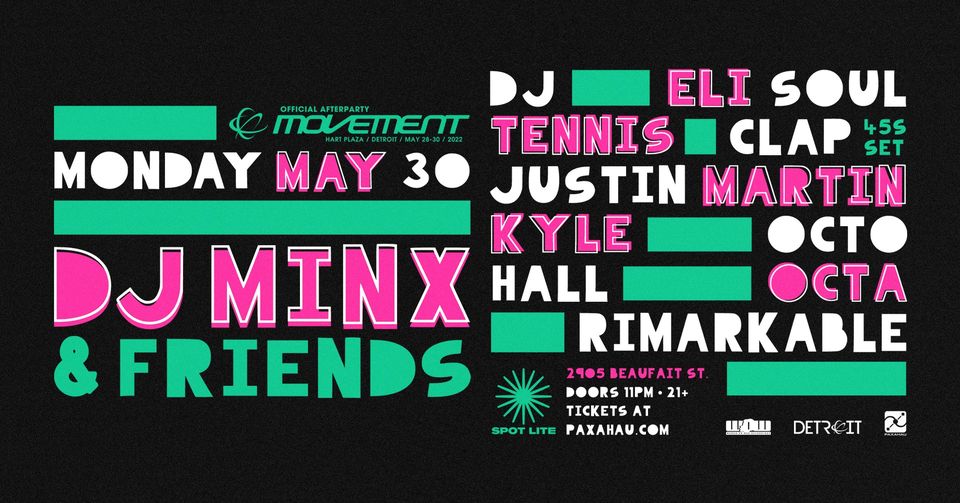 DJ Minx and Friends Official Movement Afterparty at Spot Lite
Lineup: DJ Minx, DJ Tennis, Eli Soul Clap (45s Set), Justin Martin, Kyle Hall, Octo Octa, Rimarkable
Date: Monday, May 30, 2022 @ 11:00 PM
Venue: Spot Lite, 2905 Beaufait St #4, Detroit, MI 48207
Age Restriction: 21+
Cost: $35 – $40
Tickets: Purchase Here
Facebook Event Page: RSVP Here
---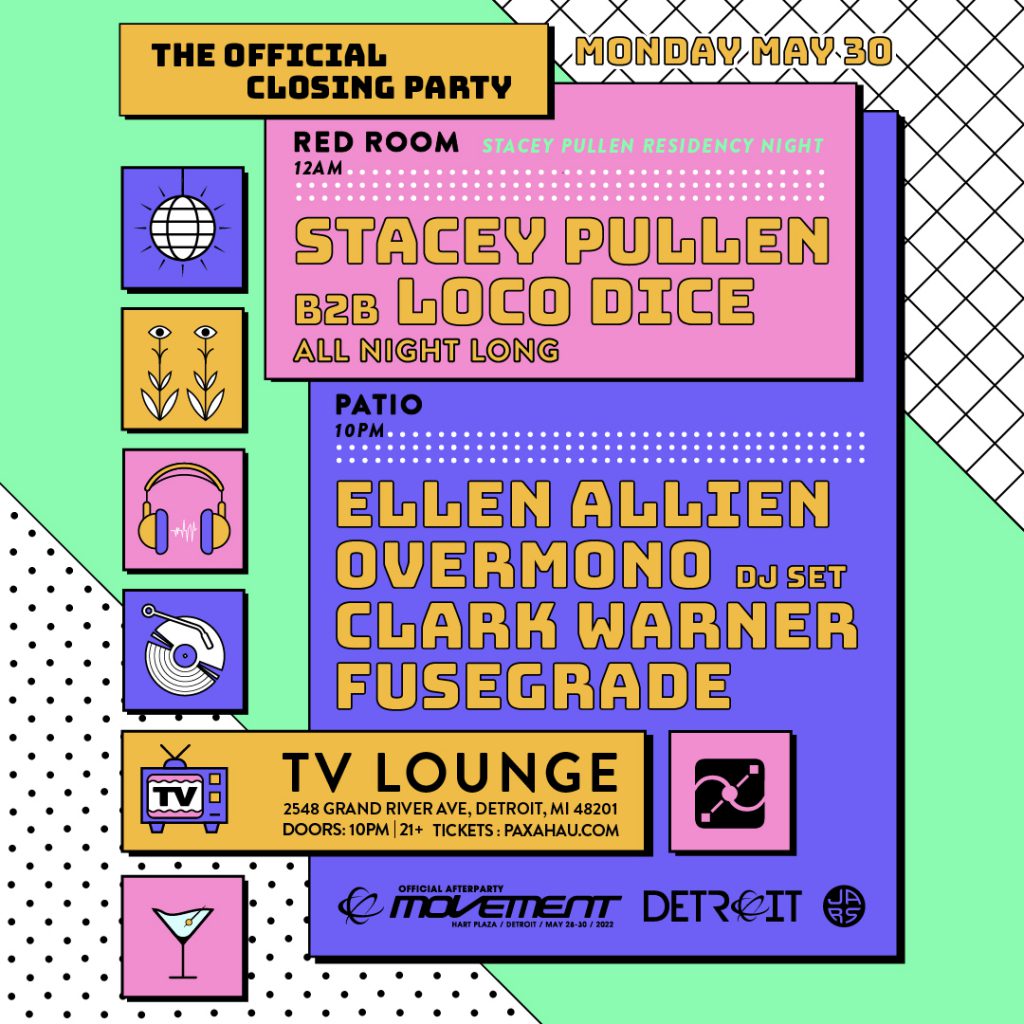 Movement Detroit 2022 Official Closing Party
Lineup: Stacey Pullen b2b Loco Dice (All Night Long), Ellen Allien, Overmono (DJ Set), Clark Warner, Fusegrade
Date: Monday, May 30, 2022 @ 10:00 PM
Venue: TV Lounge, 2548 Grand River Ave, Detroit, MI 48201
Age Restriction: 21+
Cost: $40
Tickets: Purchase Here
---
Follow Movement Music Festival on Social Media