Jauz is set to embark on the Bite This! Block Party Tour this summer and is bringing a plethora of talented artists along for the ride.
---
Following a surprise performance at Coachella's DoLaB stage and recently released single, "PPL," it only made sense for renowned DJ and producer Jauz to announce the next hottest thing for the summer. To commemorate five years of Bite This!, the label head is hitting the road with a 21-date Bite This! Block Party Tour and is bringing some friends to join him along the way.
This curated tour will showcase some of Jauz's favorite rising talents in the dance music scene and, in Ghastly's case, his new project Ghengar. Joining the Shark Squad leader this summer are some fantastic DJs and producers including Barilan, Moore Kismet, Habstrakt, Holy Goof, Space Laces, and the Mexican Queen of Bass Jessica Audiffred. Other rising talented artists who are set to join in on the fun range in style as well from Kittens and Brody to Skepsis and Vampa. And there are also a few surprises in store that are yet to be revealed.
Everything kicks off on July 1 at Hammerjacks in Baltimore, with stops in cities such as San Diego, El Paso, Detroit, Denver, Chicago, Los Angeles, and more, while the final stop remains a mystery. Do not fret though, expect more stops and names to drop in the upcoming weeks. And if you're on your way to EDC Las Vegas, then make sure to catch Jauz there during his two performances under the electric sky.
Tickets for the Bite This! Block Party Tour are available now, so make sure to secure yours via Jauz's website. Unveiled tour stops are right below, check for your city. If you have not done so, listen to his latest jam, a collaboration with Johnny GOLD, "PPL" on your preferred streaming platform as well.
---
Bite This! Block Party Tour 2022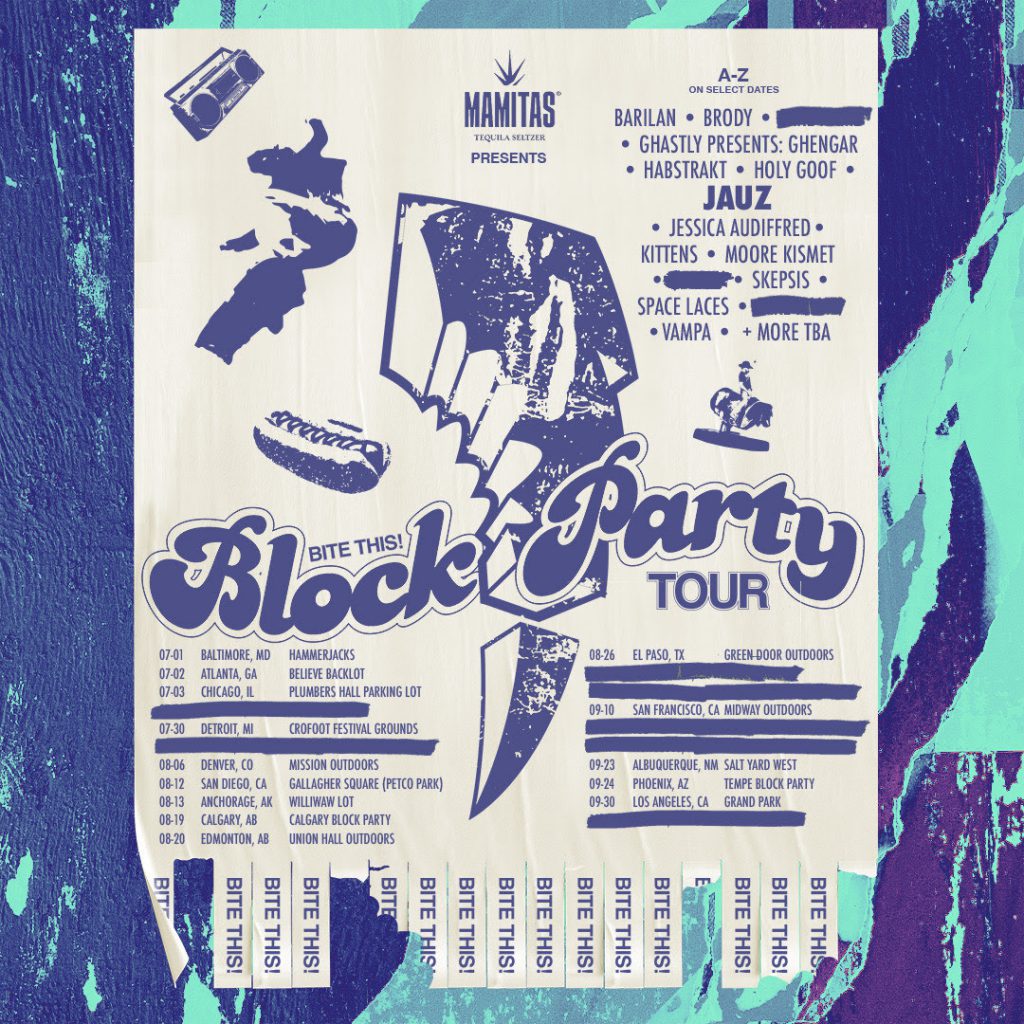 ---
Bite This! Block Party Tour 2022 – Dates & Venues:
July 1 – Baltimore, MD – Hammerjacks
July 2 – Atlanta, GA – Believe Backlot
July 3 – Chicago, IL – Plumbers Hall Parking Lot
??????
July 30 – Detroit, MI – Crofoot Festival Grounds
??????
August 6 – Denver, CO – Mission Outdoors
August 12 – San Diego – Gallagher Square (Petco Park)
August 13 – Anchorage, AK – Williwaw Lot
August 19 – Calgary, AB – Calgary Block Party
August 20 – Edmonton, AB – Union Hall Outdoors
August 26 – El Paso, TX – Green Door Outdoors
??????
??????
September 10 – San Francisco, CA – Midway Outdoors
??????
??????
September 23 – Albuquerque, NM – Salt Yard West
September 24 – Phoenix, AZ – Tempe Block Party
September 30 – Los Angeles, CA – Grand Park
??????
---
Follow Jauz on Social Media:
Website | Facebook | Twitter | Instagram | SoundCloud | YouTube | Twitch