Diplo, Dombresky b2b Noizu, Hayden James, Walker & Royce, and more are set to take the stage at Splash House this June.
---
If you hadn't felt the summer vibes creeping into your mind yet, then there's no doubt that the latest news from Splash House will see them gain some added ground. After announcing that this massive pool party-fueled festival would be expanding to three weekends this year at the Renaissance, Margaritaville, and Saguaro Hotels, they've now returned with the first lineup to drop for the edition on June 10-12.
Headlining the June edition of Splash House is Diplo, along with a number of talented artists set to play their hearts out over the weekend that include Channel Tres, Hayden James, Walker & Royce, and Yung Bae. Additionally, b2b sets featuring Dombresky and Noizu as well as Manila Killa and Chet Porter will be ones not to miss as well.
That's not all that Splash House has in store as a bevy of other artists will also be playing the festival this year including Jerro, J. Worra, Hannah Wants, Kyle Walker, Pauline Herr, Tom & Collins, and Shermanology. Their signature after-party experiences at the Palm Springs Air Museum will bring two behemoths to the stage – Duke Dumont and Yotto.
All currently available pass types and hotel package options are available via splashhouse.com. GA passes for the June edition start at $189. Don't forget that all guests must be 21+ to attend.
---
Splash House 2022 – June Lineup: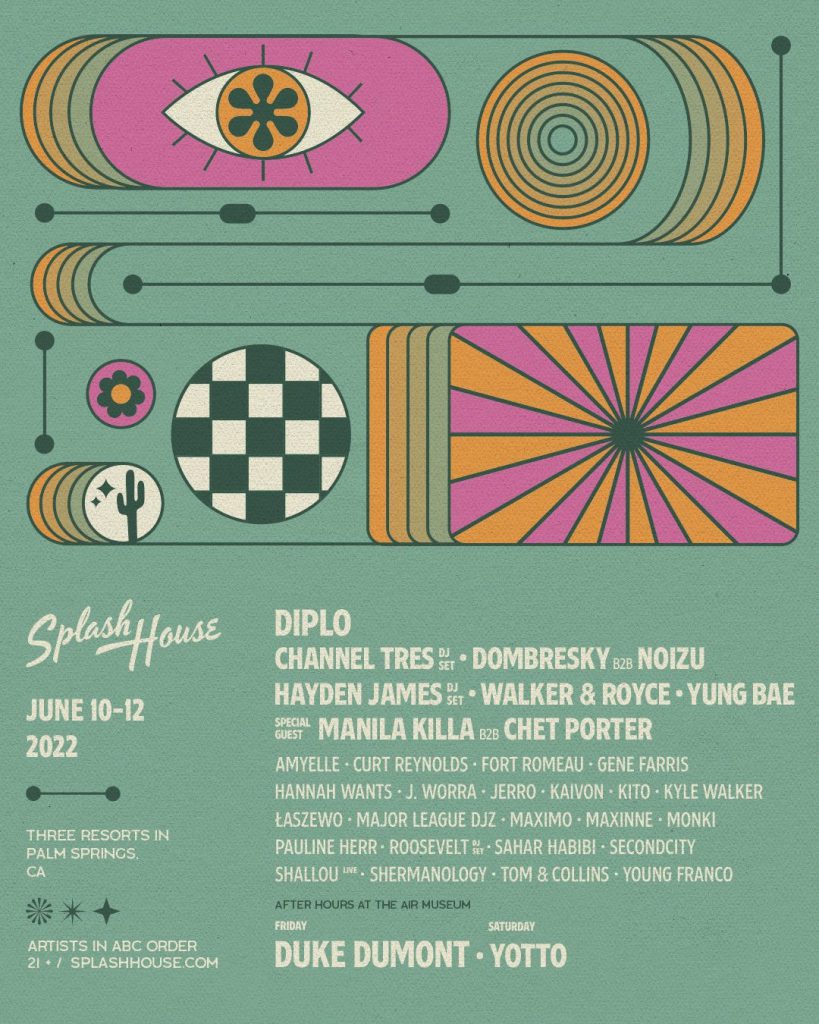 ---
Splash House 2022 – June Lineup By Artist:
Diplo
Channel Tres (DJ Set)
Dombresky b2b Noizu
Hayden James (DJ Set)
Walker & Royce
Yung Bae
Manila Killa b2b Chet Porter
AmyElle
Curt Reynolds
Fort Romeau
Gene Farris
Hannah Wants
J. Worra
Jerro
Kaivon
Kito
Kyle Walker
LASZEWO
Major League DJz
Maximo
Maxinne
Monki
Pauline Herr
Roosevelt (DJ Set)
Sahar Habibi
Shallou (Live)
Secondcity
Shermanology
Tom & Collins
Young Franco
AFTER HOURS AT THE AIR MUSEUM
---
Follow Splash House on Social Media: