Are you ready to headbang the day away at Forbidden Kingdom this year? Stay in the know with the set times, what not to bring, and more.
---
Forbidden Kingdom has catapulted its way into the minds of bass lovers near and far since it first emerged on the scene. During this time the festival has boasted of top-tier and rising artists alike on its lineup – and the upcoming edition at the Orlando Amphitheater at Central Florida Fairgrounds on May 6-7 is no different.
Taking the stage at Forbidden Kingdom this year are some true legends in the bass scene that include the likes of Excision, FuntCase, Delta Heavy, and Rusko, but that's just the tip of the iceberg as to what's in store. Whether you want to get down to the melodic dubstep sounds of Seven Lions, dance your heart out to some drum and bass with Fury + MC Dino, or feel the heat when dynamic artists like Kayzo take over the decks – there's something for every bass lover at this festival.
Related: Want to get a dose of bass before you head out to the festival? Check out our Colossal Commotion playlist on Spotify!
With Forbidden Kingdom on the horizon, we've compiled all the essential information you need to know before you go including the set times, dos and don'ts, and more. Don't forget to download the Insomniac app on iTunes or Play Store for the latest updates.
---
Forbidden Kingdom 2022 – Essential Info:
Dates: May 6-7, 2022
Hours: 1pm ET – 11pm ET, daily
Venue Address: Orlando Amphitheater at the Central Florida Fairgrounds – 4603 W Colonial Dr. Orlando, FL 33498
Tickets: Purchase HERE
Facebook Event Page: RSVP HERE
---
Forbidden Kingdom 2022 – Set Times: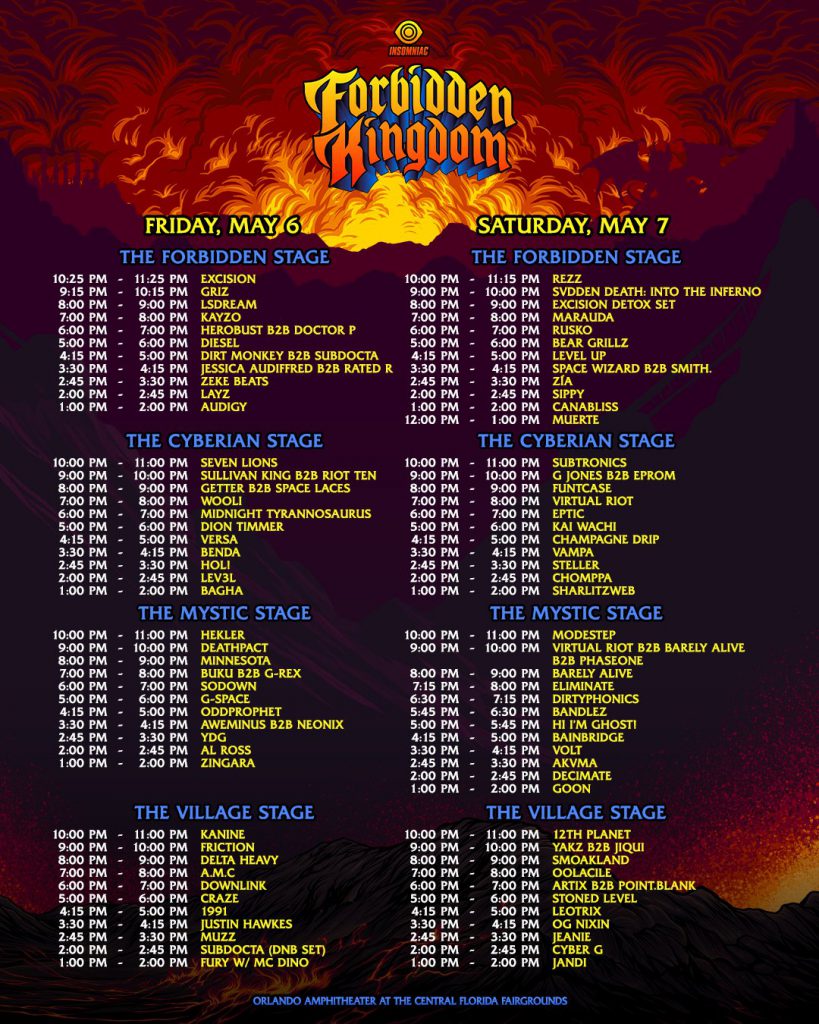 ---
Forbidden Kingdom 2022 – Festival and Parking Maps:
Coming Soon!
---
Reminder To Mind Your Belongings:
Unfortunately, many people have reported pickpockets, bag slashings, and theft of wallets, smartphones, purses and other valuables during this festival season. While this small number of bad apples in the bunch doesn't define an entire crowd, there are opportunistic people who come to these events to take advantage of unsuspecting partygoers and it's important to be mindful of your valuables while at Forbidden Kingdom.
Looking for tips to keep your belongings safe? Check our post highlighting some ideas!
---
Forbidden Kingdom 2022 – Do's & Don'ts:
Permitted Items
YES service animals.
YES cigarettes and e-cigarettes (cigarettes must be sealed)
YES E-cigs/vapes (refillable liquid chambers OK, must be empty upon arrival. E-liquid OK, must be factory-sealed at entry)
YES small, single compartment bags that are a standard smaller – 8 in. x 11in
YES Cell phones and portable chargers/external batteries
YES hula hoops– including LED hoops
YES face masks
YES Deodorant (must be sealed upon entry)
YES cell phone charger
YES sunscreen LOTION
YES Inflatables (must be deflated upon entry)
YES refillable, plastic or aluminum bottles (must be empty upon entry)
YES Hydration packs with no more than two main compartments and one smaller compartment (must be empty upon entry)
YES non-aerosol bug spray
YES LED flow toys (Hoops, LED hoops, LED orbit, Pixel whip, Levi wand, Staff, Poi/LED poi, Flow fans)
YES Glowsticks & glowing/illuminated costumes or jewelry
YES Blankets (Small) & Beach Towels
YES Chapstick and Lip Balm
YES Ear Plugs
YES Non-professional flash/still cameras, handheld video devices under 6″ (Sony Action Cam, GoPro, etc.), and GoPro extendable poles
YES Fanny Packs and Hip Bags
YES Personal misting fan with a bottle no larger than 1.5L (must be empty upon entry)
YES Gum (Must be sealed upon entry)
YES feminine products (sealed upon entry)
YES Hand Sanitizer (under 2 oz.) and Baby Wipes (sealed upon entry)
YES Hats
YES Physician-prescribed medication that is not expired (must show physician's prescription and consult with a safety officer upon entry)
YES Rain ponchos and umbrellas measuring less than 10″ when collapsed
YES Kandi
YES compact powder Makeup, sparkles, etc.
YES Smiles
YES Sunglasses
YES Tampons and pads (sealed upon entry)
YES Wet wipes (sealed upon entry)
YES Good vibes
Permitted Items
NO outside food or beverage items allowed
NO Aerosol products/cans
NO alcohol or flasks
NO bags, purses, or backpacks LARGER than a standard piece of paper – 8x11in.
NO BackPacks 
NO Balls or Frisbees
NO Bota bags (over-the-shoulder leather puch that can carry liquid)
NO Costumes that resemble a public safety uniforms (police, swat, fire, security, or medical) in any way
NO ice or ice packs
NO coolers
NO Gas masks
NO glass containers
NO Helium balloons
NO illegal substances, drugs, or drug paraphernalia 
NO rage sticks, banners or flags are permitted. Any of these items that are deemed unsafe or inappropriate, or are being used for purposes other than intended, may be confiscated on site.
NO illegal or unauthorized vending
NO Weapon or weapon accessories of any kind, real or fictional (including whips, lightsabers, pocket knives, pepper spray, fireworks, etc.)
NO slingshots, toy guns or water guns
NO Large chains or spiked jewelry
NO LED gloves or LED microlights used for light shows
NO Liquid makeup
NO Markers, pens or spray paint
NO Massagers
NO air horns
NO sharpies or paint
NO animals or pets 
NO flammable lanterns or fire of any kind
NO fireworks or any types of explosives
NO skateboards, scooters, or personalized motor vehicles
NO bicycles inside the festival
NO tents, canopies, large umbrellas, chairs, or blankets
NO Unsealed tampons or pads (upon entry)
NO chairs or stools of any type (Inflatable chairs are allowed)
NO wagons or carts of any type
NO sports balls
NO Stuffed animals or dolls
NO eye drops
NO Open packs of cigarettes (upon entry)
NO outside cans or cups
NO Pacifiers
NO Professional photo, video, or audio recording equipment (no detachable lenses, tripods, big zooms or commercial-use rigs)
NO professional video or audio recording devices
NO lasers or pointers
NO instruments, megaphones, horns, or noise makers
NO soliciting
NO over the counter medication
NO metal aerosol containers including sunscreen, pepper spray, bug repellent, or spray paint
NO drones, remote-controlled aircraft, toys, or UAVs (unmanned aerial vehicle)
NO selfie sticks
NO Stickers, flyers
NO Wind chairs/sofas
Totem Guidelines
Maximum height is 10 feet.
Totems must be made from a lightweight material (e.g., foam, PVC / no solid metal).
Collapsible/telescoping camera extenders that follow the above guidelines are OK (lightweight/hollow aluminum/polycarbonate).
PVC, light wood or aluminum poles must be no thicker than 1 inch in diameter.
Decorated pool noodles work great for easy entrance through security.
Inflatables attached to totems must be deflated upon entry.
Any item deemed dangerous will not be allowed.
Totems promoting illegal activity or hate speech will not be permitted. Please keep it PLUR.
---
Follow Forbidden Kingdom on Social Media: