Sensation, the "World's Leading Dance Event," comes home to Amsterdam igniting the passion again with an incredible lineup!
---
A few months ago, Sensation stirred up the mixture again after a few years off. In 2017, Sensation held "The Final" event in Amsterdam. The next year saw the brand continue with a smaller-scale world tour known as Rise before disappearing into the ether. In 2020, ID&T announced the original event's return to Amsterdam, but lock-downs caused by COVID-19 lead organizers to instead produce the unique streaming event titled the Monument of Light.
For 2022, however, and its 133 global event, Sensation comes back to its roots in Amsterdam to rekindle the joy at the Johan Cruijff ArenA on July 2! Tickets sales were already underway, but fans craved more information not only about the theme, but also of the musical journey they could experience as well. For fans and attendees around the world, the wait for a lineup is now over.
Sensation brings an interesting assortment of talent for the "Yes. To All." themed event. The Main Stage sees acts such as Diplo & MK, Malaa, Oliver Heldens, and Sunnery James & Ryan Marciano bring the crowd to a fever. Surprisingly Mr. White now moves to the Silver Stage (Deluxe) alongside beat masters like Dombresky and La Fuente.
While perhaps less diverse than past editions, the vibe is sure to still be immense. As an attendee in 2015 in Amsterdam for "The Legacy," I can affirm that there is nothing quite like Sensation in its home. The energy and crowd – which is diverse in both nationality and age – is unlike anything traveled to anywhere else in the world. Combine that with the original home of theatrical storytelling and mind-blowing stage production (the modern festival would not be what it is without Sensation's groundbreaking efforts in the early 2000s), and you have a world unlike any other. If you can make it to Sensation in Amsterdam this July, I can wholly recommend you go.
Grab a ticket or a travel package if you want to book a full experience. Act fast though – tickets to Sensation tend to sell out quickly!
---
Sensation 2022 – Yes. To All. Lineup: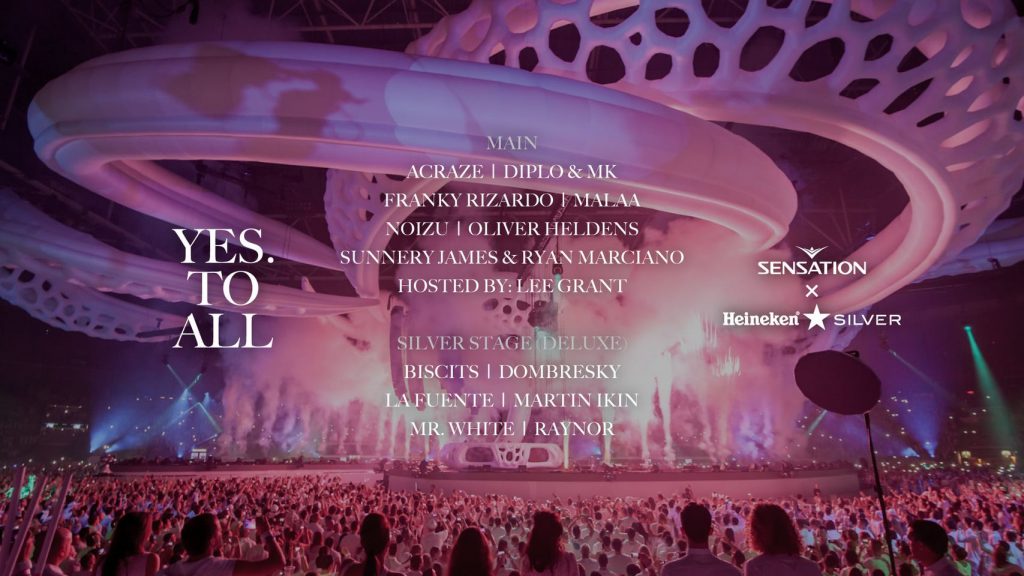 ---
Sensation 2022 "Yes. To All." Full Lineup – By Artist & Stage:
Main Stage
Acraze
Diplo & MK
Franky Rizardo
Lee Grant
Malaa
Noizu
Oliver Heldens
Sunnery James & Ryan Marciano
Silver stage (Deluxe Tickets Only)
Biscits
Dombresky
La Fuente
Martin Ikin
Mr. White
Raynor
---
Follow Sensation Across The Web:
Website | Facebook | Twitter | Instagram | Soundcloud | YouTube