Eptic is breaking barriers with his debut album, The End of The World, ten tracks that serve up an eclectic mix of relentless tunes.
Eptic (real name Michael Bella) is a good kind of disruptor. You can't box him into just one category because he's constantly pushing the envelope. Over the years, Eptic has produced some incredible records, including "Nosebleed," "Beyond The Stars," and my personal favorite, "Lazer 3000" with Habstrakt. He's collaborated with some of the biggest names, like Jauz, Valentino Khan, DJ Snake, and Marshmello, and his reputation amongst his peers will warm your heart. In short, Eptic is a rare breed with boundless creativity. 
These days, Belgium's finest lad is making huge moves. He recently announced his headlining US tour with support from Leotrix, and today, he's celebrating the release of his debut album, The End of The World. The album's origin story will make you want to hug Eptic. Like every artist, he was constantly traveling and touring before the pandemic. Mix that in with the soul-sucking pressure of social media, and the result is burnout, which isn't fun. Fast forward to the pandemic and lockdown, and Eptic felt the feels like the rest of us.
"I had a complete mental meltdown during the pandemic," he shared. "Even though the long quarantine meant I was technically out of a job for a while, it did take away a lot of the mental strain I was struggling with, and it revived my love for just hanging out and writing music for fun. With that renewed mindset, the idea of my first album was born." The album features ten sublime tracks that position Eptic as the dark horse of bass music and left us floored in the best way. But, enough small talk. Let's get into the music. 
Listen to The End of The World on Spotify or your favorite music platform and read on for my review. 
Stream Eptic's – The End of The World on Spotify:
---
The album opens with "Lost In Space," an eerie track that makes you feel like you're walking to your own execution. 
The haunting electric guitar sends chills down your spine. As a distorted voice says, "the sound of the future," the bassline erupts, and the darkness consumes you. The drops are funky, creepy, and full of head-bobbing moments. Then, as the drop ends, that eerie guitar returns to send us off "2 The Grave." 
"2 The Grave" is viciously brutal in the best way possible. The slow-paced tempo and electrifying drops will take over and leave you speechless. This record takes you on a relentless ride, and as the intensity builds, you have to let go and let it swallow you. It's terrifying, yet pretty wicked. Things get funky on "Ultimate Flex," a fun track that will make you break a sweat. The swagger in this record is bananas. The divine melody and uplifting synths are a treat and a pleasant switch from the chaos that is bass.
The End of The World features many dreamy collaborations that will make your jaw drop in amazement. 
First, there's "Next Level," with our favorite funny guy Dillon Francis. The two dropped this banger at Hard Summer Music Fest last year, and the crowd went bonkers, so to hear it again brings back that precious memory. You can hear Dillon Francis's signature sound throughout the buildup and drops. This song packs a punch and is a strong contender. However, my only beef is that the song is too short.
Then, his collaboration with MARAUDA on "Wall of Death" is the best example of two artists complementing each other so well. MARAUDA doesn't play any games with his artistry, and his music is the definition of mayhem. However, on "Wall of Death," Eptic and MARAUDA found a happy medium between their two styles, and that final drop is iconic. Well done. 
Lastly, Eptic joined forces with the possum king himself, MUST DIE! on "Skill Check." As you know, anything MUST DIE! touches turns to gold, so I had high expectations of this track, and let me tell you, it doesn't disappoint. Eptic and MUST DIE! slayed this record. Making it impossible to figure out what's coming next, each drop is a surprise leaving you wanting more, and it's one of my favorite records on the album. 
This album is more than just bass music. It's a body of work that showcases Eptic's versatility. 
You can tell that he challenged himself to go outside his comfort zone, and he did it beautifully. He could've easily produced an album full of dubstep bangers. Instead, he presented us with something fresh and invigorating. For example, "Never Again" has this trap undertone that reminded me of RL Grime. The buildup, vocal sample, and drops work so well together. Like "Ultimate Flex," "Run It," and "Drum Beats" possess that confident swagger and ease, and allowed him to show off his skills in a unique way.
In closing, this is how you make a debut. When you're resilient, magic happens, and this album is proof of that. Eptic knocked this baby out of the park because you can see his growth as an artist. Even though his mean mug is terrifying, I appreciate Eptic's vulnerability and willingness to pour his all into this project. Your hard work paid off, Eptic. You should be proud of yourself, and I'm so excited for you. Congratulations, Michael. You did the damn thing.
---
Eptic – The End of The World – Tracklist:
Lost in Space
2 The Grave
Ultimate Flex
Next Level with Dillon Francis
Wall of Death with MARAUDA
Never Again
Run It
Drum Beats
Skill Check with MUST DIE!
Detonate with HOL!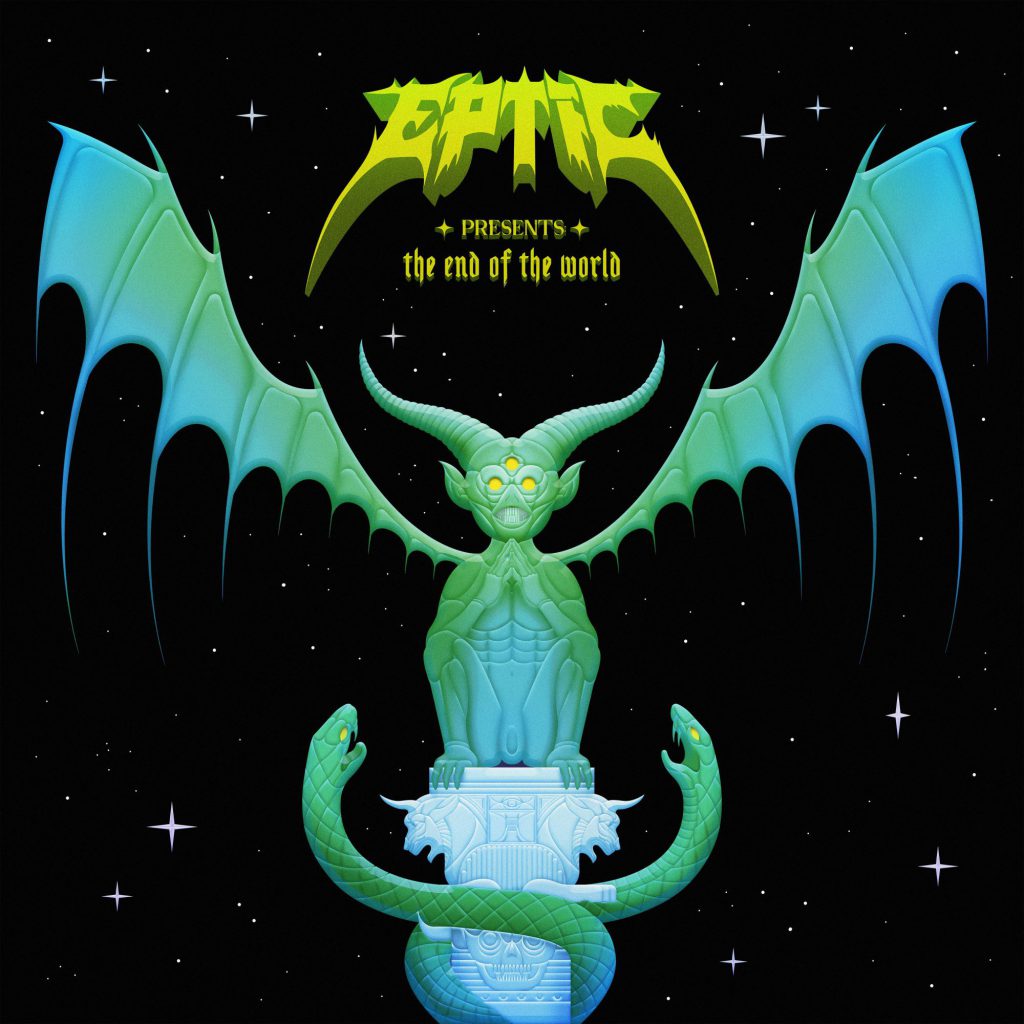 ---
Follow Eptic on Social Media:
Website | Facebook | Twitter | Instagram | SoundCloud