Virus Syndicate unleashes hard hitting bass tracks on their Resistance EP, out now on Disciple Round Table.
---
Virus Syndicate has been a mainstay in bass music for more than a decade and show no signs of slowing down. The grime duo has offered their voice and spitfire lyrics to numerous bass tracks such as Virtual Riot's "Show Up", Dodge & Fuski's "Flat Line", and Eliminate's "Them". Over the years, they have built up an impressive discography with their Sick Gang and The Antidote EPs, and now they present to us The Resistance EP.
Out now on Disciple Round Table, The Resistance EP is Virus Syndicate's way of showing the scene that they are back and better than ever. The EP begins with "Paradox," a fitting welcome that sees Graphyt and Ecraze join forces with Virus Syndicate. Between the fast-paced lyrics to the absolutely maddening drop of the track, it's quite the intro that will leave your head spinning.
The second track off the EP, "Level," is an uplifting tune where Virus Syndicate tells listeners how they should keep their head up no matter what life throws at them. These lyrics paired with Ace Aura's unique production make the track ethereal and hard hitting at the same time. Turning it up a few notches is the next track, "Came to Rage" with Hairitage, a festival-ready heater of a song. It's pure energy from the start as you can hear the raw grittiness in Virus Syndicate's voice. This soon builds into an epic drop that will make you want to headbang. Closing out the EP is "Asking For," and while you may think this track is a light breather to end the EP, you are wrong. Virus Syndicate keeps the pedal to the floor and enlists Whales to continue the onslaught of distortion, whirring synths, and heavy drums.
Listen to the Resistance EP on Spotify or your preferred platform, and let us know of these tracks you loved the most in the comments!
Stream Virus Syndicate – Resistance EP on Spotify:
---
Virus Syndicate – Resistance EP – Tracklist:
Paradox (with Graphyt and Ecraze)
Level (with Ace Aura)
Came to Rage (with Hairitage)
Asking For (with Whales)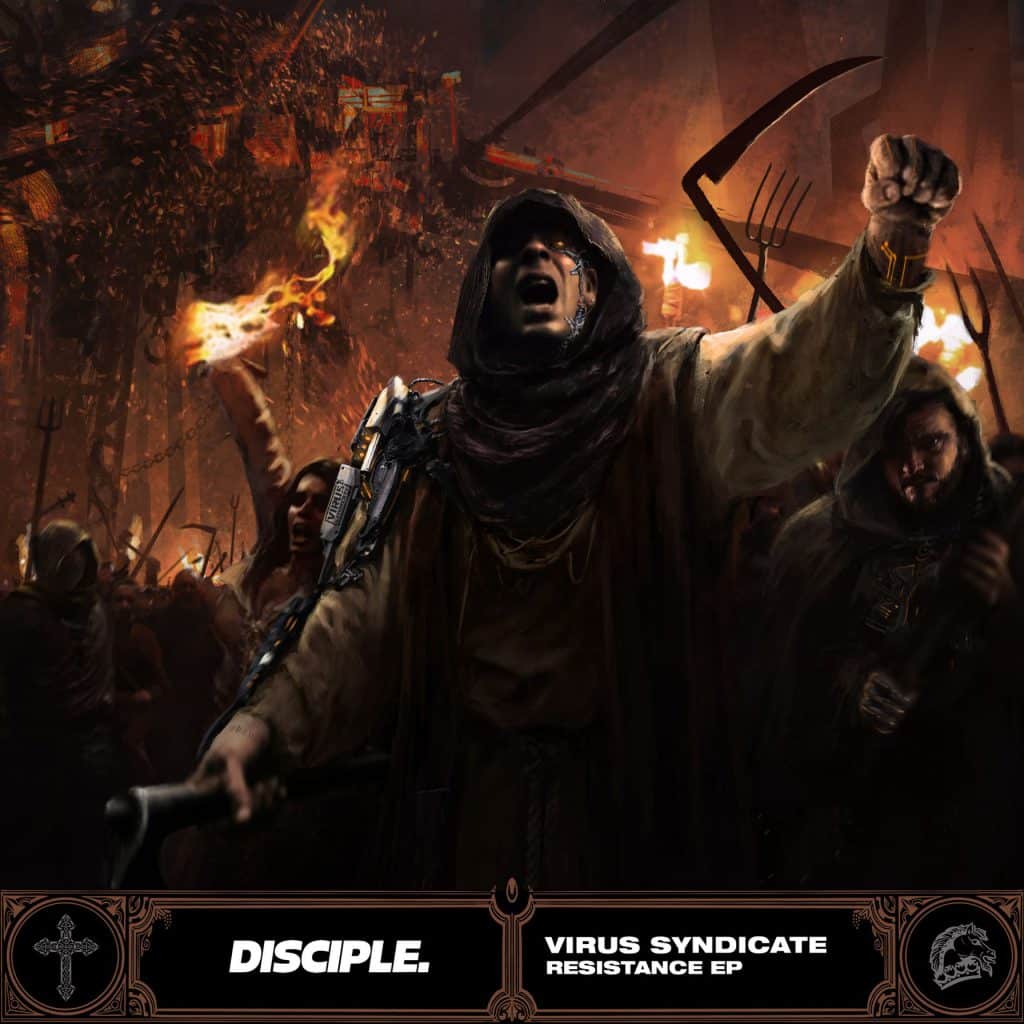 ---
Connect with Virus Syndicate on Social Media:
Facebook | Twitter | Instagram | SoundCloud