Will you be joining Ben Böhmer, CRi, Yotto, Eli & Fur, Luttrell, Franky Wah, and more this summer at Anjunadeep Explorations?
---
Since making its debut in Dhërmi, Albania just a few years ago, Anjunadeep Explorations quickly became a must-attend destination festival for anyone who loves the deeper, chilled-out sounds that the beloved label offers. Although the past few years have been rocky for it to make a full return, this year's edition that's set for June 15-22 is shaping up to be even better than ever.
Anjunafamily members near and far who have patiently been awaiting the return of Anjunadeep Explorations will be absolutely delighted for the lineup that was revealed today. This year will see stalwarts from the imprint like James Grant & Jody Wisternoff, Ben Böhmer, Yotto, Luttrell, Cubicolor, Marsh, and 16BL joined by others who have impressed as of late such as Franky Wah, Simon Doty, Qrion, Jerro, and Jon Gurd.
Further sets that are sure to be ones that fans will flock to include those from Eli & Fur, CRi, Braxton, Joseph Ray, and OLAN, making it clear that there isn't a shortage of talent in the slightest. Stay tuned for the Gjipe lineups to drop as well as we inch ever closer to the dates of Anjunadeep Exploration's return.
Those who previously purchased packages for Anjunadeep Explorations this year should keep an eye out for an email as payment deadlines are coming up. Anjunadeep Explorations is currently sold out, but you can join the waitlist as canceled packages will become available at a later date. Make sure to head over to their website to sign up and dive into the details.
---
Anjunadeep Explorations 2022 – Lineup: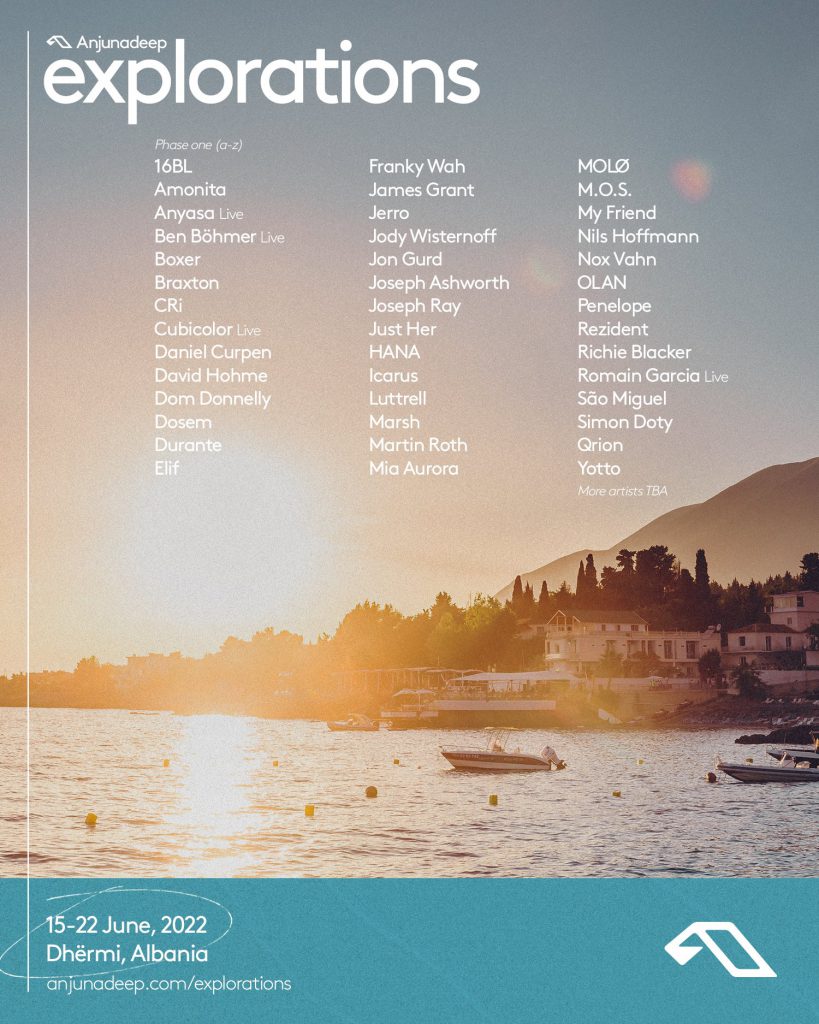 ---
Anjunadeep Explorations 2022 – Lineup By Artist:
16BL
Amonita
Anyasa (Live)
Ben Böhmer (Live)
Boxer
Braxton
CRi
Cubicolor (Live)
Daniel Curpen
David Hohme
Dom Donnelly
Dosem
Durante
Elif
Franky Wah
James Grant
Jerro
Jody Wisternoff
Jon Gurd
Joseph Ashworth
Joseph Ray
Just Her
HANA
Icarus
Luttrell
Marsh
Martin Roth
Mia Aurora
MOLØ
M.O.S
My Friend
Nils Hoffmann
Nox Vahn
OLAN
Penelope
Rezident
Richie Blacker
Romain Garcia (Live)
São Miguel
Simon Doty
Qrion
Yotto
+ more to be announced.
---
Connect with Anjunadeep on Social Media:
Website | Facebook | Twitter | Instagram | SoundCloud | YouTube
Connect with Anjunadeep Explorations on Social Media: