Get ready for the immersive workshops at Lightning In a Bottle as they unveil the programming for the Compass stage!
---
As Memorial Day Weekend approaches, dance music lovers far and wide are gearing up for the most anticipated time of the year – the return of Lightning In A Bottle. Set to take place on May 25-30 at Buena Vista Lake, this festival boasts of a wall-to-wall stacked music lineup, but also its abundance of workshops and seminars that attendees can experience and take home to apply to their daily life. This week, the Do LaB announced the Compass programming for this year's edition of LiB with all sorts of speakers, visionaries, yogis, and more with different spaces provided to add to the transformational element of the festival.
The Compass Learning program features an array of different discussion topics, such as Cryptocurrency talks, Regenerating Soil With Microbes, and several Love & Intimacy discussions. The main highlights of learning and culture workshops will hold an array of selections including Ancestral Healing & Reconnection with Daniel Foor, Encountering UFOs & Cosmic Cultures, and even a Doorway Into Oracle Arts & Divination.
This year will also hold top-tier interactive workshops from world-renowned speakers, including Psychedelic JEDI Training, Making Elixirs and Radical Botanicals, and more that are still to be announced. And for those interested in a unique culinary experience, the Compass stage features many cooking workshops for a fun break from the main areas of the festival. Attendees can participate in learning how to cook sourdough pizza, dive into the world of curry, and even an organic juicing workshop!
Not only will the Compass stage provide multiple workshops to learn from, but they will have a fully-stacked music lineup to accompany those all weekend. Notable acts gracing the stage feature a DJ set from SG Lewis, 29 Palms (Boreta and Ooah), WHOMADEWHO, Saqi with Siren & Seer, Andre Power from Soulection, plus many other musical acts from all over the world. Genres will range from tropical house, tribal fusion, all the way to some jazzy funk.
Tickets, car camping, and other amenities for this year's Lightning In A Bottle are available via their website. Make sure to check back for all updates LIB-related, and let us know who you're excited to see in the comments!
---
Lightning In A Bottle 2022 Compass Stage – Lineup: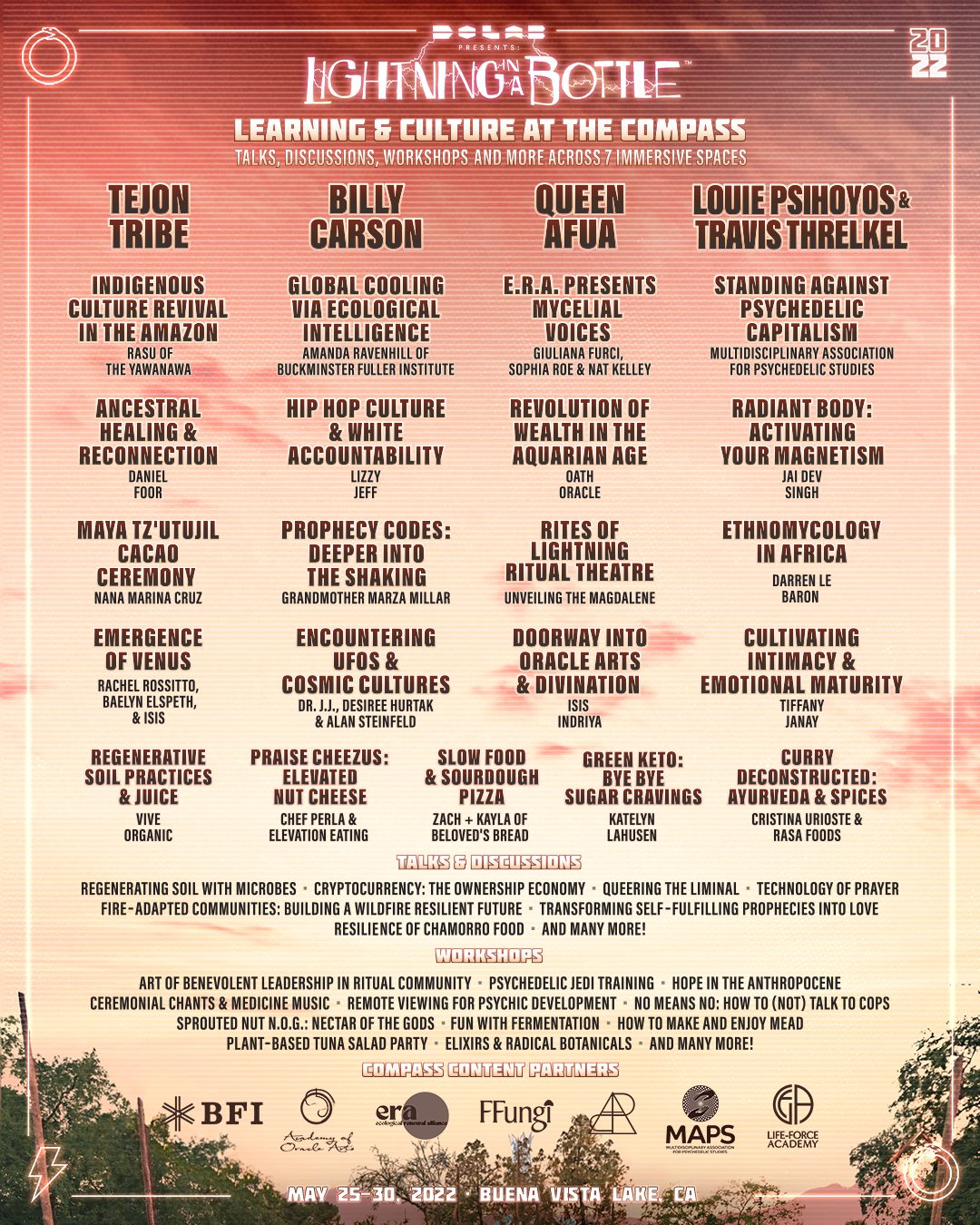 ---
Follow Lightning In A Bottle on Social Media: