Desert Hearts Festival is celebrating their 10th anniversary in style with Doc Martin, Francesca Lombardo, Latmun, Carl Craig, Lubelski, and more.
---
From April 28 – May 2, dance music enthusiasts from around the country and beyond are going to be fully immersed in house, techno, and love when they arrive at Lake Perris, California, for the 10th-anniversary celebration of Desert Hearts Festival. This one-stage party will go non-stop, morning, noon, and night, but will also see an uptick in premium amenities and an expanded grass area and beach for room to vibe. As always, the most important piece of the puzzle is the music, and Desert Hearts comes correct with a lineup that will spin your head off!
Without further ado, we begin with the four gentlemen we already knew would be there, founders Mikey Lion, Lee Reynolds, Porky, and Marbs. In addition, we have family and friends who've made Desert Hearts the beloved brand that it is today including Kevin Knapp, Lubelski, RYBO, Andreas Henneberg, and Beth Lydi. And if you love the melodic techno side of life then you're going to want to catch the Desert Hearts Black pack of intense music makers like German techno duo Township Rebellion, Yulia Niko, Oscar L, and the one and only Rinzen.
But wait! There's more! Acts like DJ Harvey will be there in full effect to deliver some fresh daytime vibes as well as Firehouse Recordings' Kim Ann Foxman, vocalist turned world-renowned selector. If you're looking for something a bit on the eclectic side then Robag Wruhme will be a great choice to check out, and if you're in the mood to party with a musical visionary then look no further than Planet E boss Carl Craig and Detroit icons Omar-S and Kenny Larkin!
Finally, the four founders are bringing back their famous Desert Hearts crew b2b to round out the weekend as well as bringing along a special guest to play the beloved sunrise set. As you can clearly see, Desert Hearts Festival 2022 is set to suck you straight into the underground before shooting you straight to the moon with a vibrant smorgasbord of beats you won't ever forget. And with their 'one stage-one vibe' mission, you don't ever have to worry about a conflict!
So, start packing your bags and keep your eyes planted firmly with us and on Desert Hearts' socials as more details are soon to come. Tickets are close to selling out so make sure to grab yours before it's too late and continue on for the full Desert Hearts Festival lineup!
---
Desert Hearts Festival 2022 – Lineup: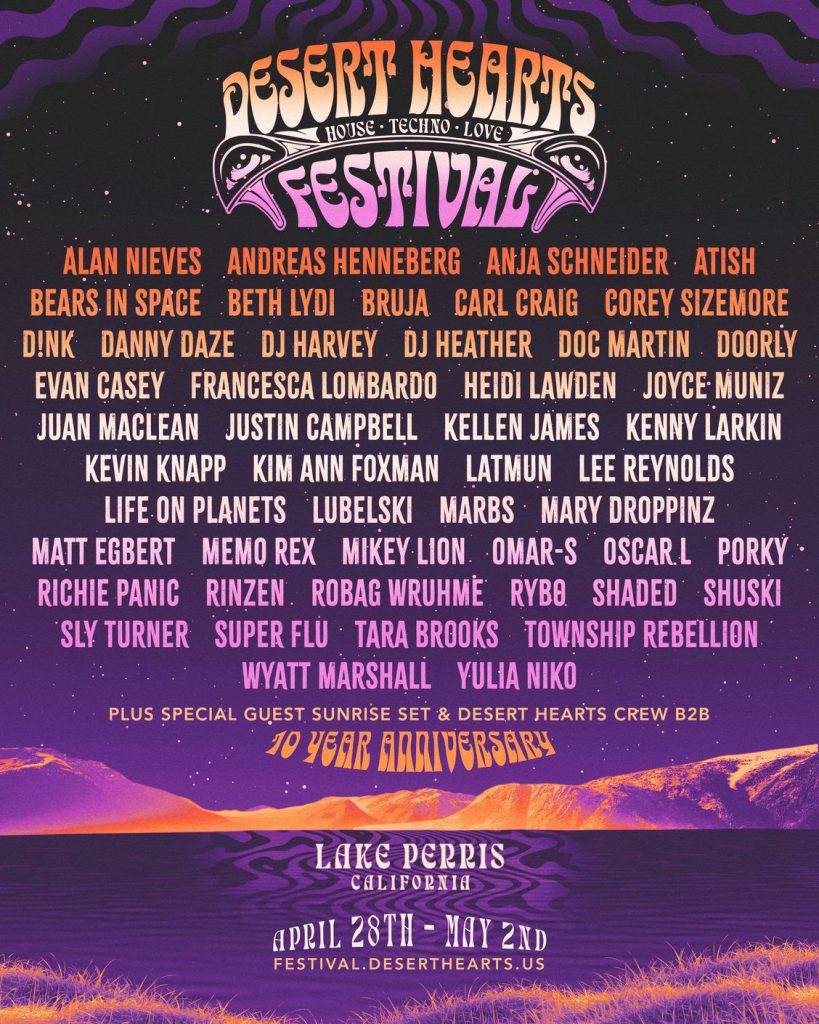 ---
Desert Hearts Festival 2022 – Lineup By Artist:
Alan Nieves
Andreas Henneberg
Anja Schneider
Atish
Bears in Space
Beth Lydi
Bruja
Carl Craig
Corey Sizemore
D!NK
Danny Daze
DJ Harvey
DJ Heather
Doc Martin
Doorly
Evan Casey
Francesca Lombardo
Heidi Lawden
Joyce Muniz
Juan MacLean
Justin Campbell
Kellen James
Kenny Larkin
Kevin Knapp
Kim Ann Foxman
Latmun
Lee Reynolds
Life on Planets
Lubelski
Marbs
Mary Droppinz
Matt Egbert
Memo Rex
Mikey Lion
Omar-S
Oscar L
Porky
Richie Panic
Rinzen
Robag Wruhme
RYBO
SHADED
Shuski
Sly Turner
Super Flu
Tara Brooks
Township Rebellion
Wyatt Marshall
Yulia Niko
---
Connect with Desert Hearts on Social Media:
Website | Facebook | Twitter | Instagram | SoundCloud | YouTube