Totally Enormous Extinct Dinosaurs will head to Miami, San Diego, Las Vegas, Tulum, San Francisco, and more on the A Dream I Have tour.
---
Totally Enormous Extinct Dinosaurs (TEED) continues to leave the jaws of his fans firmly on the floor with each passing release that he's dropped over the years, and his performances are just as impressive. Last year saw the beloved DJ and producer deliver one of his most mesmerizing EPs yet, The Distance EP, and within its tracklist was a fantastic tune dubbed "A Dream I Have." Now, with his sights set on returning to the stage in 2022, he's embarked on a tour bearing the same name.
Already gracing the decks at Yes in Manchester and Fabric in London to kick off the tour in style, Totally Enormous Extinct Dinosaurs looks to cities such as Leeds, Barcelona, and Lisbon for his final three tour stops in Europe before crossing the pond. He'll be a busy man during Miami Music Week with multiple sets taking place at Get Lost, ARC at Sea, and more before heading to Flash in Washington DC on March 31. From there he'll then continue his jaunt around North America with appearances in cities including San Diego, Las Vegas, Houston, Seattle, and Austin, among others.
Paired with the tour announcement arrives a fresh re-shape of "A Dream I Have" from none other than his longtime friend and fellow jaw-dropping artist Damian Lazarus. The Crosstown Rebels' boss puts his unique twist on the indie dance-infused tune to something that feels ripped straight out of a warehouse rave with acid lead lines,
Give Damian Lazarus' re-shape of "A Dream I Have" a listen on your preferred platform, and make sure to catch Totally Enormous Extinct Dinosaurs when he heads to a city near you. Tickets are available now via his website.
---
Totally Enormous Extinct Dinosaurs' A Dream I Have DJ Tour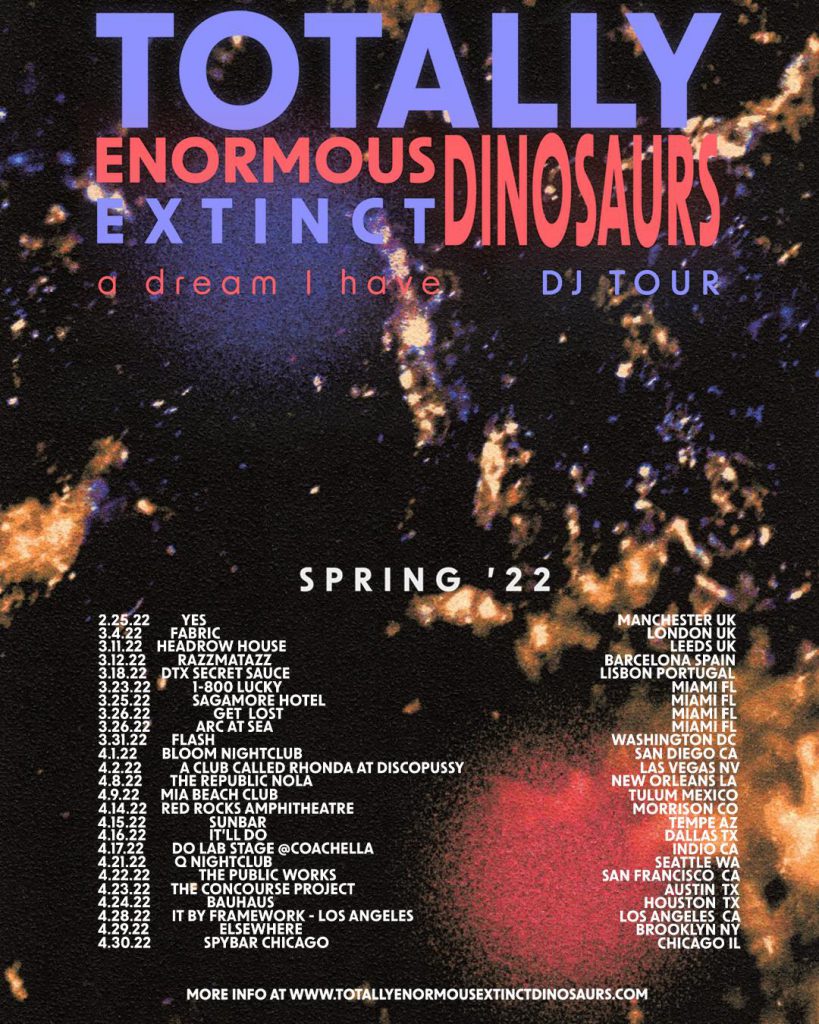 ---
A Dream I Have DJ Tour – Dates & Venues:
11/03/2022 – Headrow House. Leeds, UK
12/03/22 – Razzmatazz. Barcelona, Spain
26/3/2022 – GET LOST. Miami, FL USA
26/3/2022 – ARC At Sea. Miami, FL USA
31/3/2022 – Flash. Washington, DC USA
1/4/2022 – Bloom Nightclub. San Diego, CA USA
2/4/2022 – Discopussy x A Club Called Rhonda. Las Vegas, NV USA 
8/4/2022 – The Republic NOLA. New Orleans, LA USA
9/4/2022 – Mia Beach Club. Tulum Mexico
14/4/2022 – Red Rocks Amphitheater, Morrison, Colorado USA
15/4/2022 – Sunbar. Tempe, AZ USA
16/4/2022 – It'll Do. Dallas, TX USA
17/4/2022 – DoLab Stage @ Coachella. Indio, CA
21/4/2022 – Q Nightclub. Seattle,  WA USA
22/4/2022 – The Public Works. San Francisco, CA USA
23/4/2022 – The Concourse Project. Austin, TX USA
24/4/2022 – Bauhaus. Houston, TX USA
28/4/2022 – It by Framework. Los Angeles, CA USA
---
Connect with Totally Enormous Extinct Dinosaurs:
Website | Facebook | Twitter | Instagram | SoundCloud | YouTube