Following their new single with Bklava, "The Dark," Dublin-based duo Obskür swung by to chat about their plans for 2022 and the creation of the tune.
---
Two years was all it took for the Irish duo Obskür to break into the electronic music scene with a flavor of their own. During the pandemic's early days, this duo wasted no time whipping together mesmerizing concoctions, combining hip-hop and booming 909s alongside their house and techno sounds. The results of their sound sessions culminated into the duo debuting a live set with their original music at the sold-out Boxed Off Festival in their home country. Topping off their hard work, seasoned artists like Dom Dolla and Burns have tapped the two for remixes as well.
Now the pair, comprised of Lorcan McCarthy and Faustas Astrauskas, is quickly gaining a name for themselves in the new year. Their recent single, "The Dark," sees them team up with Bklava and acts as the next pitstop on their journey to shake up the dance music landscape. The soundscape found within it is in the name of the track – it's alluring, equally haunting, and absolutely stirring in ways that leave a mark in your mind.
Looking to gain more insight on this duo, we caught up with Obskür to dive into how they first started as producers, their fresh release with Bklava, and plenty more. Enjoy the song through Spotify or check it out on your favorite music platform, and keep reading below for an interview with the duo!
Stream Obskür – The Dark (feat. Bklava) on Spotify:
---
Hey guys! Thanks for taking the time to answer these questions and get to know you better. First up, what's your origin story? How'd you two meet and start making music together? 
Hey, thanks for having us. We actually met through just being friends on Facebook back when we both got into music at around 13/14 years of age. We then became friends and used to have a residency at an underage club night in Dublin. Obskür came around when we started to go out more as students and started to fall out with the cheesier tunes we used to make and play when we were younger. One day we met up after college and just said let's join forces and work together and now here we are.
When you started working together, were there any challenges in being able to blend your respective sounds, or was this something that happened naturally?
We luckily have the same taste in music so there were no challenges at all. Makes it even better that we're like that because we can build on each other's ideas easier and both know what sounds we like and don't like.
One of your very first live performances where you showcased your original music was at Boxed Off Festival in your home country. Do you guys remember what that was like and can you talk about how it felt being able to finally be in front of an audience? 
That was absolutely mental – It literally didn't feel like it was real because Ireland was in lockdown for such a long time. We were lucky to be able to play some shows in the UK last summer before Ireland opened back up but it was hard to believe that we were playing tunes at home again. We had some class moments when we dropped our remix of "Hot Natured Benediction" and one of our unreleased called "Vision" – went proper off. The festival and crowd was 10/10!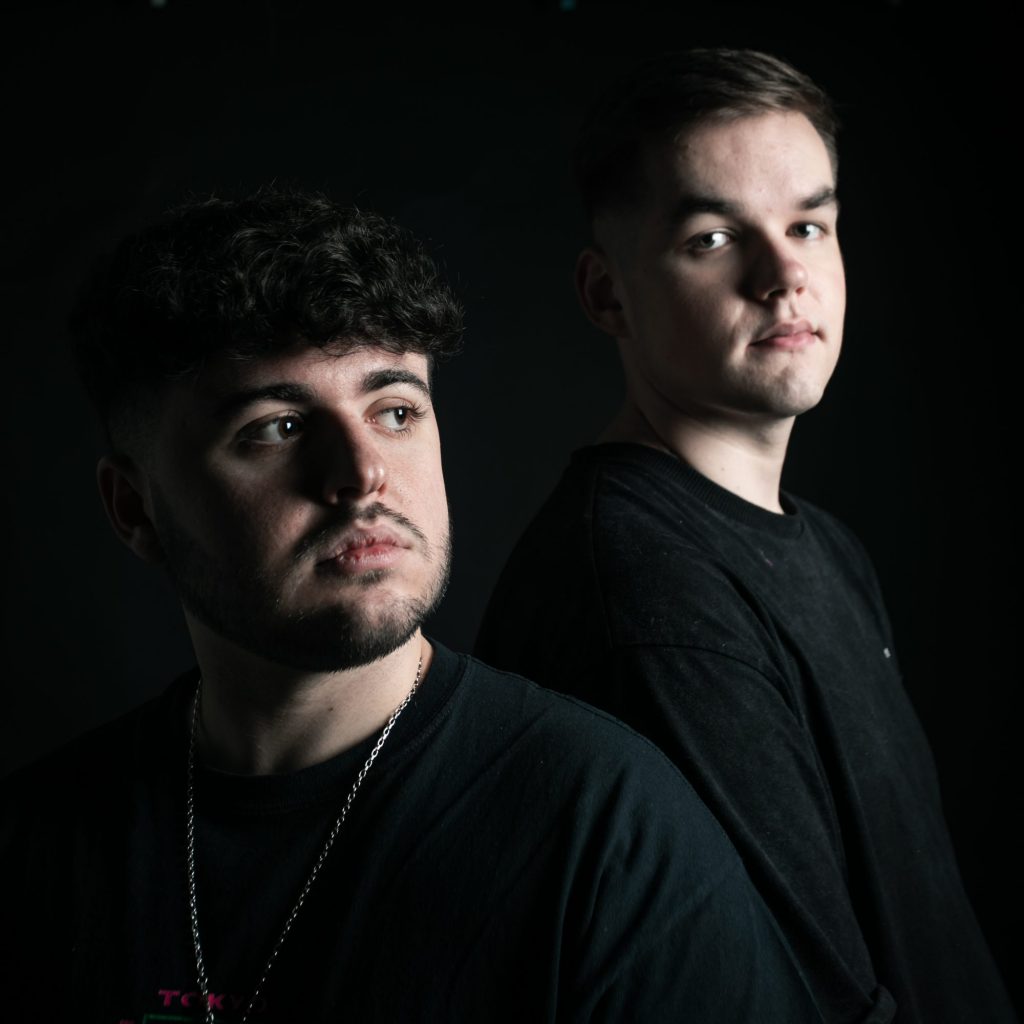 Onto your latest release, "The Dark," what kind of vision or intent did you initially have for the song compared to how it turned out? 
The initial idea for the track would have been to make it have plenty of character and emotion with a euphoric sounding vocal but also be a hard-hitting club/festival track at the same time. We think it definitely did turn out that way and even better than we expected having such a strong and emotional vocal by Bklava to boost the instrumental.
You two have wanted to work with Bklava for quite a while now. How did you get connected with her for "The Dark," and how was it finally getting to work with her? 
That was very unexpected actually, FFRR had put up a dream collaborators post on their Instagram asking people who they would like to see work together and at the time we were looking for a vocalist to work on "The Dark" with us and as we were big fans of Bklava, we tagged her in the comments of the post but did not expect anything of it. She commented back and was game to work with us. She was a pleasure to work with. We had sent her the instrumental and some lyrics we wrote, and she came back to us with an outrageously class vocal in about a day or so. She absolutely smashed it out of the park and we're buzzing with how it turned out.
You've also mentioned that this has been your favorite production you've ever worked on so far. Can you talk about the changes you experienced working on this song compared to some of your earlier releases and what has made this one so special?
One of the biggest changes with "The Dark" compared to our past releases would be that this was the first time we had actually got to write lyrics and get a vocalist on a track instead of using an already existing acapella sample. Even though "The Dark" samples KRS One's iconic "Step Into a World," we still went through a lyric writing and re-sing process which was a new experience for us.
Along with that, since "Bayside" was quite a happy-sounding record, we changed it up with "The Dark," having it a lot darker and more emotional while still squeezing in our raw sounds into it which we had not done before and is what makes it special to show people that we can change up our style, but still have it sound like one of our records at the same time.
Lastly, can you give us any hints about new projects or performances on the horizon? What goals do you hope to achieve this year? 
We have a lot of projects that we've made over lockdown sitting there, so we're aiming to release as much music as we can this year. In terms of performances, we're actually having our first festival season this year so we're excited for that – some proper bucket list festivals in there including Life Festival in Ireland, which has been announced recently, and some more dream festivals in the UK. Goals this year are to keep the ball rolling by releasing tunes and to play more shows at home and abroad.
---
Follow Obskür on Social Media:
Facebook | Twitter | Instagram | SoundCloud