Showtek swung by after the release of "Pour It Down" to chat about their sonic exploration during the pandemic and plenty more.
---
Dynamic duo Showtek has been around since the early 2000s and created some of the most iconic songs in the dance music scene during that time. While their early beginnings were on the hardstyle side of the spectrum, Sjoerd and Wouter Janssen have since grown and explored many other genres. Further, Showtek's versatility in the studio and energetic nature on stage has earned them prime set times at festivals like EDC Las Vegas, Beyond Wonderland, Ultra Miami, Tomorrowland, and many more.
When the pandemic put live shows on pause, Showtek was able to spend more time exploring different reaches of the vast electronic music realm. This came through in full with their latest track "Pour It Down," which is filled with feel-good house vibes and takes listeners back in time to the '90s by offering up a hearty helping of nostalgia along the way.
After the release of "Pour It Down," Showtek spun up a special mix to further highlight their latest sonic explorations, and we jumped at the opportunity to chat with them about the state of the scene as well. Listen to that mix on SoundCloud and read on to learn more about this beloved duo's passion and plans for the future.
Listen to EDMID Winter Waveforms 2022 || Showtek on SoundCloud:
---
Hey Showtek, thanks for joining us today. It's been years since we last sat down for a chat. How have you both been holding up with everything going on in the world?
Thanks!! The space that COVID created allowed for us to sit back and re-group, reinvent ourselves sonically, create new ideas and strategize our vision was a positive twist in a hard and depressing time. We really needed this time to set the path for the next few years.
Wouter: I feel very inspired and happy with the time that has been given to really think about stuff without having to fly across the globe every weekend. The DJ life is great, but very exhausting sometimes. Our core is music and production, and that had suffered a bit due to all the traveling.

Sjoerd: Yeah, the last two years were hard for a lot of people but as always, bad times also bring good times. I spend a lot of time with friends and family too so despite the discomfort of the pandemic, it brought a lot of light to my life as well.
You've already hit 2022 strong with "Pour It Down," a collaboration with Verite. Can you tell us how this collaboration came about? What was the production process like?
The vocal was sent by a friend from NYC who works with her. We loved the different layers it had and felt it needed a warm and simple 90's dance approach. 90's house music is a big inspiration for us and has been part of our personal collection since the beginning of our lives. We try to approach each song as a piece on its own, and gradually add ingredients that make sense so it still feels close to home for us.

Now, this isn't a song you'd play at a festival in a set during our crazy big room stuff, but we're trying to add a compartment to our sonic space that is more mature, warm, and emotional.
"Pour It Down" carries on with the trend of previous releases that have crossed genre boundaries to get everyone dancing to the beat. Can you speak to the importance of using these diverse elements in your productions?
Once you have produced a couple of songs in a specific genre, you almost automatically are categorized as an artist in that genre, for your most 'famous' song. For us, the genre is music or dance music. We always want to grow, develop, and mature. It's important to create a diversity of sounds and styles under our umbrella and not to repeat ourselves.
We have done 200 hardstyle songs, what else can you do? If you can't do anything better than you've already done, it's time to move forward and keep exploring. That doesn't mean we never will touch that genre, but maybe re-approach it after a while. The same goes for big room and the other genres we are known for.
Everything in this world is becoming algorithmic, and it's important to let your own creativity be something that is the opposite of that. Explore sounds and genres that are out of expectations, this is the only way to innovate. We are working on a LOT of productions that include different genres, and we're trying to mash this into a fresh new sound, over and over again.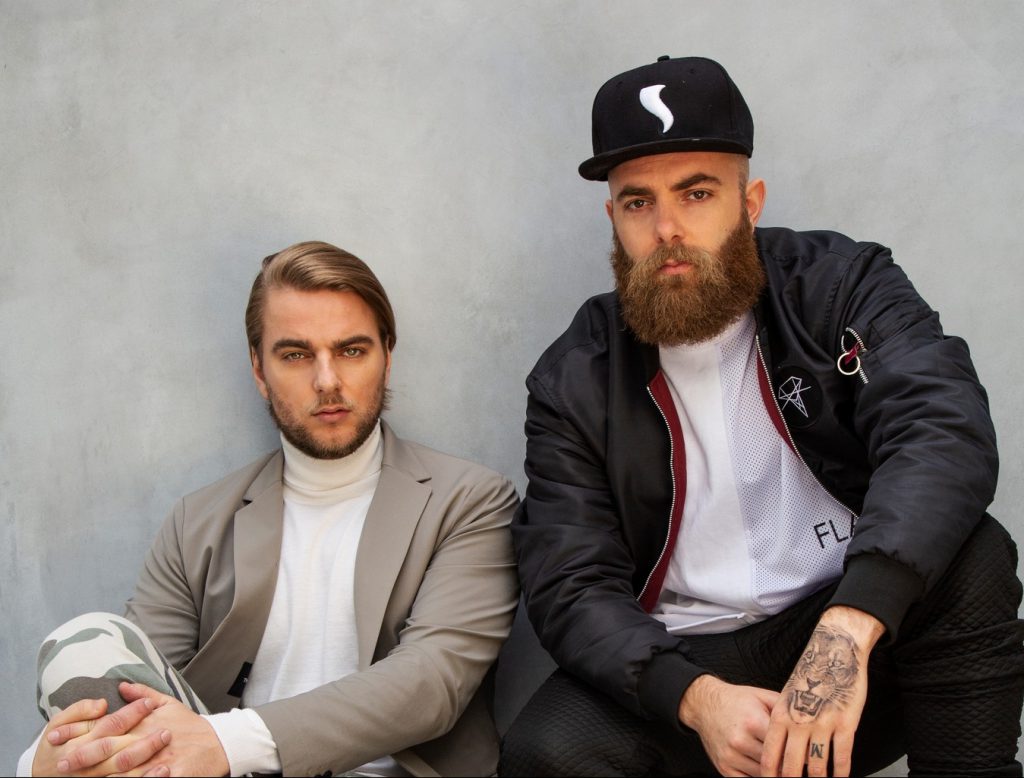 Knowing that there has been such a range of releases in different realms of dance music from you. Where are you guys currently finding inspiration from when sitting down in the studio to make some tunes?
Wouter: That goes from house, hip-hop, reggae, soul and jazz, funk, and Caribbean music. There are so many songs that have made an impact on me since I was young, and there are new songs released each year that trigger an impulse and inspire me to come up with new ideas. It's so important to be inspired by other music, that is what keeps creativity flowing through decades, and will inspire next generations.
Our next mission is to be known for not knowing what to expect from us. Some fans are still surprised if a new song isn't a specific genre or style, but that will be the global approach for the next few years. We will explore even way further, but are very excited about how we are getting there.

Sjoerd: Personally I love a very wide variety of dance music. I love the new tech house stuff, but am also into the hard energetic party stuff! What really grew on me was the UK sound, drum and bass, and also house sounds from the '90s.
When we spoke years ago at Ultra, you mentioned that the pace of releases had changed the way people consumed music, effectively making it more fast food instead of being a fancy dinner. How do you feel artists in today's scene can stand out from the crowd and make their music feel special?
People sometimes can't explain why they like something, they just like it. I think for an artist, it's important to know who you are and what your message is to your audience. If the story is real and authentic, people gravitate towards that. There are different reasons why people become artists, some want to just be famous, some don't care about fame and just want their creativity out; it's important to stay close to who you are and be real about it. You can't pursue what someone else is doing too much because it will draw your attention away from your own destiny. So my advice would be to be inspired and take ideas from things but apply them to your own craft, so it's still original.

If you work with passion and love your music will transcend that, but obviously, there's a whole business model in conjunction with building a career, which would make this story too long. But it all starts with passion for us.
Last year saw both of you return to the stage to play a number of festivals like Countdown NYE along with some club shows. What was the experience like getting back on the stage and playing to crowds?
Yeah, it was fun to play for fans again! We loved having the time to focus on music, but as a producer, you need that energy from the crowd and also you need to hear your new music on a big sound system to really experience it! It was amazing! We missed all of our fans and hopefully with all the new music coming we found enough opportunities to reconnect again when the world opens up!
Finally, with a majority of the year still ahead of us all, what is in store for fans of Showtek in the rest of 2022?
We have used the time during the pandemic to produce a lot of new music, and we have been working closely with our team to showcase our next chapter within the next coming months. We are still finalizing our ideas and final productions which is a very time-consuming matter, but we are super excited about our next stuff, and hopefully, we will have our album ready by the end of the year.

We are also working on a cool concept that involves fashion, coming soon!
---
Connect with Showtek on Social Media:
Website | Facebook | Twitter | Instagram | SoundCloud | YouTube