This year's edition of Gem & Jam was inspiring as the festival brought plenty of unique experiences and amazing beats for attendees.
---
Since first attending Gem & Jam five years ago, it has become one that I look forward to with each passing edition. The music is incredible and showcases talented artists who mix behind the decks or play live instruments and the production is always beautiful with a variety of live painters, vendors, and flow artists. Additionally, the wide array of attendees that vibe together and offer a human connection makes it extra special. This year, they hit all of those marks as they returned to the Pima County Fairgrounds.
My group and I pulled into the camping line at the venue just before sunset on the first day but were already expecting the worst as we had seen a 60 MPH wind advisory that would elevate to over 100 MPH later that evening. That didn't deter us from pressing on to begin setting up and have a good time.
The campgrounds were in the usual spot, just outside of the main entrance on what was probably overflow parking during the fair. Lines moved quickly and we had joined our friends ready to set up camp within half an hour of arriving. The spaces weren't very well marked but you could tell that no one was afraid of proximity. Close-knit groups became larger families throughout the weekend and even our campsite had merged gracefully with a few others by the end.
While they didn't offer much in terms of amenities, the entrance was just a short distance away and offered nearly 24/7 access to the food trucks and services within the festival grounds. This made it more than sufficient for anything you could need. In addition, you could leave and return with your car if you had forgotten something like a camera memory card, something that I utilized a number of times.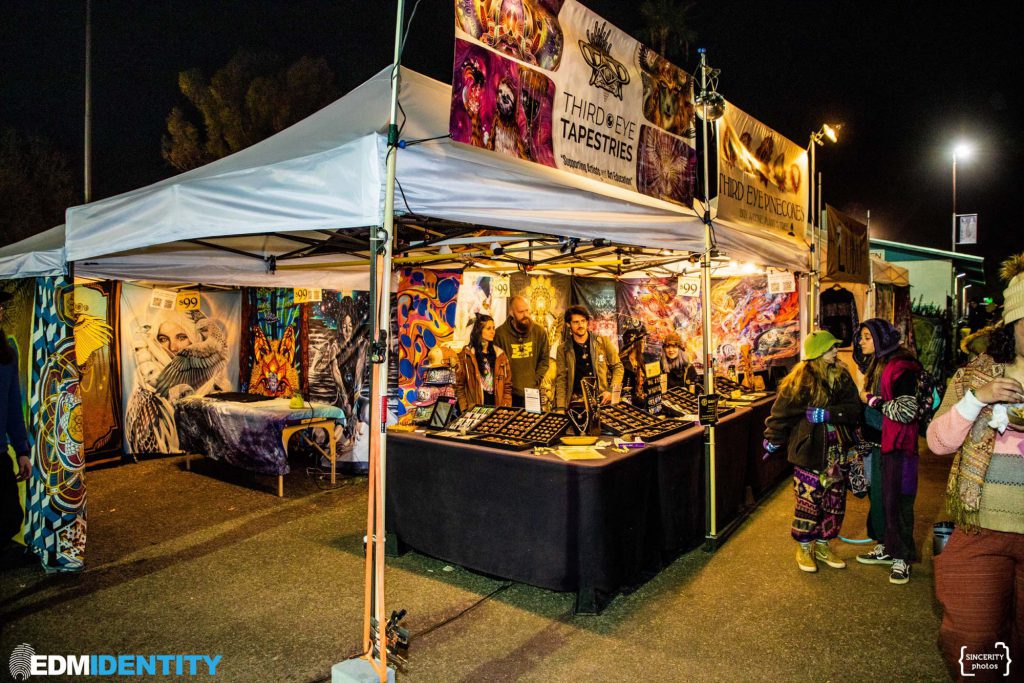 As you walk through the gates of Gem & Jam you're immediately greeted with a long row of food, art, and, of course, gem vendors.
There were vegan tacos, chicken korma, and pizza, just to name a few. One of the vendors served Chai Tea which was like really warmed the soul on such a wind chilly night. As you continued there was a space for Yoga and meditations in the morning/afternoon along with loads of interactive art, like fingers you could sit on, elevated hammocks, jungle gym rings, and more.
We caught the end of Tripp St and headed straight to Lab Group. The collective of artists that made up Lab Group were originally Supertask, Potions, and CharlestheFirst. In light of his recent passing, the set featured a tribute to Charles that was both beautiful and inspiring. They brought out family members, colleagues, and friends to dance alongside them as they reiterated Charles' message of love and community ending with the chant "You Me Us We." On the side of the crowd was a large mural of CharlestheFirst with a beautiful sunrise and wings, which was also projection-mapped to offer not only depth but wild color contrasts that brought it to life.
My favorite part of Gem & Jam were the the compliments bar, the drum circle, and the bonfires.
All three interactive experiences made a return at this year's edition and I was over the moon with excitement. Before reaching the Emerald Stage, attendees were directed to walk through the art gallery featuring live painters and sculptures. Another standout aspect this year was the tea room tent. This was complete with meditation pillows, an introduction to Tarot reading, and candles, making for the perfect place to find some calm vibes at the bustling festival.
Throughout the weekend we saw a variety of flow artists using everything from flaming staffs, LED hoops, and even a fire umbrella. Every direction you went throughout the festival grounds offered another opportunity to experience something outside of regular life. After the last set in the warehouse, the silent disco would open at the Opal stage which also featured a secret igloo with projection mapping on the rounded ceiling.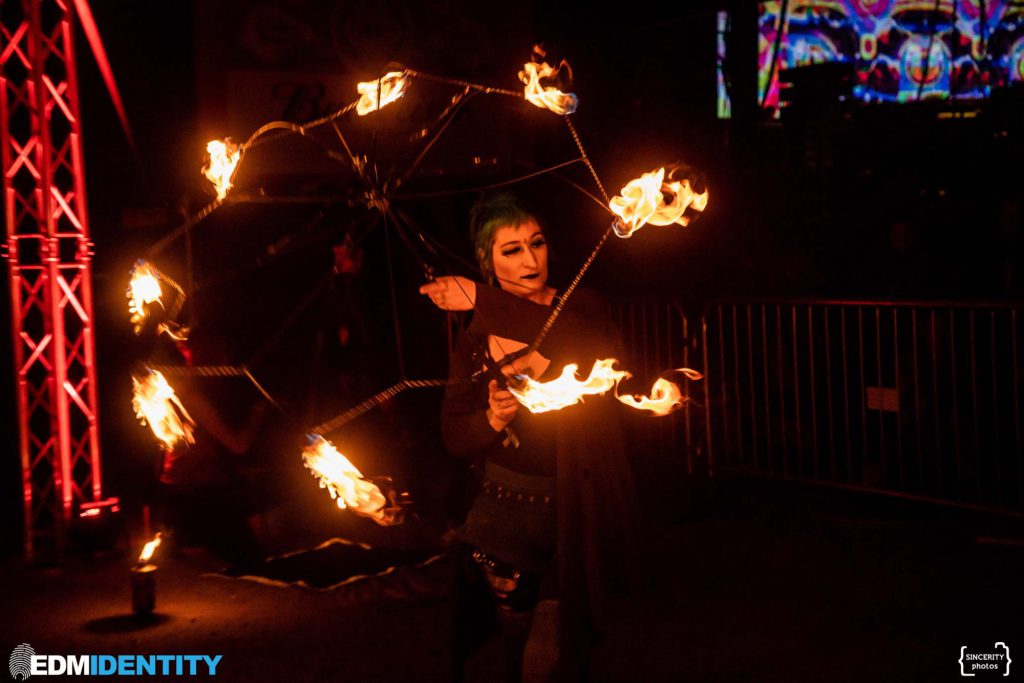 At the very end of the venue was the Emerald stage.
The Emerald stage was re-configured multiple times throughout the weekend to accommodate any configuration for its performers. Whether the artist has incredible visuals like Liquid Stranger or involved electric guitars and custom drum kits like STS9, they were ready for it all. It also wasn't just the stages that changed periodically but the organizers adapted to the different size crowds.
Although all the sets that we caught were fantastic there were some that really stood out.
Each live set came with unreal energy you could feel as you moved throughout the crowd. Lotus, STS9, and SunSquabi all featured some incredible guitarists whose shredding was definitely on par with today's rock bands. The diversity of their sound also incorporated bongos, tambourines, and deep electric bass.
OPIUO's visuals and music were groovy and his set had the entire crowd moving in wild undulations. Moon Junkies stood out for a couple of reasons, the first being that it was one of the few house sets of the weekend, and the second being that one of them brought their daughter on stage to dance. It was one of the most adorable sets of the weekend.
Bingo Bango was one of my top acts to catch and he did not disappoint. His blend of punk rock, bass, dubstep, and other genre remixes kept the crowd captivated and dancing the entire time. Additionally, NotLö and VEIL were two producers I had never had the chance to catch before, but after seeing them play I have craved more of their sound ever since. Not only did they kill their sets but they are also both female producers which was a really nice bonus compared to many festivals' male-dominated lineups.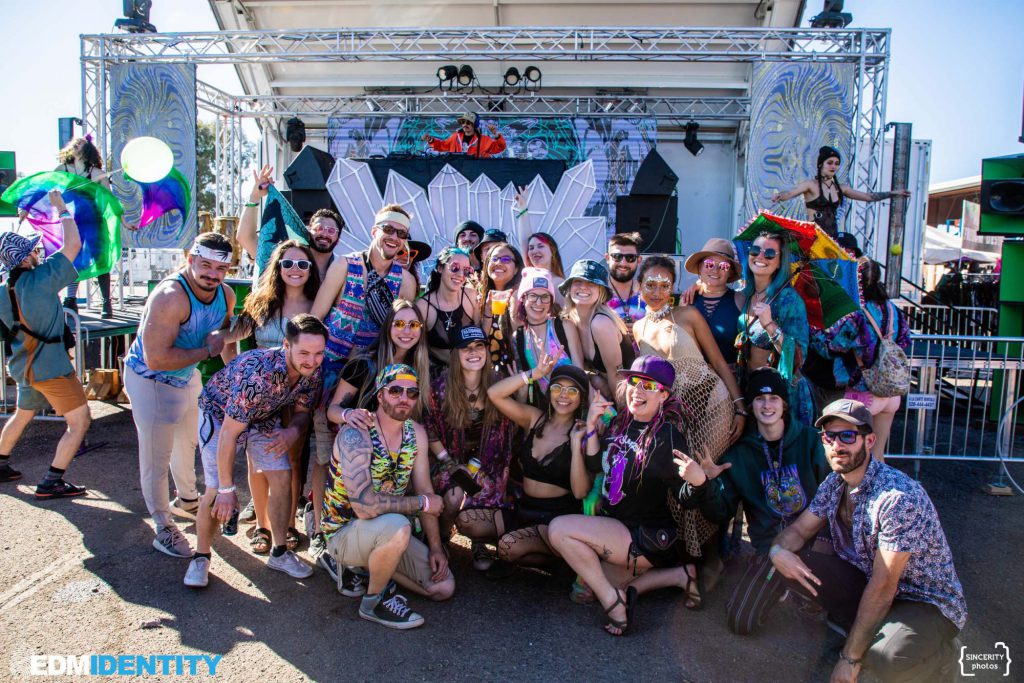 Gem and Jam once again brought together a community of artists, performers, and attendees, forming bonds and friendships throughout the weekend.
Their adaptability to the size of the crowds as well as the layout of the festival itself was truly a testament to the experience of the organizers. Every space was curated and every musical arrangement was given life through some fantastic sounds systems.
The integration between creator and consumer is one of the most unique experiences of this festival and this year's edition has continued that great tradition. If you have a chance to put Gem and Jam on your festival lineup for 2023, I strongly recommend it.
Be sure to check out the rest of our photos in our photo gallery on Facebook!
---
Connect with Gem & Jam Festival on Social Media: