The YOU ME US WE memorial show was full of beautiful energy shared among the community CharlestheFirst lovingly built.
---
When you hear the name CharlestheFirst, you can't help but think of music created with a big heart and loving intentions. His unique blend of hip-hop influences and sexy bass intertwined to create something special. This drew fans in from all walks of life, and his passing hit the community hard. To celebrate his life and legacy, many of his faithful followers, friends, and family headed to The Mission Ballroom in Denver for YOU ME US WE or tuned in remotely to catch the livestream.
Unity was present even in the pre-show moments. The evening began with an awe-inspiring sunset that painted the sky with pinks, purples, and blues harmoniously meshed together. It was the perfect backdrop for the unveiling of the mural created by Brittney Sundquist, almost as if Charles had a hand in it all himself.
After the more intimate mural reveal, the lines began to form with supporters as far as the eyes could see for this sold-out event. There was nothing but love to be shared while everyone waited to enter the venue. Even some stickers with Charles-inspired images on them were being passed along to anyone who wanted one.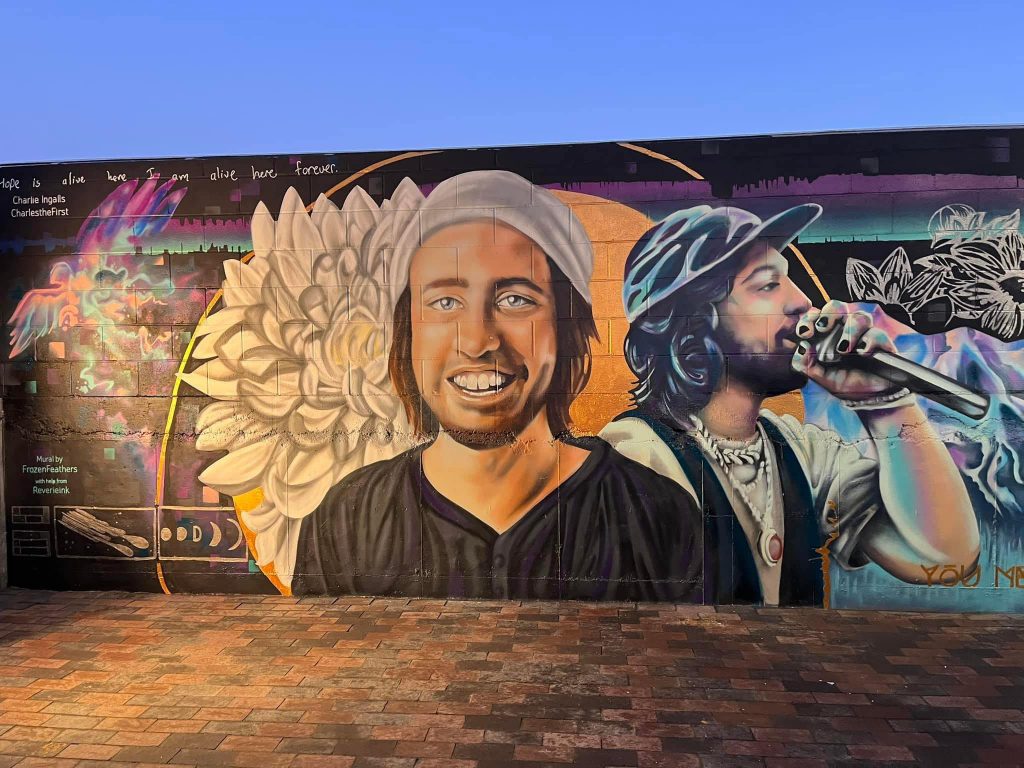 The night started with an opening ceremony led by an old friend and one of Charles' first music collaborators, Sequoyah Fox.
Sequoyah Fox asked all who felt comfortable to close their eyes and take a few deep breaths to center themselves while focusing on a moment they felt CharlestheFirst's impact on them and bring that to the forefront of their mind. She reminded everyone that even though he wasn't physically present with us in that room, he was there in the spiritual realm, and that reminder was comforting.
After the mediation, CharlestheFirst's older brother Kaya Lampa shared some words and cherished memories. There wasn't a dry eye in the building while hearing the love pour out from his touching words. He then chanted "Charles" and encouraged the crowd to do the same to pick up our spirits. His name echoed throughout the building, and all over the world, as viewers in person and via live stream joined in.
The night continued as some of CharlestheFirst's favorite companions played in his honor.
Once the heartfelt stories and words of endearment were over, it was time to represent CharlestheFirst through sound. Bringing forth the hip-hop of the night, Brio threw down some tracks that reminded him of Charles and even an unreleased collab shared between the two.
Next up was Huxley Anne, who shared another unreleased song she and Charles had been working on along with the story behind it. She read his script for a short video with a slide show for imagery. This was from the point of view of watching a younger version of himself experiencing moments in his hometown of Reno as if he was on the "Outside Looking In" – the name of the unreleased track and coinciding video. Hearing the thought process behind the project made everyone feel closer and more understanding of the vision he was trying to portray through the lyrics and soundscapes.
Starting his set by saying, "Charles loved dancing and getting down, so that's what we're gonna do," Player Dave jumped right in with no time wasted and played an absolute banger of a tune he and CharlestheFirst made together. The mixture of the two gurus' sounds was a pairing the world needed to hear, and we were lucky enough to hear it that night. Soon after, KLL SMTH added onto the unreleased Charles collaboration train, bringing along his own ID that contributed to the night.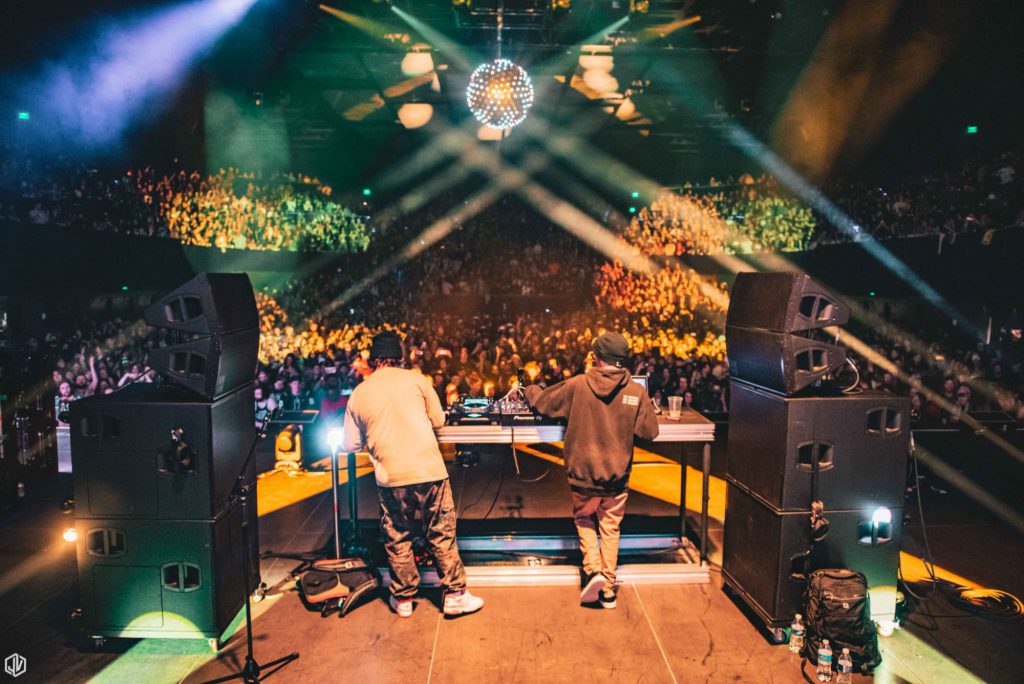 As the evening began to come to a close, the crowd was feeling more above the water than ever.
Sharing the melodies and songs that have helped him with grief in his recent years, Yheti played some songs more on the softer side. It was a good point in the night for a breather, especially since two powerhouses, VCTRE and Black Carl!, were up next. They unleashed the fury with hard, heavy sounds from their collaborative project, Integrate. Not a single person was sitting during their set; they were all too busy jumping and yelling in excitement to the non-stop heaters. Charles would have been proud.
CloZee showed up with "all gas no breaks," as Charles would say, and brought her exotic goddess flair to the night. She played out the songs she felt suited the night and ended with her favorite tune that he created. After headbanging their necks out of commission from the previous performance, it was just what everyone needed.
CharlestheFirst had many amazing friends playing that night, but one that was truly special was from his best friend, Of The Trees. He played songs that they would listen to while laying on the floor talking about anything and everything and a collab project they recently finished that brought them even closer to each other than they already were. You could feel his love for Charles bursting through each song he chose to play.
Then, Supertask and Potions of Lab Group put their hearts on the table.
The crowd took a moment of silence to honor the man of the night, and that silence was slowly filled with the sounds from Lab Group. From new to old, they played it if it had Charles' influence on it. It was a bittersweet feeling as you could sense his presence the most during their set, almost as if he was there standing between the two smiling with admiration. You couldn't help but feel the healing happening when the two closed out with "Healing" by Supertask.
The final moments of the night were nothing short of amazing. After a long night of getting down in Charles' honor, tiedye ky slowed it back down for a second and played the piano while singing a fan favorite, "Figured U Out." It was hard not to lose your breath in awe when hearing it played out with the melody of the piano in your ear and Kyle's comforting voice. This was hands down one of my favorite moments of the night.
Lab Group wasn't finished either, as they came back out and played more unreleased IDs. The most memorable moment was when they played "Old Ways" and turned down the audio for everyone all to yell in unison, "LAB GROUP TILL I DIE COME TO CLASS WITH ME!" You could feel the appreciation and love for Charles radiating out through the voices.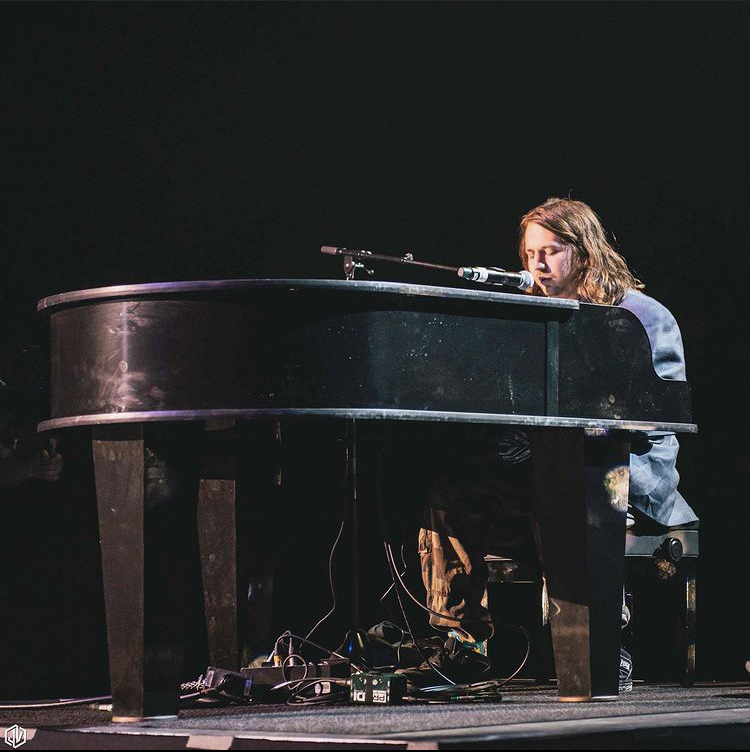 Family doesnt always have to be by blood and YOU ME US WE proved that.
All of Charles' best friends and people he held so dear to his heart were on that stage for the final moments for a family back-to-back set. At one point, there were close to 20 talented creatives on the stage for the family finale. Then, the lovely and talented Renee King, also known as Rukü, covered "Mirror" by Madison Ryann Ward. Chills covered the bodies of everyone in attendance when the first note of the piano echoed out through the venue, followed by her angelic voice singing out the heartfelt lyrics that many souls there could relate and connect to.
The song's lyrics that ended the night said, "Tomorrow's never promised only yesterday's a guarantee. And if I'm being honest, yeah baby, that's the only thing that carries me" – a beautiful message to end the night of healing. It's a lovely reminder to live in your moments and soak in the time shared with the people who make your heart sing.
We laughed and cried, and the love for the community CharlestheFirst grew. It was a night that embodied the legacy he left behind. He will be missed but will never be forgotten. CharlestheFirst will forever reign.