Family, friends, and fans have a chance to gather and hold each other in a warm embrace while celebrating CharlestheFirst and his legacy.
---
It's been a little over a month since the passing of CharlestheFirst, but it feels like it's now been a lifetime without his physical presence. The love he shared with all whom he crossed paths with along the way is so apparent. Since his passing, many have shared stories of their interactions from minuscule to massive, but the one thing that's clear is how big of a heart he possessed. He knew no strangers, his compassion, understanding, and love were present to all. Seeing the community chime in on their memories and the unmeasurable amount of kindness CharlestheFirst showed is so beautiful and comforting in its own way.
For many, the sun hasn't seemed to shine quite as bright and their hearts feel as if they truly haven't had the chance to pay their respects to someone that left such a positive impact on their lives, one that they will carry with them forever. On January 29, at The Mission Ballroom loved ones and fans will have the chance to come together for You Me Us We, an evening to celebrate his life.
There will be a mural unveiling at the Mission Ballroom to start the night at 5pm, with doors opening at 6pm. It wouldn't be a celebration of CharlestheFirst's life without his most loved companions, Lab Group, playing in his honor. Along with them are said to be many other friends and collaborators present of our beloved CharlestheFirst, but no specifications have been made. Many have said they will be there in attendance such as Of The Trees, Supertask, Potions, EAZYBAKED, Integrate, Ruku, and more. Tickets are available now for those planning to attend.
If you're unable to attend but want to help support Charles and his loved ones there is a GoFundMe page created by his mother, Beth Ingalls. Any money raised over the amount needed for the family's immediate needs will help start a foundation in Charles' name. The vision is to create a retreat, healing center, and collaborative studio environment for artists.
He may be gone, but he still has a way of bringing us all together. Although his time here may have been short, he will live on through us forever. If one thing is for certain, it is that we were all truly blessed to walk the earth the same time CharlestheFirst had his reign. Let us show him how much he was loved by living each day in our present moments and by showing each other unconditional compassion and respect. CharlestheFirst forever, YOU ME US WE.
---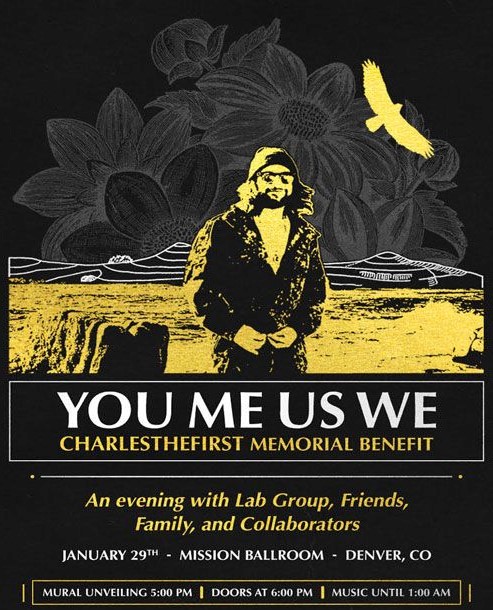 ---
Essential Info:
Date: January 29, 2022
Ages: 16 and over
Hours: 6pm-1am
Venue Address: 4242 Wynkoop St. Denver, CO 80216
Tickets: PURCHASE HERE
Facebook Event Page: RSVP HERE