The Afternoon Umbrella Friends unveil the initial lineup for Umbrella Weekend including Lubelski, DiNK!, Memo Rex, Drew Dapps, and more!
---
The Afternoon Umbrella Friends can rest easy as they no longer have to keep the Umbrella Weekend lineup a secret. After much anticipation, the initial lineup for the multi-day festival has finally been announced and the wait was certainly worth it. Pulling a plethora of talent from their hometown of San Diego, as well as seeking out incredible artists from around the country, Umbrella Weekend is sure to be one of the best editions yet.
While the private location is still under wraps, you can go ahead and block off March 24-28 and secure your ticket because no matter where it is located you won't want to miss it. Taking the stage at this year's event are artists such as Lubelski, DiNK!, Memo Rex, Casmalia, Drew Dapps, Green T, and Oren. Helping further curate the vibes are others including the likes of Show Shonna, Castillo, Andrew Wilkinson, Sprout, Will Lavin, Elon Mollusk, Rock The Discotek, Soulena, Britton, and plenty more.
General sale tickets are available now and can be purchased on the Umbrella Weekend website. Tier 1 tickets are $155 (plus fees) and will increase to $175 at Tier 2. Attendees can also lock in their passes for Thursday early arrival, parking, car camping, and RV camping via the Umbrella Weekend website. Thursday early arrival passes are $25, parking passes are $30, car camping is $80, and RV camping is $240.
---
Umbrella Weekend 2022 – Phase One Lineup: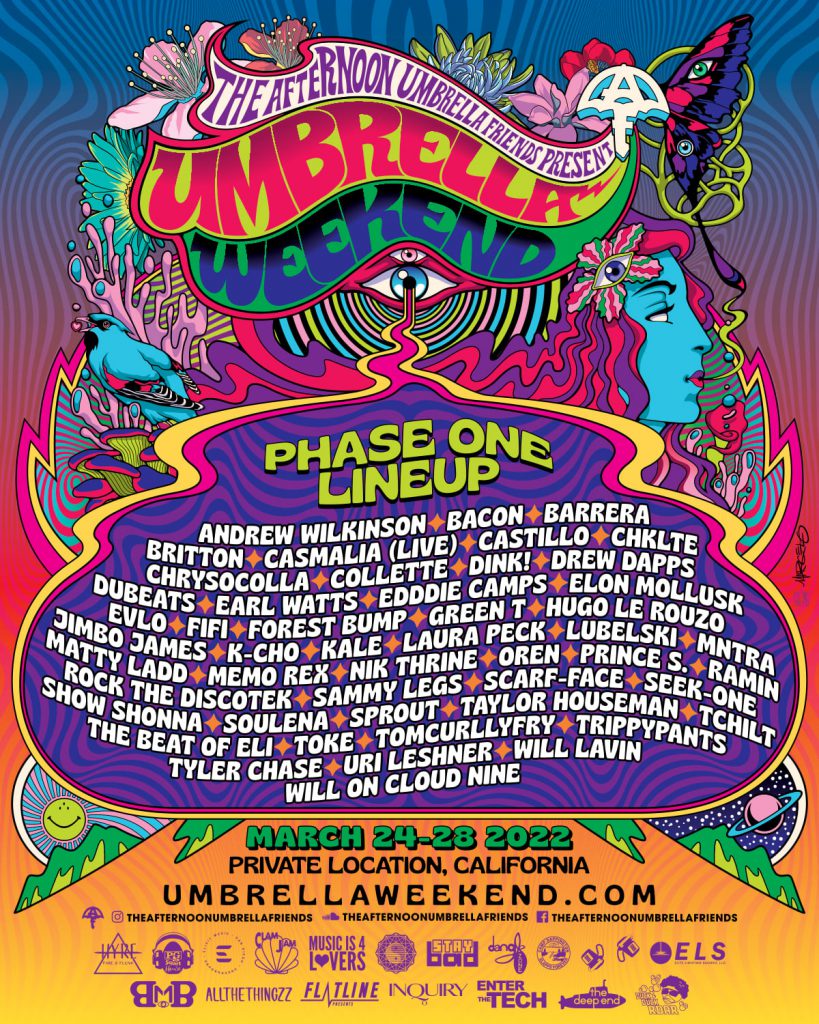 ---
Umbrella Weekend 2022 – Phase One Lineup By Artist:
Andrew Wilkinson
Bacon
Barrera
Britton
Casmalia (live)
Castillo
Chklte
Chrysocolla
Collette
DiNK!
Drew Dapps
Dubeats
Earl Watts
Eddie Camps
Elon Mollusk
Evlo
Fifi
Forest Bump
Green T
Hugo Le Rouzo
Jimbo James
K-cho
Kale
Laura Peck
Lubelski
Mntra
Matty Ladd
Memo Rex
Nik Thrine
Oren
Prince S.
Ramin
Rock The Discotek
Sammy Legs
Scarf-Face
Seek-One
Show Shonna
Soulena
Sprout
Taylor Houseman
Tchilt
The Beat Of Eli
Toke
Tomcurllyfry
Trippypants
Tyler Chase
Uri Leshner
Will Lavin
Will On Cloud Nine
---
Follow The Afternoon Umbrella Friends on Social Media:
Facebook | Instagram | SoundCloud | YouTube | Twitch