After taking Twitch by storm in 2020, XiJaro & Pitch hosted the Chasing Dreams fundraiser. Now, it's back for an even bigger edition!
---
Anthony "Pitch" Reyers and his musical partner Xander van Dommelen (XiJaro) are not ordinary DJs or producers. After working together for about 15 years, the pandemic lockdowns of 2020 became a breakout opportunity for the duo. While that doesn't sound so extraordinary, it is because Pitch, often the one seen on Twitch, is blind. Pitch + Twitch was an unexpected magical match; instead of hiding behind the decks, he was on-screen showcasing himself and his condition. Despite being unable to see, his talent on the decks is clear, and his ability to chat with fans while shining his nonstop bright smile is unmatched.
Anthony will tell you "dreams are meant to be chased" and despite being blind since birth from Norrie Disease (which is slowly claiming his hearing as well) he has continued to chase his dreams. Using their Twitch fame, XiJaro & Pitch hosted the Chasing Dreams fundraiser in 2020 and have since launched Chasing Dreams as its own brand. The weekly Twitch stream and podcast aim to inspire the community to give back, and boy has the community responded – raising over £50,000 for The Norrie Disease Foundation in the past year alone.
Norrie Disease is so rare that the funds raised by the first Chasing Dreams fundraiser practically doubled the foundation's research staff and initial studies are now moving towards human trials. Anthony had such an impact that he has since joined the foundation's board and is having a direct influence over how resources are allocated.
Chasing Dreams is having a real effect and trance fans have rallied to make this possible. Now, XiJaro & Pitch are bringing it back for another round on February 4-6 this year with a hefty offering of talented trance artists like Darude, Rinaly, Robert Nickson, Emma Hewitt, Ferry Tayle, and more set to play the upcoming stream on Twitch.
Check out the trailer and lineup below and RSVP for this incredible event. You can also donate to the Norrie Disease Foundation on behalf of Chasing Dreams now!
Watch the Chasing Dreams 2022 Trailer on YouTube:
---
Chasing Dreams 2022 Lineup: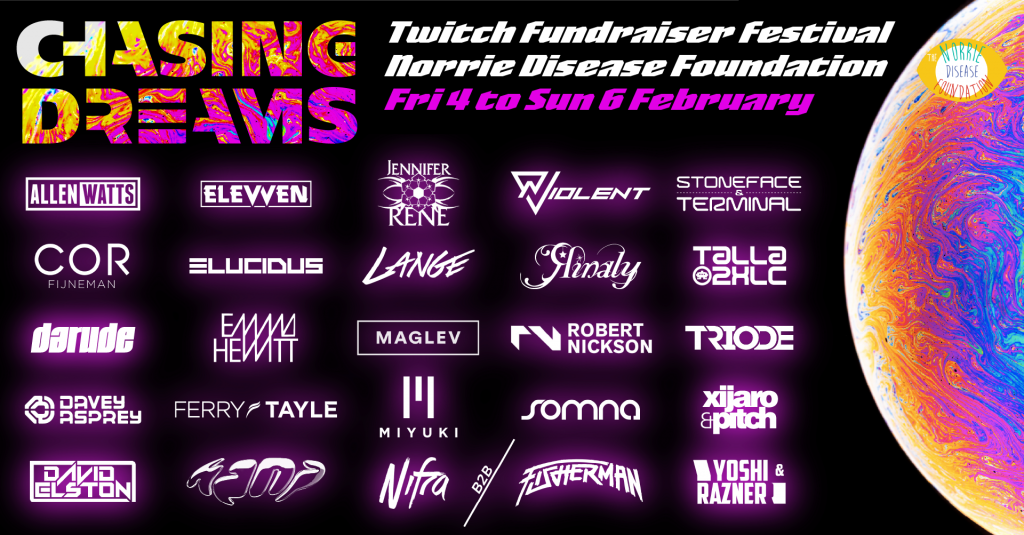 ---
Chasing Dreams 2022 – Lineup By Artist:
Allen Watts
Cor Fijneman
Darude
Davey Asprey
David Elston
Elevven
Elucidus
Emma Hewitt
Ferry Tayle
HANA
Jennifer Rene
Lange
Maglev
Miyuki
Nviolent
Nifra b2b Fisherman
Robert Nickson
Rinaly
Somna
Stoneface & Terminal
Talla2XLC
Triode
XiJaro & Pitch
Yoshi & Razner
---
Follow XiJaro & Pitch on Social Media:
Facebook | Twitter | Instagram | SoundCloud | YouTube | Twitch