XiJaro & Pitch are making a difference with their fundraisers on Twitch and they're back with a four-day run featuring a stacked lineup to do it again!
---
Early in the pandemic duo XiJaro & Pitch came out of the gate strong with an endurance for livestreaming that was matched by few others. Aside from, perhaps, Gabriel & Dresden and their Club Quarantine streams. They share another parallel with Gabriel & Dresden in that both duos have generally had a single face on the livestreams. In this case, it's Anthony "Pitch" Reyers on the decks.
XiJaro & Pitch knew from the start that he wanted the livestreams to do more than just entertain. Their followers on Twitch organically bonded over the passion and energy that Pitch was sharing with them. Soon XiJaro & Pitch could see that their community could help them fundraise for the Norrie Disease Foundation.
Norrie is a very rare disease that has left Pitch blind and the research foundation is very small. XiJaro & Pitch did the first fundraiser hoping to raise £5,000. They were totally blown away to raise more than £23,000! This infusion allowed them to double their number of researchers from one to two. It's rare that those raising funds can see the direct impact, but here, we see the foundation having the funding to add a postdoctoral researcher as a direct result of what XiJaro & Pitch have done.
"This is a very concrete result, I even talked to the researchers themselves, and saw some preliminary results," says Anthony. This, in turn, drove Anthony and Xander (XiJaro) to host another event. Their ambition with the latest fundraiser is to add a third researcher. Chasing Dreams is four days of the best trance on Twitch, not only in support of the Norrie Disease Foundation. It is also a reminder that times are never too challenging to keep chasing dreams, your own, or the ones from others."
Chasing Dreams starts its four-day run on Saturday, December 26 at 5am PT / 8am ET / 2pm CET. You can RSVP on Facebook to stay updated, watch the trailer on YouTube, and make sure to follow Chasing Dreams and XiJaro & Pitch on Twitch to catch all the action!
---
Chasing Dreams Schedule: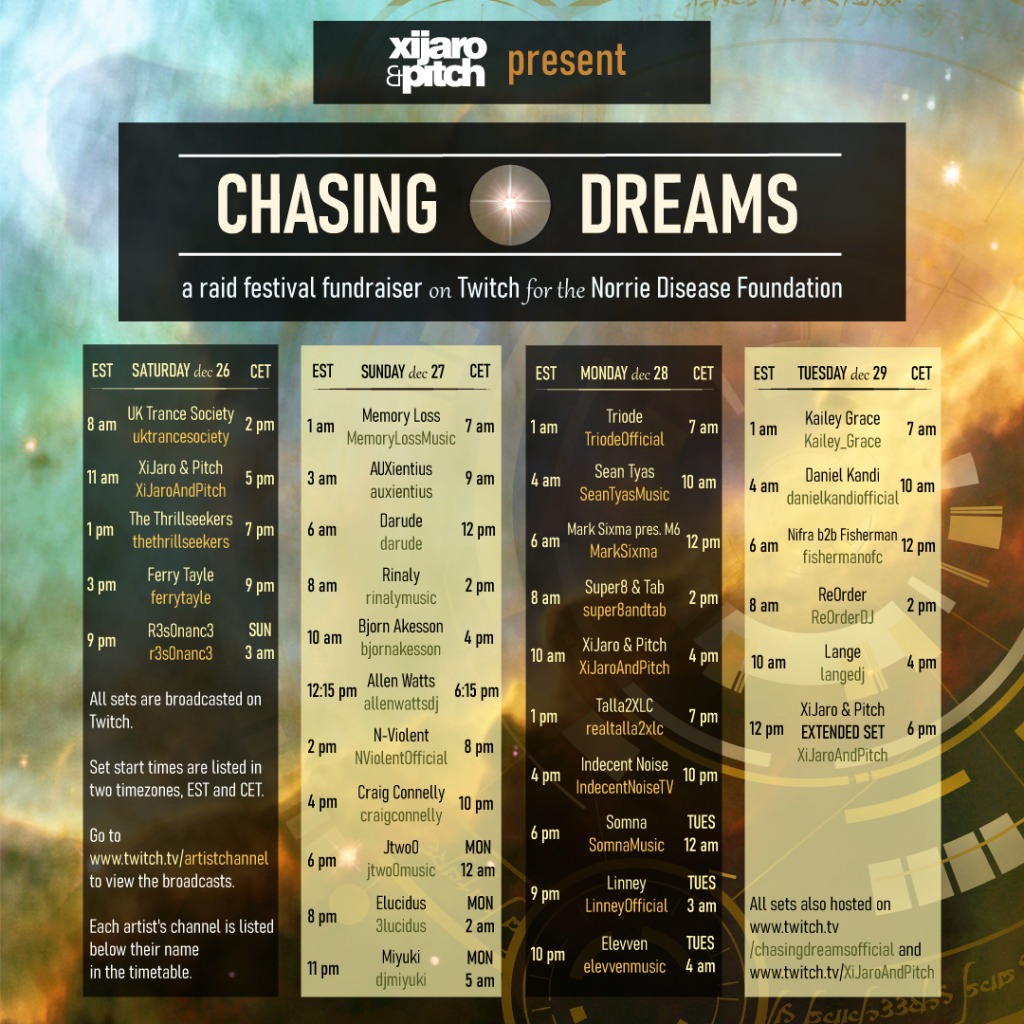 ---
Chasing Dreams Lineup (in Alphabetical Order):
Allen Watts – twitch.tv/allenwattsdj
AUXientius – twitch.tv/auxientius
Bjorn Akesson – twitch.tv/bjornakesson
Craig Connelly – twitch.tv/craigconnelly
Daniel Kandi – twitch.tv/danielkandiofficial
Darude – twitch.tv/darude
Elevven – twitch.tv/elevvenmusic
Elucidus – twitch.tv/3lucidus
Ferry Tayle – twitch.tv/ferrytayle
Indecent Noise – twitch.tv/indecentnoisetv
Jtwo0 – twitch.tv/jtwo0music
Kailey Grace – twitch.tv/Kailey_Grace
Lange – twitch.tv/langedj
Linney – twitch.tv/linneyofficial
Mark Sixma pres. M6 – twitch.tv/marksixma
Memory Loss – twitch.tv/memorylossmusic
Miyuki – twitch.tv/djmiyuki
Nifra B2B Fisherman – twitch.tv/fishermanofc
N-Violent – twitch.tv/NViolentOfficial
R3s0nanc3 – twitch.tv/r3s0nanc3
ReOrder – twitch.tv/reorderdj
Rinaly – twitch.tv/rinalymusic
Sean Tyas – twitch.tv/seantyasmusic
Somna – twitch.tv/somnamusic
Super8 & Tab – twitch.tv/super8andtab
Talla2XLC – twitch.tv/realtalla2xlc
The Thrillseekers – twitch.tv/thethrillseekers
Triode – twitch.tv/triodeofficial
UKTS – twitch.tv/uktrancesociety
XiJaro & Pitch – twitch.tv/xijaroandpitch
---
Follow XiJaro & Pitch on Social Media:
Facebook | Twitter | Instagram | SoundCloud | YouTube | Twitch