Nurko discusses the meaning, symbol, and story behind his project and delivers the initial dates for his forthcoming Arrival tour this spring.
---
The descendent of generations of creative minds, Nurko was seemingly born to become a creative. Throughout the course of his upbringing, the DJ and producer learned how to create and manipulate music through playing the piano and drums at an early age, and also formal music education in college. After establishing a passion for electronic music via the exploration and influence of the internet, his project came to life with early releases like "Goodbye," "Your Embrace," and a remix of Halsey's "Without Me" catching the attention of tastemakers in the scene.
Nurko's upward path continued in 2021 with singles such as "Disappearing Now" with Chandler Leighton and "Hallejulah" with Devon Baldwin paving the way for what's to come – his forthcoming EP, Arrival. This past week, he began to share more details on the upcoming release, giving fans an intimate look into the meaning, story, and symbol that make up his project on social media. Nurko makes his message clear – he's not here just to share his impressive discography with the world, but to share the beautiful experience of human existence itself.
To cap off the week, Nurko also dropped the details for his tour this spring. Kicking off on March 10 at Portland's 45 East, he'll then touch down in cities like Denver, Boston, Honolulu, Los Angeles, and Tampa, giving fans across the country a chance to connect with the music itself. As well as headlining venue stops, he'll take the stage at festivals like Ubbi Dubbi before bringing the first set of dates to a close on April 29 at New York City at the renowned Webster Hall.
It's hard to walk away from such powerful messages without feeling inspired and excited to see what else the man behind the words has got to offer. Tickets for Nurko's Arrival Tour are on sale now. Head over to his website to grab your passes and RSVP to the show in a city near you.
---
Nurko's Arrival Tour 2022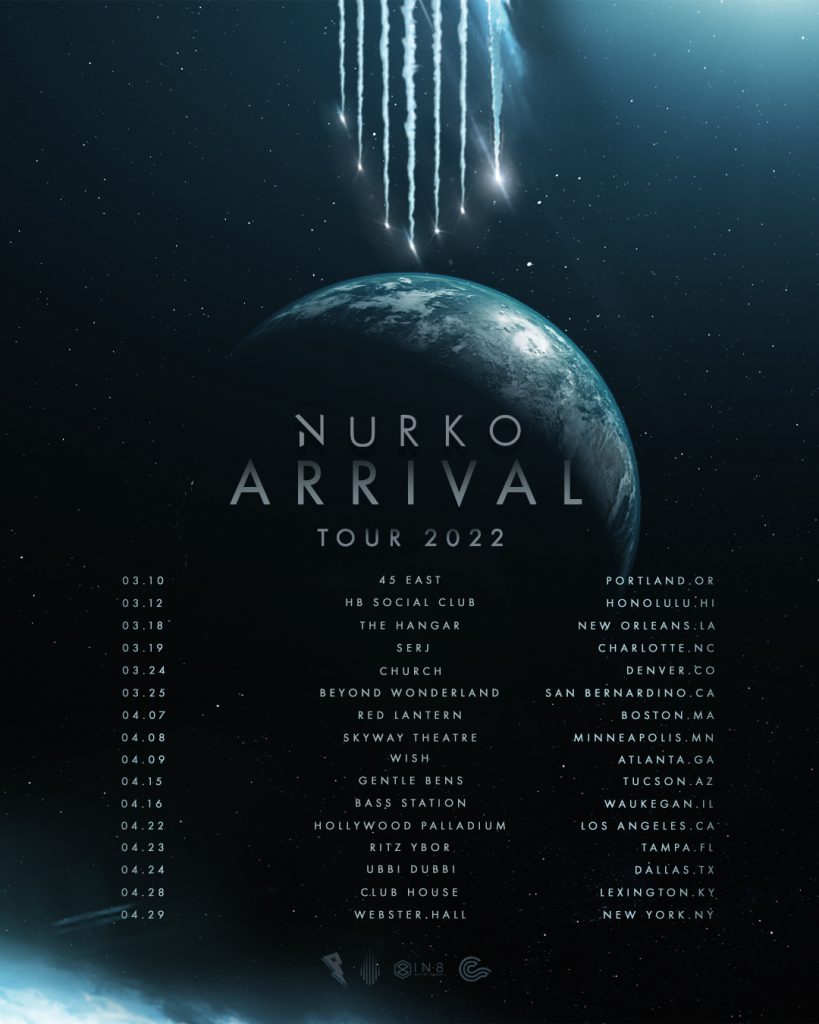 ---
Nurko's Arrival Tour 2022 – Dates & Venues:
Mar 10, 2022 – Portland, OR – 45 East
Mar 12, 2022 – Honolulu, HI – HB Social Club
Mar 18, 2022 – New Orleans, LA – The Hangar
Mar 19, 2022 – Charlotte, NC – Serj
Mar 24, 2022 – Denver, CO – Church
Mar 25, 2022 – San Bernardino, CA – Beyond Wonderland
Apr 7, 2022 – Boston, MA – Red Lantern
Apr 8, 2022 – Minneapolis, MN – Skyway Theatre
April 9, 2022 – Atlanta, GA – WISH
Apr 15, 2022 – Tucson, AZ – Gentle Bens
Apr 16, 2022 – Waukegan, IL– Bass Station
Apr 22, 2022 – Los Angeles, CA – Hollywood Palladium
Apr 23, 2022 – Tampa, FL – The RITZ Ybor
Apr 24, 2022 – Dallas, TX – Ubbi Dubbi
Apr 28, 2022 – Lexington, MA – Clubhouse
Apr 29, 2022 – New York, NY – Webster Hall
---
Follow Nurko on Social Media:
Website | Facebook | Twitter | Instagram | SoundCloud | YouTube