Rising bass artist Green Matter releases a flurry of remixes from Speakers Knockin' featuring Feelmonger, Solfire, Yewz, and more!
---
Searching for a fresh sound to feed into your system? Look no further than up-and-coming bass music prodigy Green Matter. Hailing from Denver, her debut EP Neon Nature received massive support from renowned names in the scene such as Aweminus, Trollphace, and Sullivan King. With a neon green aura and an electric stage presence to match, her sound has a unique spin on mixing melodic-style synths and intricately produced yet extremely face-blasting basslines.
Green Matter's most recent EP, Speakers Knockin', takes on a much heavier style than Neon Nature with tracks like "Off Like A Bomb" showcasing a spin-off of classic dubstep styles with modernized use of production quality fit for a speaker-stacked festival stage. Now, she has rounded up a selection of fellow rising bass artists including Z-Dougie, Feelmonger, Solfire, SO LXVELY, and Yewz, to be featured on her brand new Speakers Knockin' Remixes EP.
Each artist brings a special twist to the original tunes from Speakers Knockin' while keeping the same high-energy Green Matter initially delivered in each track. From the start, Z-Dougie puts on a funky rhythmic flair for "Going Up," keeping a similar melodic style but adding some heavy sampling to add an enhanced mood to the original tune. Feelmonger brings the heat with their spin on "Off Like A Bomb," cascading the original bassline while adding drums and flares throughout the entire journey of the track. Solfire adds a refreshing, deep bass twist to "Off Like A Bomb" as well with a touch of hip-hop influences.
The penultimate remix arrives from SO LXVELY, who completely flips "Speakers Knockin'" with some cleverly styled chopped samples and a no-holds-barred bassline. This easily makes it the heaviest track on the release and one that stood tall among the rest. Then, Yewz brings on a righteous finale for "Speakers Knockin'" by adding an array of breakbeats and a mix of grimy bass and curated twists on the original vocal sample.
Green Matter's Speakers Knockin' Remixes provides a great soundtrack for anyone looking to spice up their 2022 playlists. Listen to them all on Spotify or your favorite platform, and make sure to catch Green Matter at an upcoming show near you!
Stream Speakers Knockin' Remixes on Spotify:
---
Green Matter – Speakers Knockin' (Remixes) – Tracklist:
Going Up (Z-Dougie Remix)
Off Like a Bomb (Feelmonger Remix)
Off Like A Bomb (Solfire Remix)
Speakers Knockin' (SO LXVELY Remix)
Speakers Knockin' (Yewz Remix)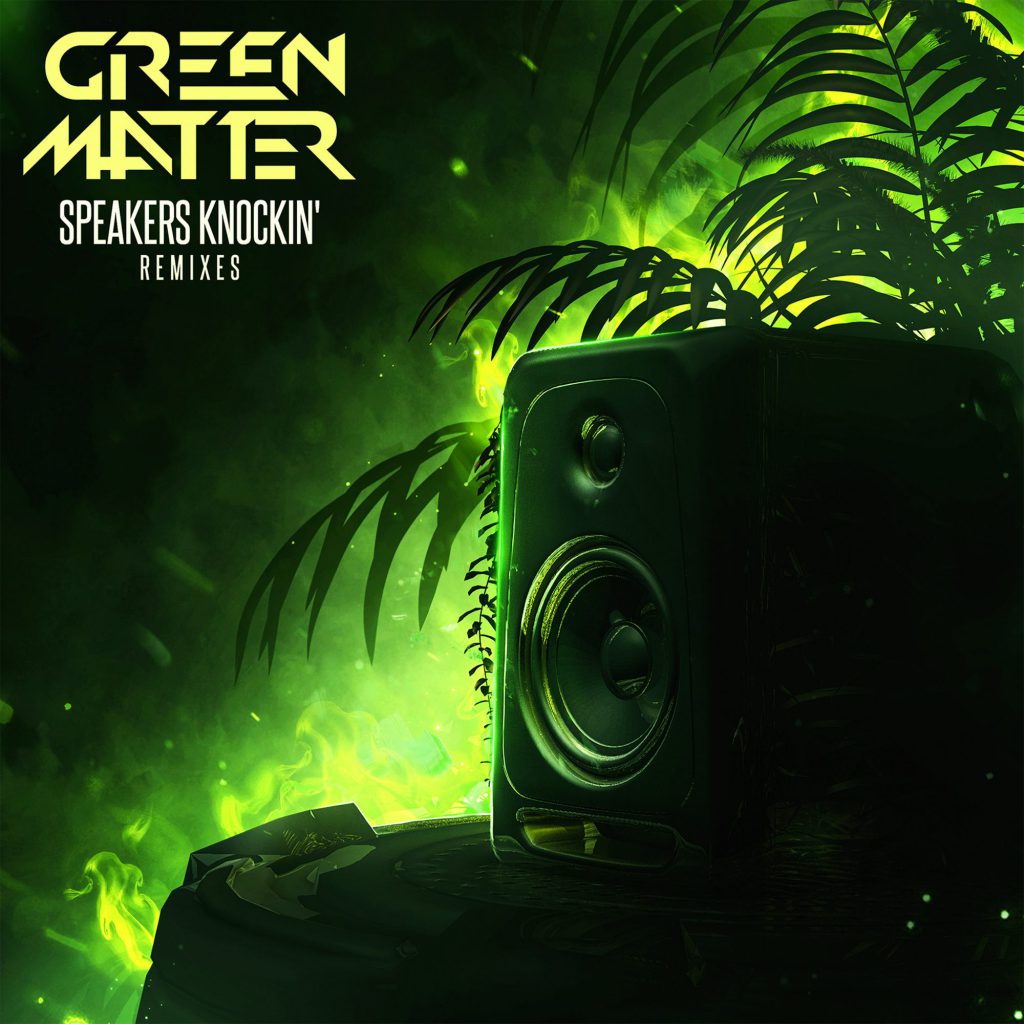 ---
Follow Green Matter on Social Media:
Website | Facebook | Twitter | Instagram | SoundCloud