Minnesota, Mr. Bill, Kursa, Luzcid, and more are set to play Sol Fest, a brand new music, art, and camping experience coming to Florida.
---
If you thought 2021 was jam-packed with the return of events, buckle up for 2022! With lineups being announced left and right, there are some new gems emerging this year, and Sol Fest is one of them. This brand new Florida festival came seemingly out of nowhere but will have bass lovers near and far highly considering a trip to the Sunshine State on May 6-8.
Gracing the top of Sol Fest's bass-heavy lineup are Minnesota and Mr. Bill, with one more blurred headliner to be announced, along with special guests Luzcid and Kursa. The heat continues with so many current favorites in the underground bass scene on the undercard including Meso, Ravenscoon, Toadface, Engix, and Vibe Emissions. And not only will Sol Fest be blessed with solo sets from Black Carl! and VCTRE, but one from their collaboration project, Integrate, as well.
Sunrise sets are always dreamlike and freeform bass producer Super Future is set to play for two hours during this prime time, and you can only imagine how mesmerizing that morning will be. Other rising stars on the lineup that are sure to impress include Zen Selekta, jordnmoody, Common Creation, ujuu, Sky Suite, and Benji Robot who is slated to play twice as well. Additionally, Keota and Mindex are sure to bring the deep underground vibes as will Murkury and Mistah Dill.
The festival boasts of a beautiful setting at Lilypad Adventures Campground in Daniel Springs, Florida, and will feature interactive art installations, healing workshops, and plenty of activities outside of the music. Aiming to create an "intimate, illuminating world" the art and production at Sol Fest are anticipated to be mind-blowing, so if you're as eager to check out this new event as we are, head over to their website for tickets and more information.
Tickets for Sol Fest are on sale now so grab yours via Ticket Tailor with GA three-day passes starting at $179.99 (+ fees) and car camping available as well. Let us know if you plan to attend this new festival in the comments!
---
Sol Fest 2022 Lineup: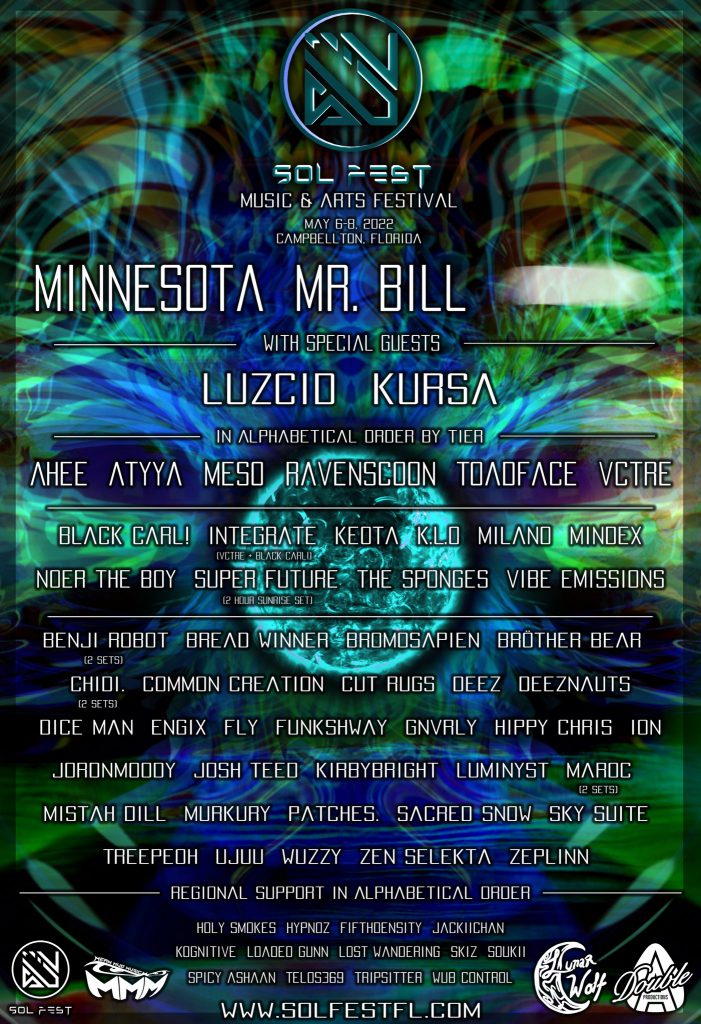 ---
Sol Fest 2022 – Lineup By Artist:
Minnesota
Mr. Bill
Luzcid
Kursa
Ahee
Atyya
Meso
Ravenscoon
Toadface
Vctre
Black Carl!
Integrate (Black Carl! and Vctre)
Keota
K.L.O
Miland
Mindex
Noer The Boy
Super Future (2 hr sunrise set)
The Sponges
Vibe Emissions
Benji Robot (2 sets)
Bread Winner
Bromosapien
Brother Bear
Chidi (2 sets)
Common Creation
Cut Rugs
Deez
Deeznauts
Dice Man
Engix
Fly
FunkShway
Gnvaly
Hippy Chris
Ion
Jordnmoody
Josh Teed
Kirbybright
Luminyst
Maroc (2 sets)
Mistah Dill
Murkury
Patches
Sacred Snow
Sky Suite
Treepeoh
Ujuu
Wuzzy
Zen Selekta
Zeplinn
Holy Smokes
Hypnoz
Fifthdensity
Jackiichan
Kognitive
Loaded Gunn
Lost Wandering
Skiz
Soukii
Spicy Ashaan
Tel05369
Tripsitter
Wub Control
---
Follow Sol-Fest on Social Media: