Bringing mindfulness to the dancefloor through yoga, spirituality, and wellness is the mission of The Gardens Of Babylon.
---
Shishi Meriwani founded The Gardens of Babylon five years ago with a specific mission for the effort and mindfulness on the dancefloor at the core – and it's been quite a ride ever since. The Gardens of Babylon began with smaller events, then retreats and festivals, and now includes a record label as well. All of this has kept Meriwani busy for the last five years, and while the pandemic reshaped many of her plans, it most certainly has not stopped The Gardens Of Babylon from advancing its mission.
The Gardens Of Babylon have drawn a very loyal following in every market they have touched. While I'm sure part of this is simply the shared love of great music and some connection to mindfulness, there's also no doubt that these followers are unique and more loyal because of the mission. Local followers get very involved with local events, often becoming part of the art and artistry even if they aren't creators themselves. This makes the family that follows The Gardens Of Babylon fiercely loyal and quite vested in each and every event. And also quite vested and connected in one another.
Looking to gain some added insight into the mind of Shishi Meriwani and the story behind The Gardens of Babylon, we sat down for a chat. Check out the set from Heimlich Knüller from their ADE showcase and read on for the full conversation to find out more!
Give a listen to Heimlich Knüller's set from ADE 2021:
---
Thanks for chatting with us today! The Gardens of Babylon has a mission to connect people on the dancefloor in a more mindful way through yoga, spirituality, and wellness. Tell us a little about the origins of this mission and how the ancient Gardens of Babylon inspired your name choice.
Growing up the vision was always to settle the job, work hard, earn a lot of money, and this is how happiness is generated. Basically the opposite of a spiritual background. When I started to grow older, through the likes of Burning Man and people that I met along the way, my heart started opening up to spirituality. Coming from a generation, especially in Holland, where religion is not very common, there was this search inside of me that wanted to see what spirituality could bring. With the connection of spirituality and music, I've seen that spirituality basically opens you up to step away from the "me, my, I," and into the, "we're all in this together," mindset. 
The Gardens of Babylon started in the nightlife space and now we're also doing day events. Our events are meant to not be all about you, instead, it's about all of us wanting to have a very beautiful night, and our individual role in this outcome. So as a promoter, you have your tasks, and as a musician, you bring the music, the guidance, but then as the crowd, you also have a responsibility to step away from fights with your boss and the outside world and work on a happy vibe to create this energy together. By starting with a meditation and moving through music you really see the difference. It's very beautiful. 
In terms of the name, The Gardens of Babylon, my father comes from Babylon, and this inspired me. He said, "oh, my God, you were supposed to be a lawyer, and now you're gonna organize parties for the rest of your life?" I challenged him to see this as something special, and I did it as an ode to him. And there are different interpretations of the Babylonian time frame, but I see the positive one.
How do you bring this mission to a traditional music venue? Should local attendees expect something different from you even if the venue is familiar to them?
We really believe in the power of co-creation. We always look for the local Gardens Of Babylon family and ask who wants to work with us on local events. Then we have local facilitators do the opening meditation and local market vendors present. We also have a huge group at every event that helps decorate so it's very collaborative. We do pre dinners and other gatherings, too. It's a whole experience around the event, all around the idea that we create this together.
Do you look at each event as a blank canvas to be tailored to your mission based on things like location, audience, and musical lineup? Or do you have more of a template that you like to apply to all your events?
It's a template where we have certain elements to build from. So we have an opening meditation, we have a certain direction for music, we always combine local talent and international accents. So there are different elements for each event and how we fill up these elements is a combination of structured inputs and local magic.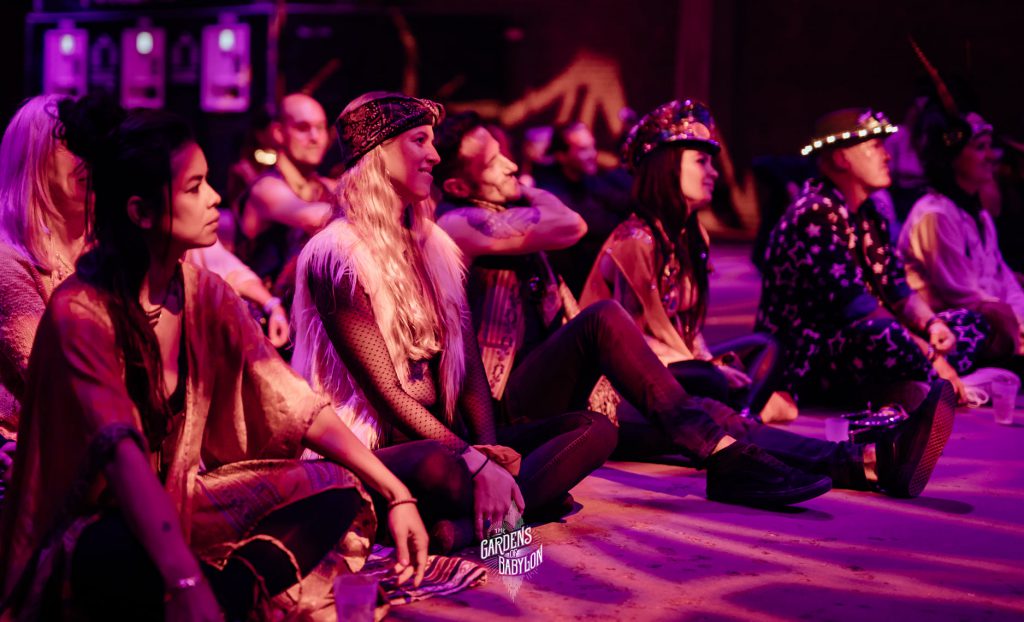 You recently hosted a successful two-day festival at Amsterdam Dance Event (ADE) in Amsterdam. What made this a success? Was this a particularly personal effort seeing as Amsterdam is your home?
Yes, it was very special! I mean, we were supposed to do two days where we would go deep into the night, until sunrise. In the end, we were only allowed to do it until midnight, because the Dutch government thought that after midnight, everybody gets COVID. Because nobody gets COVID at the after-parties. [Laughs]  
Our very first Gardens of Babylon event was in this location, so it was a very special moment. And then we couldn't create anything in Amsterdam for over a year and a half. So it was a very, very, very, beautiful event where the Gardens of Babylon family members have met each other before and shared memories. They came and they showed me their pregnant belly or everybody was crying, just so emotional to be back! And usually at ADE, in general, it is a very international event with a lot of people traveling but this year it was like 30% less at least. I don't have the actual numbers on that. But still, it was more for our Amsterdam community this time and it was very, very important to us. It was a huge success!
The Gardens of Babylon is in the US for a few dates in December with terrific lineups! Is there a notable following in the US or is this part of your effort to begin gaining traction here?
The US is an interesting market. We just did Miami for the first time, which was like, wow! It was such hard work, we really underestimated the intensity of Art Basel. With New York and LA, we already have a community. We usually do one per year in these cities and soon we hope to be doing two. Where the European shows are eight times a year in Amsterdam and four times in other places. It's harder to connect in the US so far, but we're improving that!
Yeah, Art Basel is an event of its own, and it's got its own craziness to it for sure. I hope you get to Miami another time outside of Art Basel.
Right? I need to hear from my team because I was stuck in Amsterdam. They were very excited about it because there were a lot of people that they know from all over that came to Miami for this weekend. So it also has like this reunion feel. It's a bit like ADE. But then, you know, 20 times more expensive and more intense, I guess. [Laughs]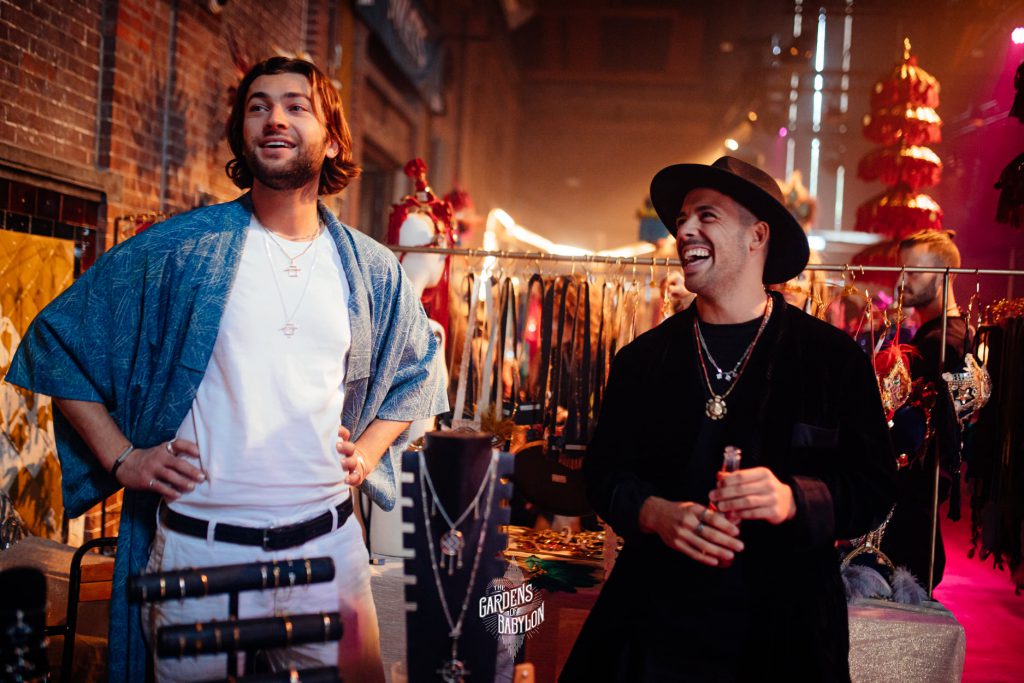 We see that you have a retreat planned for summer 2022 in New Eden, Holland. Tell us a little about this retreat and who should consider attending this one.
We have this connection with spirituality and music. And I love retreats because I run 1,000 KPH during the year. I need these anchor points where I calm down myself. I come from a Vipassana background where you go into silence for 10 days at a time. I wanted to do more Vipassana but I couldn't because I had events I had to attend. So I decided to start working on our own retreats. First, we did it offline. And then during COVID, we did a lot online. We did transformational online retreats where you got like 30 to 32 classes on Zoom in one weekend. It's so intense, but it really helped actually! We felt like we actually gained something from this year of COVID. 
Now we have the offline retreat again. First of all, it's in this winter of paradise in the nature of Holland. I mean, the nature of Holland is usually not something that we had we need to write about, but we found a very beautiful place in the east of Holland. We're offering a psilocybin mushroom or truffle ceremony for the first time. We're highlighting the essence of spirituality with this new year ahead. Let's look back at what we have, what we want to take from the last year, what we want to leave behind u,s and focus on the future. These ceremonies help in a beautiful and meaningful way. The retreats are also fun because they become a dating zone because we get always end up with couples that meet at the retreat. 
What is The Monastery and do you have new plans for this event as pandemic restrictions subside? Is there New Eden retreat, the new version? 
No, The Monastery is a huge festival. We have a very big spiritual program there from 8am to 1am. And our music program is across four stages. It's for 4,000 people whereas New Eden is for 40.
Okay, got it. So is that planned for 2022?
It's already sold out for two years because we keep postponing it. It's been horrible because it's my favorite time of the year. It's the best four days and people come literally from all over the world, and it really reflects the different cultures that we touch during the year. We encourage people to show their culture and engage also in this co-creation. It's also a bit luxurious because we set up tents and create a very open atmosphere. You meet everybody, all 4,000 people. We call it a family weekend and it's beautiful.
So because that's been moved twice, I assume it's all booked and we should look to 2023?
[Laughs] Yeah, it's fully sold out. So many people kept their tickets through both postponements even though we offered refunds. Only 8% of the attendees asked for a refund and we're very happy about that.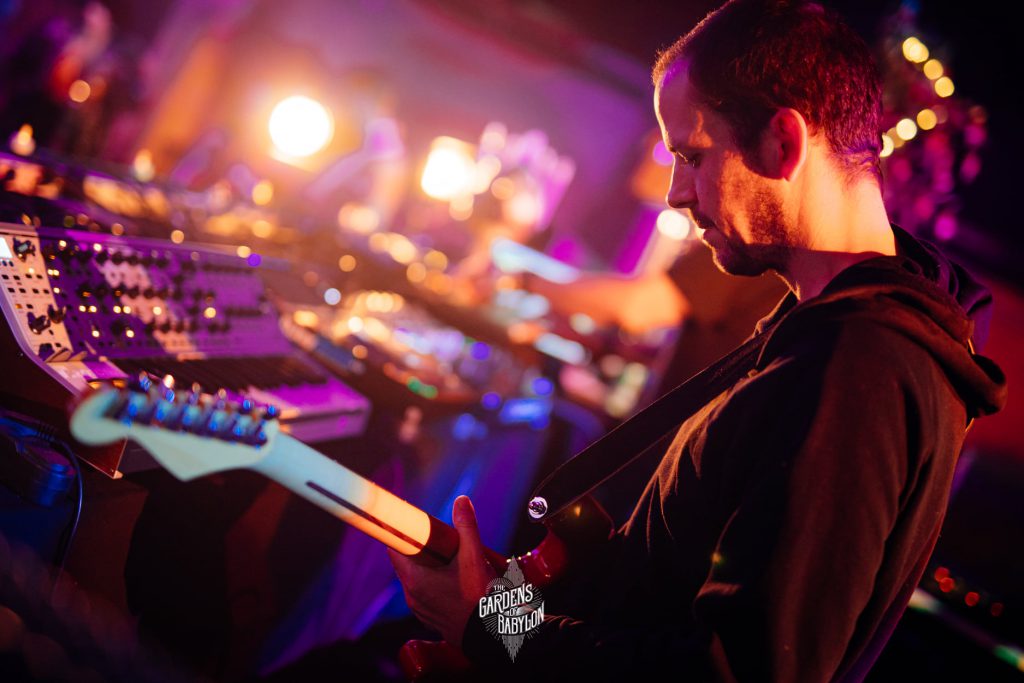 I was listening through The Seekers of Light Babylon recording from ADE and I enjoyed this tremendously. Listeners of a certain generation will recognize the opening salvo as the audio transmission from Close Encounters of the Third Kind. The 2.5-hour set is beautifully eclectic with lots of different sounds throughout. How do you describe the music style of The Gardens of Babylon?
That was Heimlich Knüller's set. We definitely come from the organic house culture, but after the second Monastery, we needed to adapt a little bit. I booked the DJs in their own genre, but it felt like too much of the same thing. I got really inspired to actually switch it up. And, with the label, I go way more eclectic. You know, we have a very nice album by Spaniol. And we have a nice album by Mâhfoud. These are both more of a cultural reflection than something that would be specified as organic house. 
So we are really eclectic in that sense and we like to say, "from spiritual start to a sinful dance." It gets to a point where it's really pumping! At ADE we had this Israeli sound which was sort of techno/trance and that had such an effect on the crowd – they went completely crazy. And then Heimlich Knüller who usually plays on a smaller stage, but his sets are so genius. He starts very slow and he was playing after a really pumping set. So for a musician, to dare bring the crowd down and just take them on his own path, it's risky. That also means that he feels very comfortable doing his own style. I'm always trying to encourage the musicians to take risks and take the crowd with them.
Yeah, there's nothing better than when the performer gets on stage and does something a little unexpected.
I love that! It's amazing if they can do it and if they dare to do it. Our crowd is very welcoming and we try different things. With The Monastery, for example, we have the Whiskey Bar with  70s music which I love. Personally, I want to have more live bands
Before we go, aside from the New Eden retreat, what can fans expect to see from The Gardens of Babylon in 2022? 
We're actually going to open a lot of new countries this year. We're currently in 22 countries and I sometimes can't even believe that. But we're going to the UK for the first time. It's incredible because we've been around for five years, and we never did London. So we have London in February, then we're going to Paris, which is also going to be the first significant event for us there. We also have options now in Russia in Georgia, which is my ultimate dream. And we hope to return to Turkey. There are a lot of places that we haven't been to due to COVID. We are looking to find our family, where we left them behind, and reunite.
---
Follow The Gardens Of Babylon on Social Media:
Website | Facebook | Instagram | SoundCloud | YouTube