Headbangers in Denver, prepare yourselves! Excision just announced the lineup for his Mile High tour stop this coming March.
---
Excision has been taking the world by storm over the course of his career – and it's clear he's not stopping anytime soon. Whether he's in the studio cooking up new heaters or announcing destination festivals, this dubstep don continues to keep fans on their toes and their speakers full of sounds they know and love. Recently, Excision and his team have been quite busy announcing a 2022 tour and the lineups have slowly rolled in with the latest being his upcoming stop for two nights in Denver.
Excision Presents Mile High will take place over the course of March 18-19 at the 1st Bank Center. Those attending can expect one of the craziest audiovisual experiences of their life as they'll get the chance to experience not one but TWO Evolution sets from the man himself. But true to form Excision is bringing a lineup that is teeming with talented artists along for the ride as well.
These two days of madness are sure to have anyone attending listing their minds. Friday is set to feature performances from Ghastly, Kai Wachi, G-Rex, YDG, Ray Volpe, and Fransis Derelle who are all sure to bring the heat to the stage. Then, Saturday kicks things up a notch with Barely Alive, Dion Timmer, Kompany, Calcium, Sippy, and Versa joining in on the fun.
Tickets go on sale on Thursday, December 16 at 11am MST so set those alarms and check Excision's website for more information. Stay tuned for details on single-day tickets. Will you be there? Let us know in the comments below!
---
Excision Presents: Mile High 2022 – Lineup: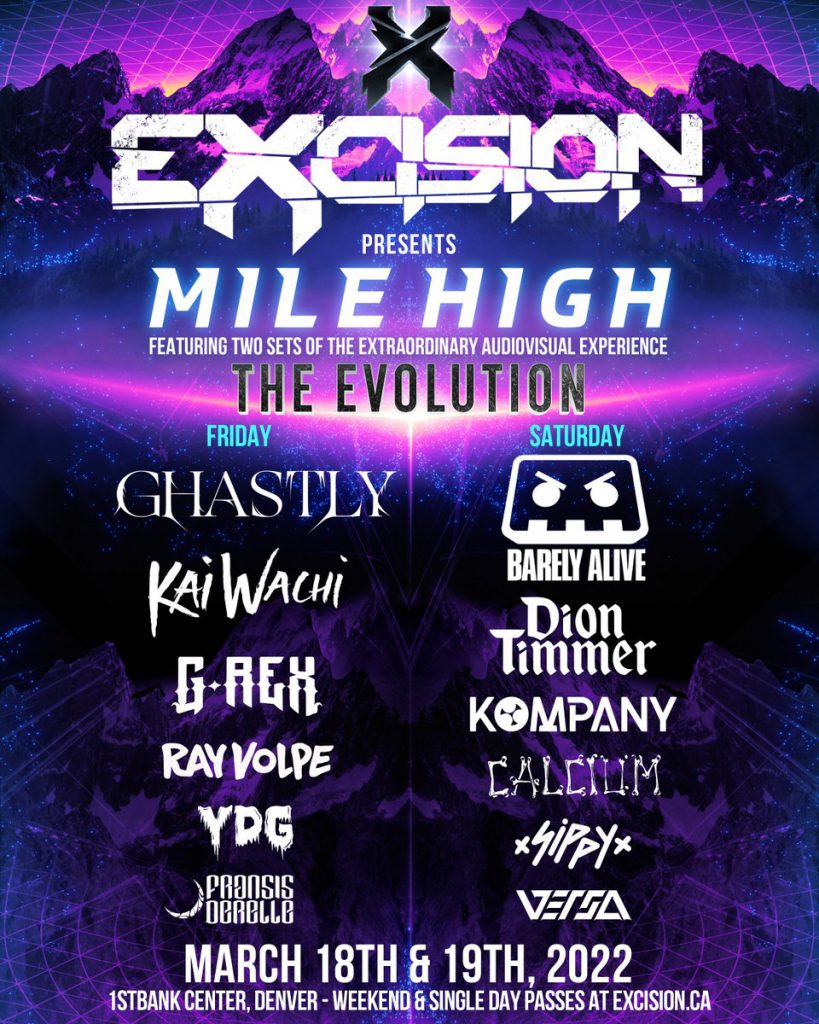 ---
Excision Presents: Mile High 2022 – Lineup By Artist:
Friday
Ghastly
Kai Wachi
G-Rex
Ray Volpe
YDG
Fransis Derelle
Saturday
Barely Alive
Dion Timmer
Kompany
Calcium
Sippy
Versa
---
Connect with Excision on Social Media:
Website | Facebook | Twitter | Instagram | SoundCloud | YouTube