Coming off the release of "Arcade Dwellers," Chime stopped by to chat about his production process, managing his imprint, and more.
---
There are few artists like Chime who have graced the bass music world with their ingenuity and creativity. Coining the colour bass genre around the mid-2010s, he's continued to push the boundaries of his own music as well as the scene as a whole. Chime's ability to infuse melodic elements along with the heaviness of dubstep paired with a relentless release schedule has truly catapulted him to the next level.
Chime's tunes are filled with lush sounds, complex layering, and induce a frenzy of nostalgia anytime he includes 8-bit video game sounds. Releases such as "Voidwalkers," "Sidequest," "Unicorn Blood," "Soda World," "Bloom," and more have captivated the ears of listeners throughout the years. Adding to this is Chime's large list of collaborators with including Ace Aura, Flux Pavilion, Doctor P, and Axel Boy. Additionally, he also runs his own label, Rushdown, but has also made it a point to bring his unique sound to other labels such as Disciple Records, Monstercat, Never Say Die, and Circus Records throughout the course of his career.
Ending the year with a bang, Chime recently released his collab with MDK, "Arcade Dwellers," and we were lucky enough to sit down with him and have a chat after it dropped. Check out the song in Spotify or your preferred platform and read on as we dive into his production process, managing his Rushdown label, a potential debut album for next year, and more!
Stream Chime & MDK – Arcade Dwellers on Spotify:
---
Hey Chime, thanks for chatting with us! Let's talk about your latest release "Water Elemental," a collab with Sharks, out now on Disciple Records. What's the story behind making this track and did it differ from your previous releases?
MDK approached me to work on something together during the initial stages of the pandemic when I was particularly open to delving outside of 150bpm and it lead to the first electro house track of mine for over 5 years. I was aware of his music from how many of our fans requested we work together actually! With both of us of course taking huge inspiration from video games we thought a fun arcade-feeling track full of 8-bit sound design and tons of groove would be perfect.
This led to "Arcade Dwellers" which will no doubt feel nostalgic to long-time followers of mine. It differs from my other recent releases in that it returns to a previous style I had shelved for a while – one much more youthful and more willing to lay on the cheese and pure fun. It's also a totally different genre and tempo to my recent output.
You've been on fire with the releases this year, one of my favorites being "The Minotaur" with Doctor P which showcased a harder bass side of your sound. What was it like working with Doctor P on this track and what was the production flow like?
It was really cool! I remember hearing "Sweet Shop" as part of Ministry of Sound's "Sound of Dubstep" compilation back in 2010. Since it was some of my initial exposure to the genre, that track immediately stood out because it was so different from everything I'd heard before at the time. The blend of the ravey feel, 8-bit arps and almost comical sound design was mad to me and really showed me how fun and vibrant dubstep could be.
For "The Minotaur" I wanted to take Doctor P back to his roots a little bit while also complimenting his more abrasive modern style. He sent me the intro idea with that Skyrim-inspired chiptune phrasing and I quickly developed the bendy/wonky first drop from that. I even tracked down the old remix stems for "Shishkabob" to nab one of his classic snares – I then mixed it with some of my own samples for the track for some throwback Doctor P flavour. The heavier elements he then sent across for the second and third drop came completely out of the blue! I went totally with it though, adding that gnarly screech and a few other layers to make it surprisingly heavier than I expected us to go. 
Overall, it was super fun to collaborate with such a long-time inspiration like Doctor P. It was great to play out the final track for him to hear in full for the first time during the Insomniac mix recording in 2020 and with him taking more interest in Rushdown and the colour bass movement, I'd love to collaborate again to explore more of the melodic side of our styles.
Speaking of releases, you've not let up on the gas since the start of the year. How do you keep the creative juices flowing in the studio?
This year has definitely been more focused on collabs with my solo work mostly being reserved for the album project. That's something that definitely helps with my creative process as I tend to bounce off others' ideas well leading to a faster production cycle a lot of the time. 
As for my own techniques for coming up with new ideas, I'm constantly bouncing between projects to see what I feel motivated to work on. This has led to much more of a gradual approach as I chip away at multiple projects at once, but I think I enjoy the overall outcome a lot more in the end.
I also work better with solid concepts in mind. Like for "Water Elemental," the theme was of course liquid sound design mixed with a mysterious underwater feel. I allow the theme to permeate through every aspect of my tracks now and in the case of this one, it led to studying what makes something sound like liquid, recreating that with an outlook to use those sounds in place of typical dubstep basses and creating snares/other percussion out of bubble samples. You've always got new ideas to try when you're working with a base concept like that.
You spun up your label Rushdown back in 2016 and it has harbored some amazing names in bass music including Ace Aura, Sharks, Papa Khan, and more. How does it feel to play such an instrumental part in these artist's journeys and to see their careers flourish after releasing on the label?
It's absolutely one of my favourite things about my job. It feels so much more rewarding to spread success to others in the scene rather than go through it all solo. It also leads to the emergence of incredible music that helps me love dubstep all over again. 
That was the goal with Rushdown when we really kicked things into gear during 2018. After finally arriving in the US in 2017 and seeing where my favourite genre had gone in a live setting, I found myself struggling to find much of it to enjoy. The fact artists like Ace Aura, Skybreak, and others that have been through the label are finding success is such an awesome thing to see and makes me so proud to have played a part in their journeys.
Rushdown just tackled a massive collab effort with "We Don't Play", which was an entry into the recent Disciple remix competition. The original track featured 18 Disciple artists, but the Rushdown remix featured a whopping 44 artists. How did this remix come together and were there any difficulties arranging 44 artists within a five-minute song?
Well, surprisingly I'm not necessarily the person to ask for that! The project was organised primarily by Skybreak who did an amazing job of making this thing happen. Numerous Rushdown artists were assigned as leaders for different sections of the remix who collated input from an even wider set of artists from the label. Then the whole thing was mixed down by modus – we actually posted his entire mixing session to our YouTube channel. So yeah, those are the guys to ask! My part really was ducking in at the last minute to insert my cameo.
Let's switch gears and chat about future plans. You are slated to play Rampage Belgium next year in a b2b2b with Oliverse and Franky Nuts as part of your joint Tritone project. What can you tell us about this set and are there plans to play together as Tritone later in the year?
Well, this set has been on hold for such a long time that I imagine it'll be a lot different from how it would have sounded if Rampage went ahead in March of 2020. We all have so much more new music now! I expect it will be as much of a balanced set as possible between our originals and styles with a generous serving of classic dubstep throwbacks from 2011/12.
There were other shows originally planned for all three of us back in 2020 but I'm not sure if or when they may return for now.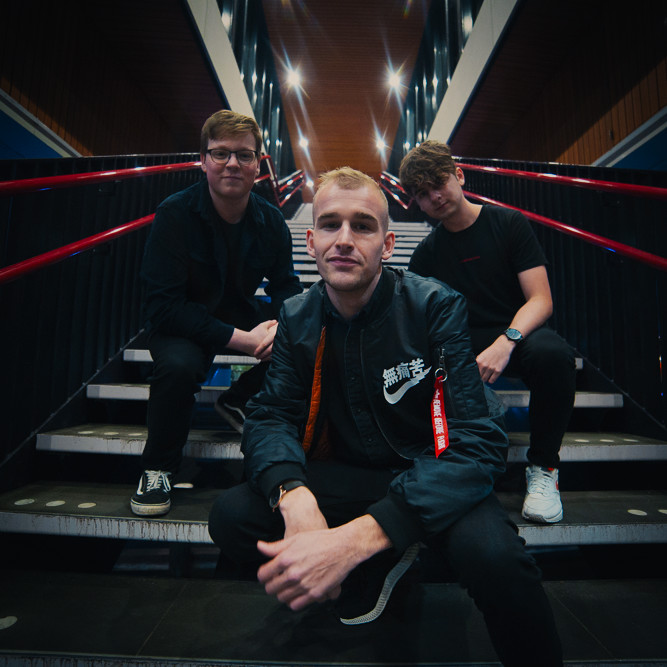 Word on the street is that you are in the writing process for your debut album, set to release in 2022. What can fans expect from this and has this writing process challenged you in any way?
Yep! After releasing so many singles and EPs I've been itching to dive into a deeper project complete with an overarching story, lore, secrets, and more. That's exactly what the debut album will be! I'm planning all of the tracks to flow seamlessly into each other so it feels like one big piece and journey. I'm also planning to keep things pretty cryptic in terms of events and storyline so listeners can discover the meaning for themselves.
What I can say though is that the album takes my video game influences to an even higher level with each track tied to a specific location or event and references to game soundtracks flying over the place. Although the album will be mostly my usual 150bpm stuff there's a lot of multi-genre stuff in there too plus my own vocals and voice acting in certain moments for the main character. Very excited to get further with it!
As we close out 2021, do you have any goals you would like to achieve in 2022 that you are already thinking about?
I'd say the album project is definitely my main focus. I'd really like it to turn some heads in the scene and show people that bass music can be a vehicle for richer conceptual work.
Other than that, I'd love to help even more artists from Rushdown make the jump to bigger labels and find their own success.  The more it happens the more open the wider scene will be to our colourful sound and with that, there will be more awesome music to discover and share. 
---
Follow Chime on Social Media:
Website | Facebook | Twitter | Instagram | SoundCloud | YouTube