Rising house duo FOMO swung by to chat about their roots, journey as artists, what's to come in the future, and plenty more!
---
When two college roommates share a passion for electronic music the results can be magical. That's exactly what happened with Garrett and Morgan when they lived together while studying at San Diego State University back in 2016. These two found common ground and quickly decided that they would take their shot at DJing and producing under the alias FOMO.
Since then, FOMO has grown within the scene in Southern California as they took the stage to support artists coming through the region that's laden with late nights out and daytime parties for the ages. Over the years they've released a number of dynamic flips, remixes, and originals as they've explored their own artistic influences, but they truly came into their own in 2019. That year, they were selected as the winners for Insomniac's Discovery Project and have only catapulted themselves further since.
Last year saw the duo release tunes including "Midnight" and "Hades" with SLUMBERJACK, and they've continued on their path of domination in 2021 with their After Party EP and singles like "Mercy" and "Bust It." More recently, they teamed up with No Thanks to drop "Bongo," on Dr. Fresch's House Call Records while also winning Tchami's "All On Me" remix competition and taking the stage at EDC Las Vegas in October.
Looking to get more insight on the backstory of FOMO, we caught up with the duo to chat about their personal histories, what their journey has been like so far in the scene, and more. So make sure to stream their exclusive guest mix and read on for the full conversation!
Stream EDMID Guest Mix 301 || FOMO on SoundCloud:
---
Hi Garrett and Morgan, thanks so much for taking the time to chat with us today. Let's start off by digging into your histories a bit. What drew you to the scene and who were some of the first dance music artists you listened to?
Thanks so much for having us! We both went to college together at San Diego State and everyone there was super into dance music. We both went to Tiesto together our freshman year which was our first electronic show and we've pretty much been in love with it since then. Initially, we were super into all the big progressive house and big room guys at the time. Swedish House Mafia, Avicii, Alesso, and The Chainsmokers were some of our favorites when we first started getting into dance music.
Was there a moment the both of you realized you wanted to pursue a career in the music industry? What led to the formation of FOMO?
FOMO started out in our college days when we first met! We had both been going to shows together for about a year or so and just got super inspired by dance music as a whole. That initial interest pushed us to start learning how to DJ and we were both at a point in our lives where we were figuring out what we wanted to do as a career so we kinda just went for it and dove into learning production together shortly after that.
Since you've first come together, what has been the biggest struggle you've faced so far? Have you overcome it, or is it something you're still working through?
The biggest struggle we've been through is definitely just learning music/production completely from the ground up. We both came from almost no musical background so everything was completely new at the start but we are definitely both very comfortable with our skills at the moment. That being said, we're still learning every day and always try to push the boundaries in order to make the best music we possibly can!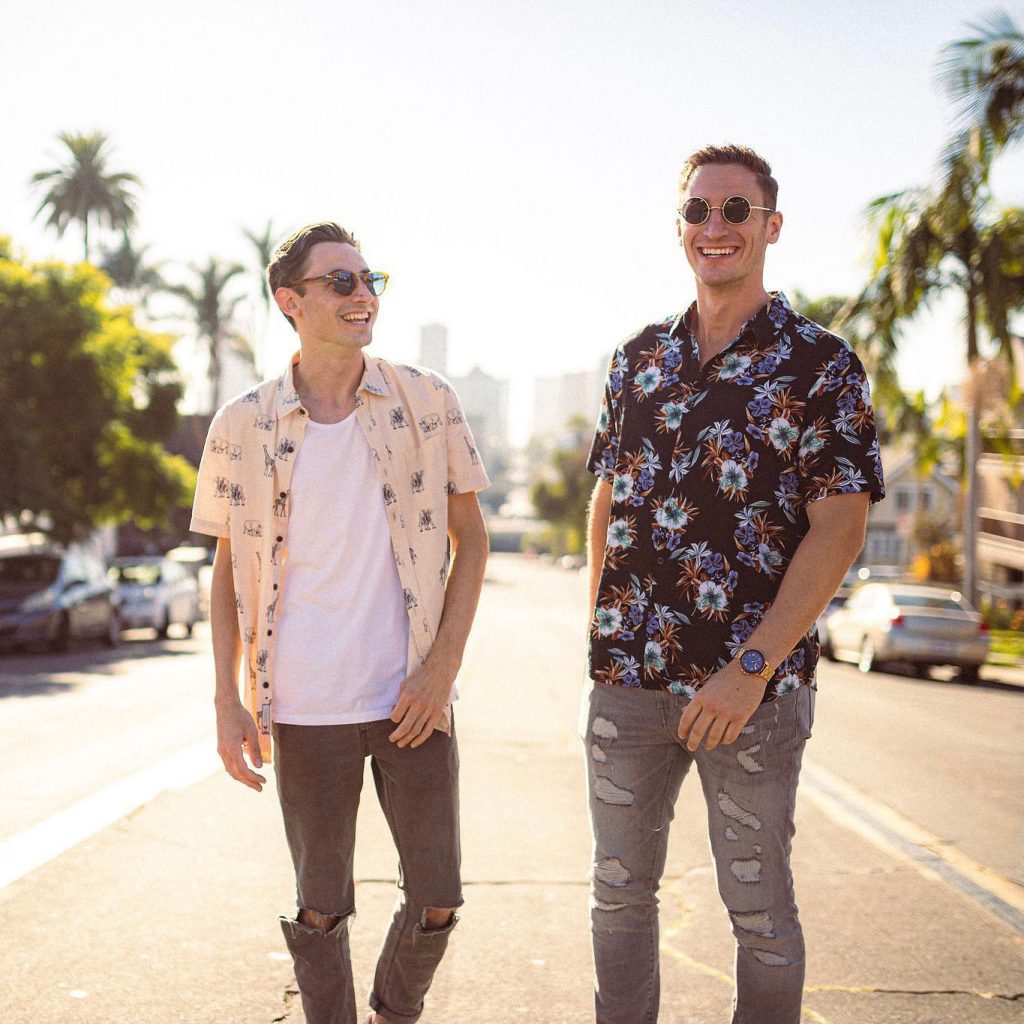 Moving up to more recent times, last month you dropped an absolute heater with No Thanks in the form of "Bongo" on House Call Records. Can you walk us through the production process on this tune?
So we initially had the idea for Bongo when we were up in San Francisco for a show. At that point, we had just thought of the vocal idea while we were at a show and then the next week we started a rough idea of the track. The whole inspiration was to have the production match the vocal as much as possible which is how we ended up with that little bongo riff and the heavy-hitting bassline.
After the first half was done we sat on the track for a while just to give it a listening break and around that time we started exchanging demos with the No Thanks boys. When they heard Bongo they loved it so we just decided to make it a collaboration and from there we just sent it over and were able to finish it with one exchange of the project!
You've also become known for some solid remixes and edits, which more recently came to fruition when your cut of Tchami's "All On Me" got selected as its remix contest winner. What did it feel like to get some recognition on that?
That was such a cool moment for us. Especially after recently transitioning to a more house-focused sound, to get the nod from one of the biggest in the scene was really validating to us. It made us feel like we definitely made the right move when shifting sounds. We actually saw Tchami's first US show ever and we've been huge fans for a very long time. Shout out to the GOAT!
With that remix in mind, what draws you to make your own edits of tracks? Do you approach them differently than your original releases?
We like to remix and edit a lot of the songs we play live to give our sets a unique aspect to them. We approach the production of our remixes and originals in a lot of the same ways but for remixes, we try to produce in the same "realm" of the original track while taking the energy to a new place so it almost feels like it could be the original but with a little extra sauce.
Now that shows have returned you've jumped back behind the decks in a huge way by taking the stage at nightclubs like Parq and even on the Rynobus Art Car at EDC Las Vegas. What has it felt like taking the stage in front of crowds this year?
It's been so fun getting back to shows and being able to play all the stuff we worked on the year prior. We were really eager to get out there and show people the new FOMO and all the fun house records we've got in the arsenal.
While many look to Los Angeles as one of the main dance music hubs on the planet, San Diego has a strong scene as well. What is your favorite thing about the local scene here in town?
San Diego has quickly become a huge hub for house music. The clubs have been bringing in some awesome talent. Our favorite thing though would for sure have to be CRSSD Festival. Hands down one of the best festivals anywhere in the country. The lineup is always insane and there's no venue that beats it.
Finally, since you're in San Diego, we definitely need to know where your favorite spot to grab some Mexican food is and what's your standard order?
Oh man, there are honestly soo many. I (Garrett) pretty much always just go for a California burrito. For anyone who might not know what that is, it's carne asada, guac, cheese, and french fries. A must-have if you visit. Some places on my list are for sure Vallarta's, Taco Stand, and Nico's.
---
Follow FOMO on Social Media:
Facebook | Twitter | Instagram | SoundCloud | Spotify