Armin van Buuren kicked off the Dreamstate SoCal party early as he took the stage on Thursday night at Academy LA in Hollywood.
---
Having just closed out kineticFIELD on the last day of EDC Orlando, Dutch DJ and producer Armin van Buuren made a quick detour to Los Angeles as part of his post-COVID return to North America before heading to Mexico for the latest stop on the ASOT 1000 tour. Selling out in less than three hours after tickets were released, the anticipation for his return to LA was greatly felt in the crowd on a late Thursday night.
Armin hadn't performed in the city since February 2020 at the Hollywood Palladium, it was clear that LA was ready to be in A State Of Trance. There was plenty of energy permeating at Academy LA upon arrival at the venue with cars dropping people off, others trying to find parking, and a large number of people in line waiting to enter the club. Those passing by might have wondered why there was so much commotion on a working night, but those in the know were well aware that this would be a magical night.
Upon entering the club, the progressive trance tempo of Elevven filled everyone's eardrums. The duo, who have released tracks on both Armada and Anjunabeats, were making their presence known at Academy LA with their selection of thumping tracks. This kept the crowd alive and energized throughout the next hour as more people began making their way into the club, filling up the dancefloor to its maximum capacity.
As midnight quickly approached, a buzz of conversations swirled in the crowd wondering when Armin was going to come on. Right as one person asked me that exact question, the music stopped playing and the club darkened. Cheers of "Armin! Armin! Armin!" began to rise – it was time to welcome the man of the hour to the stage.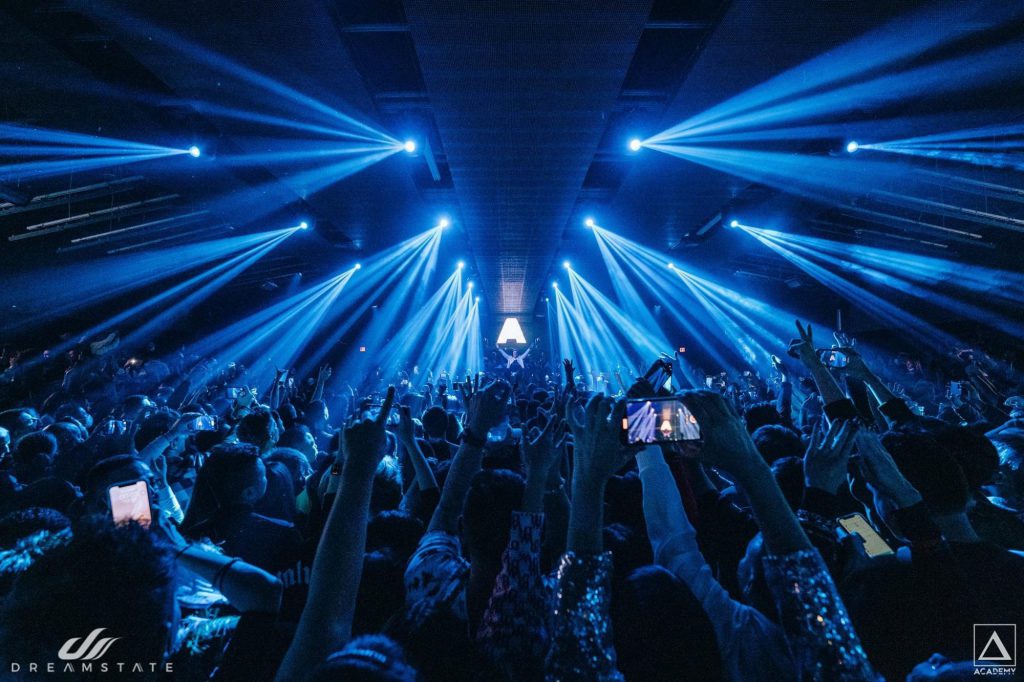 The melody of "Sirius," Armin's track with Avira, began to play and the club shined brightly.
Armin and Avira's cover of the Alan Parsons Project's "Sirius" is no doubt one of the most hyped ways to start a set with and it showed. As he got the crowd even more riled up, it was easy to tell that everyone was in for an amazing night. The first third of his set featured a progressive sound with remixes and mashups of songs he made since the start of the pandemic such as "Need You Now" with Jake Reese, "Hold On" with Divina Michelle, and "I Need You To Know" with Nicky Romero.
The energy in the room was electrifying and was only intensified when Armin played one of his most unique collaborations, "Music Means Love Forever" with Steve Aoki. His flow is one of the best when it comes to sets and he was letting LA know that that night was no exception. The crowd followed his energy as their arms swayed from side to side and remained still in the air during the build-ups.
From there, Armin transitioned to a darker sound, adding some unreleased tunes and a bit of techno into the mix.
As we approached the last third of his set, Armin gave the crowd a chance to catch their breath with his mashup of "Another You" with Mr. Probz and "Runaway" by Airborn, Bogdan Vix, KeyPlayer, and Alexandria Badoi. Then, he played "La Résistance De L'Amour" with Shapov to further put the crowd in a state of trance.
The club darkened and the deep vocal arrived as the track built up before dropping the crowd into a frenzy. Armin continued his flow and went even darker by dropping Charlotte de Witte and Enrico Sangiuliano's techno remix of "The Age of Love." The Dutch DJ subtly raised the BPM and then seamlessly flowed into more upbeat tracks such as Orjan Nilsen's remix of M.I.K.E. Push's "Universal Nation," foreshadowing that we were once again about to transition to something new.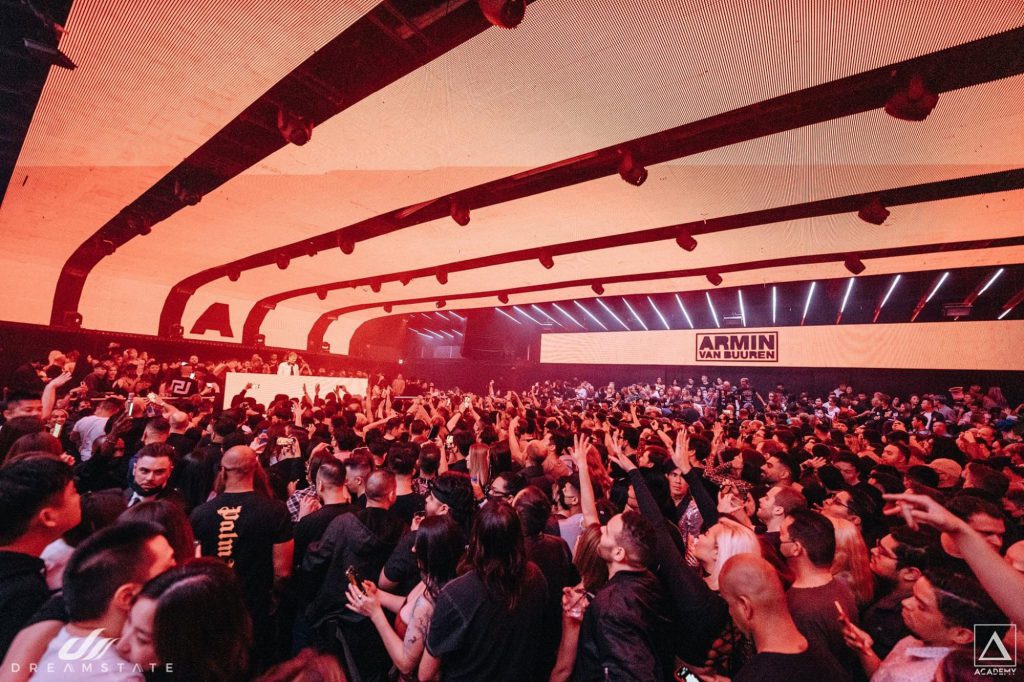 Armin van Buuren brought his set to a close by picking up the tempo and adding uplifiting trance and psytrance into the mix.
At this point of the night, Armin was fired up on all cylinders and ready to bring some fast 138 BPM tunes to Academy LA. One of the first tunes of this spectrum is ReOrder's uplifting remix of Saltwater's "The Legacy." He continued on with this energy until he played his cut of "Mr. Navigator" with Tempo Giusto, signaling he was about to go even harder.
As soon you knew it, his new psytrance track "Yama" with Vini Vici and Tribal Dance played from the speakers. CO2 cannons blasted the dancefloor, the visuals above the ceiling went crazy, and everyone was jumping up and down during every single drop of the track. The track slowed down until it eventually came to a complete stop. But right as we thought his set is over, Armin hopped on the mic to thank everyone for coming before playing his last song of the night "For All Time" with Aly & Fila to send everyone off in style.
Armin van Buuren's set was everything that one would expect from his current rotation. It was packed with fresh tunes and, as always, he curated it perfectly to the setting he was in. After catching his set, I can confidently say that he transformed Los Angeles into a dancefloor that night and further solidified his place as one of the best artists on the planet.
---
Connect with Armin van Buuren on Social Media:
Website | Facebook | Twitter | Instagram | SoundCloud | YouTube