Spag Heddy chats about collaborating with Pixel Terror on their new single "Carbonara," fatherhood, playing EDC Las Vegas, and more!
---
Spag Heddy is the fearless leader of the Meatball Mafia and a disrupter in bass music. This dubstep extraordinaire continues to exceed expectations with flawless releases like "Zoom," "Permanent," and "Love On First Sine." His smile is contagious, and he never falls short in the energy department. Right now, Spag Heddy is booked and busy. He's currently headlining his fall tour here in the US, and he went wild behind the decks at EDC Las Vegas playing not one but two sets before celebrating Halloween at Get Freaky in Salt Lake City.
Today, Spag Heddy is celebrating the release of "Carbonara," his new collaboration track with Pixel Terror, out now everywhere on Monstercat. Nothing brings me joy than seeing artists like Spag Heddy succeed in everything he does. He's on a winning trajectory, and it's rewarding to see grounded artists like him thrive in the industry.
After the release of the tune, we had the pleasure of chatting with Spag Heddy about his latest release, working with Pixel Terror, tour life, being a dad, and so much more. So be sure to check out Spag Heddy and Pixel Terror's fierce new single "Carbonara" on your favorite platform and check out our conversation with the pasta pun expert below!
Stream Spag Heddy and Pixel Terror – Carbonara on Spotify:
---
Hey Spag Heddy! Thanks for taking the time to chat with us today. We appreciate it. You have so much going on right now. You're currently on your headline fall tour here in the States. How does it feel to be back on the road and playing shows again?
It felt like a huge relief to be back because it looked like there was no end to the pandemic for so long. I did miss a few of my first shows because of visa delays, so the suspense was real. When I finally made it through US customs again, I was just ecstatic. It came close to the first time feeling.
Your tour is stacked with openers like Tisoki, Houseloadz, Protohype, and more. When it comes to recruiting opening acts, what's your process in picking artists?
Yes, I'm very excited about my support acts. Other than those more well-known ones, I also chose Viperactive, Ravva, X&G, and more small up-and-comers that, in my opinion, deserve more spotlight. I will go through my playlist and try to bring out the acts whose music I actually play myself, and I'm a big fan of!
Let's talk about your new collaboration with Pixel Terror, "Carbonara." Genius name, by the way, and super on-brand for you. It's such a fun track that's full of surprises and divine drops. How does this single differ from your previous releases?
My last releases have been really heavy and weird, so it was a huge pleasure to work with the Pixel boys on this more melodic, vibey kinda song. It's obviously not a typical 'melodic dubstep' song, but the theme of it is definitely what drives the track. Plus the drops are quite high-energy with gnarly basses and catchy high-pitched riffs so there's that sweet spot of melodic plus heavy where I like to be.
Together, you and Pixel Terror are a lively bunch. What was it like working together, and how'd you find the perfect blend between your signature styles?
First off I am really terrible at collaborating (or even just communicating) with other human beings so big thanks to Pixel Terror for their patience with me. [Laughs] It took a few tries of sending demos back and forth to see what could work, but once we got this theme it went pretty quick and smooth. There was relatively not much communication needed, and we did our own thing. There were several wild ideas in the project from both sides at some point, and it was a matter of playing around with those, reorganizing and remaking, and polishing, to get to the final result. I think a lot of people maybe don't realize it, but our sounds (sound design/mixdown wise) are inherently very different, and Pixel Terror did an amazing job at gluing it all together and sound fantastic; I'm not going to take credit for that.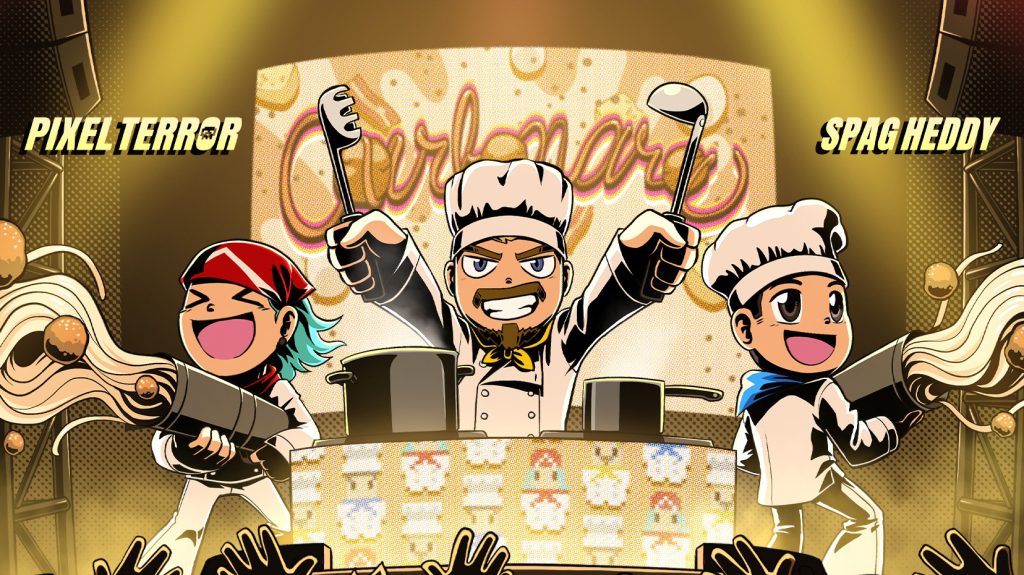 You recently played EDC Las Vegas, the Disneyland of dance music festivals. You closed out Bassrush's Camp EDC pool party and ended on a high note with that rad b2b with Herobust. Tell us about your experience and how it felt to have packed crowds at both sets?
Coming up to the pool party, I had no idea what to expect, and it was a huge positive surprise seeing how packed it was and how ready people were to go party on some hard dubstep. It got me even more pumped for the B2B. Playing with Herobust was a fantastic experience because I'm a massive fan of his music, and it was mostly him who made sure we prepared the set properly. The size of the crowd was just mind-blowing and gave a huge adrenaline kick that made the time fly by like it was nothing. We were both shocked when we realized our set was ending. [Laughs] Oh, and we took the helicopter to get in and out of EDC, which was just incredible! All in all, EDC is something else.
Let's switch gears a bit. You're a dad to a beautiful little girl. How do you manage the balancing act between your career, touring, and fatherhood?
Thank you! We are currently expecting our second, actually. I'm not going to lie; it's not easy. Leaving the house to tour is hard, so first of all, I slowed down the speed of tours, doing shorter, quicker runs to be home with my family as much as I could while maintaining my career. My wife and kid have toured with me the last time, but unfortunately, this wasn't possible this time around. As soon as we can, we'll all be on the road together again, which is a fantastic thing. Until then, it's just making a few tougher choices and being more selective and smarter about planning.
Kids can be harsh critics because of their cute honesty. What does your daughter think about your music? Any feedback she's given you'd like to share with us?
The few words she can say are not really helpful yet; however, she loves dancing and jumping around whenever my music comes on, which is one of the funniest and adorable things ever. She watched me on the EDC live stream and shouted, "Papi! Papi! Papi!" She's proud of me, and I'm incredibly proud of her.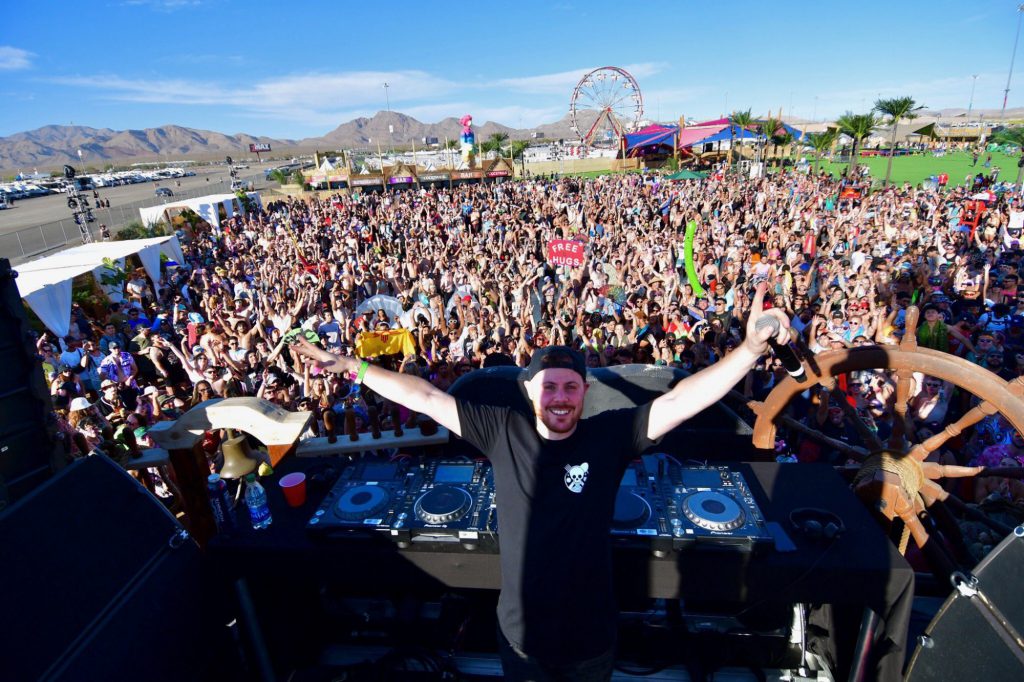 Before transitioning into producing music full-time, you were a motion graphics designer. That's pretty rad. How involved are you with your set graphics and visuals?
Time goes fast, and technology goes even faster, so I am very, very far behind on everything in the motion graphics world. From the moment I started a music career, it's been the dream to combine both my graphic work with my music, but I quickly learned how incredibly time-consuming it is to do both, let alone do one of each. I kind of made peace with just focusing on the music side and having other talented people do visual stuff. I do help designers with creative input, but I definitely like to choose who I work with for their style and skills, so I give them lots of freedom in their work. It's what I would've liked myself if I were still in that position.
When it comes to branding, you're the most unique. I never knew how far you could go with a pasta dish until you arrived. How do you keep your brand fresh and appealing?
Over the years, I've made all the puns and jokes, but at the same time tried not to go entirely over the top with it. If I had listened to everyone's suggestions and requests, I would have been walking around with a tomato outfit or a meatball mask for years already. I've always tried to keep the branding to the occasional funny puns and not turn into a complete gimmick. Because once you go there, you have to keep that up, and I know I'd grow tired of it quickly. Of course, having management and team discuss everything before doing stuff helps keep things in check and corny-proof.
Since you're in the States, we have to ask, which city has the best spaghetti and why?
I've had some really good spaghetti in New York, and something tells me the number of Italians there had something to do with it!
---
Follow Spag Heddy on Social Media:
Website | Facebook | Twitter | Instagram | SoundCloud