Svdden Death delivered sinister beats that took everyone from the Valley of Darkness into the VOYD during his headline debut at Red Rocks.
---
In the rural mountains of Colorado lies one of the countries seven wonders if you will. Towering over the small town of Morrison stands Red Rocks Amphitheater, the setting for some of the most memorable performances since forming in 1941. From The Beatles to Daft Punk, every artist hopes to follow in their footsteps and headline such a magical venue. With music spanning all genres, over the past few years, electronic music has certainly made a huge impact on the rocks and on October 24, Svdden Death took center stage to make his mark on this iconic amphitheater.
After announcing his headline show at Red Rocks the excitement from his fans was palpable – it was one that was long overdue. Because of this, the show sold out quickly and made it more clear than ever that arriving early to the venue was a must. What we thought was early, though, didn't seem to be the case for others as when we made our approach the absolutely insane line wrapped around the long ramp and took an hour to get through. But soon after we were inside and began to make the trek up to our seats with that beautiful view of the venue and Denver's city lights behind the stage.
Svdden Death wasn't the only artist to take the stage that night. He brought with him an incredible line-up of hard-hitting artists into his Valley of Darkness. We only made it in with enough time to see the end of Neonix b2b Syzy, but their set was filled with metallic synths and plenty of wubs as it welcomed everyone into the crazy night that lay of us all. The sun began to set and Phiso took the reins next, bringing a bit of chaos with his beaming synths to his gnarly riddim beats that packed a punch.
Aweninus was up next, and I was excited to catch him for the first time. His hypnotic visuals were truly mesmerizing and his set left me impressed. Following him up was Oolacile, who brought some more elegantly haunting riddim beats before the final opener, Space Laces, dropped some dark, fiery beats and visuals that took his performance to the next level.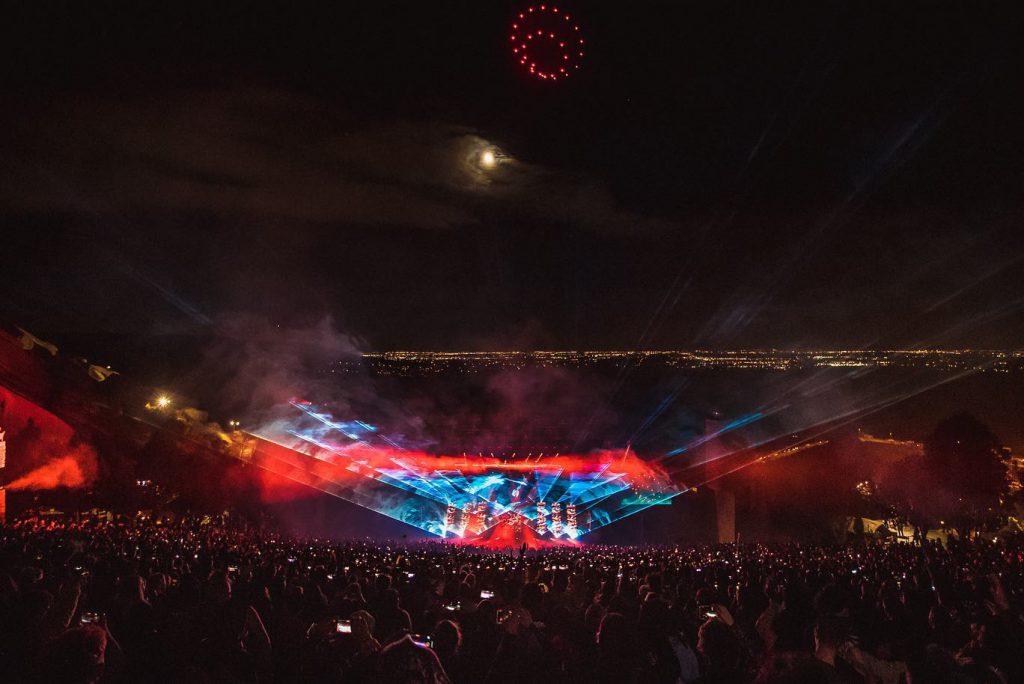 Finally, it was time for Svdden Death to take the stage for his Valley of Darkness experience which he perfectly tailored to Red Rocks.
Opening with a VIP edit of "Rise" the stage shone red and as he took to the stage bright lights and red lasers occupied the stands flashing over the crowd of people headbanging and just enjoying themselves. I had never considered myself to be headbanger but his set was so hard it was impossible not to headbang with everyone else. His set was spine-tingling creating eerie elements fitting for the season. His visuals overwhelmed my mind but in all of the best ways possible.
Svdden Death stopped at nothing to take us all into the darkness before the stage went black and he seemed to have disappeared. After a moment of silence, the stage glowed red once again and a deep voice overcame the night sky. As drones swirled overhead creating different formations in the sky the voice continued, welcoming us all into the Voyd.
He then reappeared on stage donning his bloody skull and the audience went mad as he opened with "Record Shop," surprising Red Rocks with his wicked Voyd set as his second part of the night. I was beyond elated to attend this alluring set, it's at the top of my list for the most surreal and memorable experiences I've had in my life.
Without a doubt, Svdden Death goes above and beyond in his sets, capturing every aspect he attempts to achieve. His Red Rocks set was truly a testament to who he is as an artist and I can't wait for him to return to the iconic venue for another round. Don't sleep on your chance to catch him when he heads to a city or festival near you.
---
Follow Svdden Death on Social Media:
Website | Facebook | Twitter | Instagram | SoundCloud | YouTube