Graydient Collective is giving us something to be thankful for this November with upcoming streams featuring Tydrous, ILAASO, and Frescobaldi.
---
If you're craving some of the most forward-thinking sounds in the scene right now, look no further than to what Graydient Collective has been cooking up. This group of talented artists is led by Julian Gray, who continues to carve out his own unique space in the scene, and consistently delivers some of the most stunning beats for everyone to consume. Each week, they put their tasty treats from different members of the collective and their friends on full display with the Gallery Sessions series on Twitch, and November is shaping up to be another fantastic run.
Beginning on Sunday, November 7 at 3pm PT, this month's edition of the Gallery Sessions will see a familiar face return to the virtual stage – Tydrous. This resident of the series has thrown down some seriously impressive sets over the past year that are filled to the brim with dynamic tunes and even graced our Summer Sessions mix series as well. Don't sleep on his set!
Related: Did you miss out on past editions of the Gallery Sessions series? Head over to Graydient Collective's YouTube channel to dive into the archived performances.
Another Graydient artist, ILAASO, is set to take over the decks on November 14. Hailing from Slovenia, he's a fresh face in the scene but delivered a heater of a remix in 2020 by twisting KC & The Sunshine Band's "That's The Way" with Embalage and has a tune due out on Graydient's Colors series. Then, on November 21, Kentucky-based artist Frescobaldi will join in on the fun with a set you simply shouldn't miss if you dig chilled-out sounds that set a proper vibe. The final guest for November is yet to be revealed, but we're sure that it will be another stunner and will update the post once its been announced!
Make sure to follow Graydient Collective on Facebook and Twitch so you know the moment they go live and stay tuned for more from this fantastic group of artists in 2021!
Tune in to Graydient Collective's Gallery Sessions series on Twitch:
---
Graydient Sessions – November 2021 Schedule: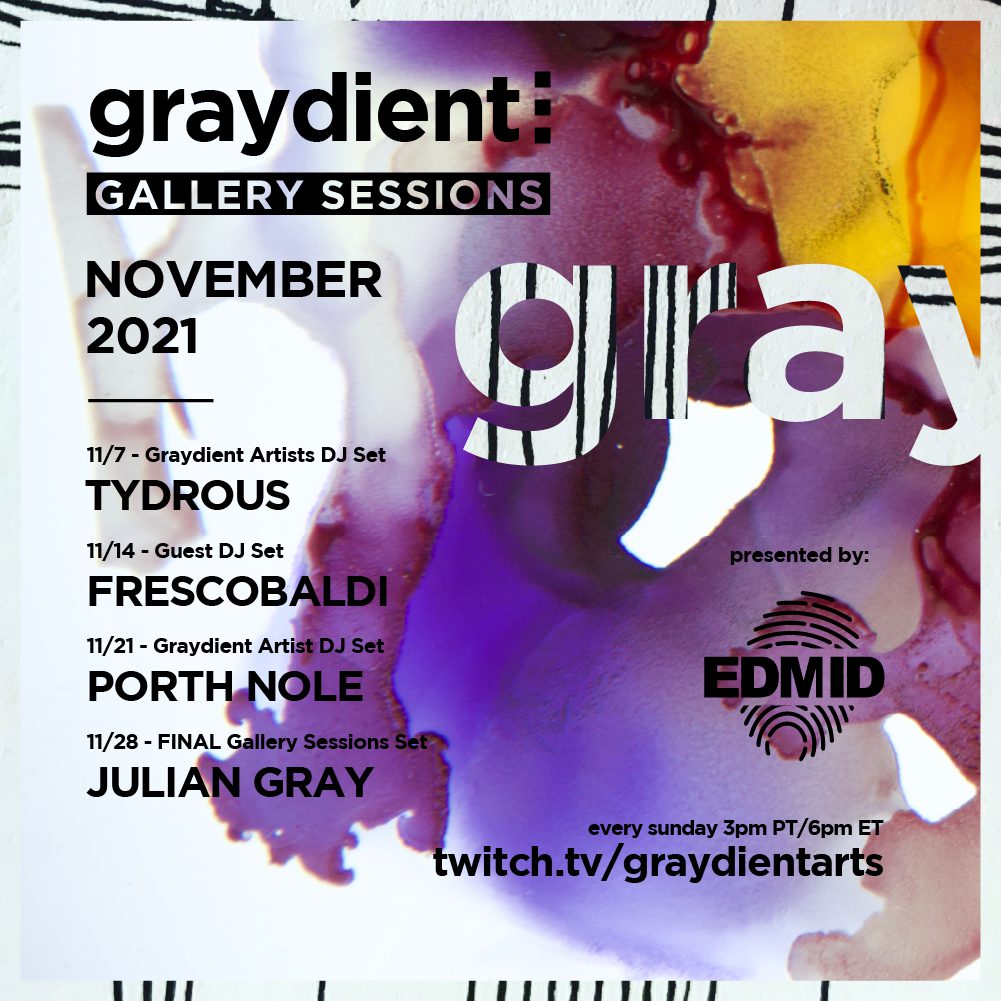 ---
Follow Graydient Collective on Social Media:
Website | Facebook | Twitter | Instagram | SoundCloud | YouTube | Twitch