William Black opens up about his new album Pieces, what it's like playing shows again, and reflects on his early days as a raver!
---
William Black creates music that is grounded in emotion, whether good or bad. All his work is from the heart, and when you sit down and listen, it triggers an emotional response. This was only heightened for this rising phenom during the pandemic. The world changed everyone, and we all had a difficult time dealing with the unknown, but William Black used that time to write and produce his new album, Pieces.
Pieces is a glorious body of work that explores various themes such as depression, addiction, loss, love, and everything in between. William Black isn't afraid to get vulnerable, and it's refreshing to have an artist who caters to the human experience. His music is relatable and meaningful so it's no surprise that he's popping up on various festival lineups across the globe. And to further bolster the tracks found within Pieces, he collaborated with some familiar faces, including HALIENE, RUNN, Dia Frampton, and more.
He's come a long way since the release of his debut album, Pages, and his friendships with Dabin, Said The Sky, and Illenium will make your heart melt. Like his counterparts, William Black is pushing dance music forward in a unique way and remains humbled and grounded throughout the process. We had the pleasure of catching up with William Black to chat about Pieces, his raving days, and playing massive festivals like EDC Las Vegas for the first time.
Be sure to check out William Black's sophomore album, Pieces. You can stream or purchase the album on your favorite platform and check out our conversation with the man of the hour below!
Stream William Black – Pieces on Spotify:
---
Hey William, thanks for chatting with us today! First off, congratulations on the release of your brand new album, Pieces. How does it feel to share your second baby with the world?
Thank you! It feels great. I've been super eager to get it out into the world to see what people think. It was a lot of work and I'm really proud of it so I hope people really like it. [Laughs]
You released your debut album Pages in 2019. What's the biggest difference between Pages and Pieces? 
I feel like the biggest difference is probably that I pretty much wrote all of Pieces during lockdown. I was doing a lot more traveling during the writing of Pages. I think that influenced the themes a lot, quarantine was a weird time for everyone. I've tried to be vocal about my mental health and I think Pieces is an honest look at what I, and so many others, were going through. 
The album takes listeners on an emotional journey full of highs and lows. What was the most challenging part about creating the album?
I think the most difficult part was not being able to do too many in-person writing sessions. I did a lot of Zoom ones though.[Laughs] Honestly though, creating the music and looking at all these parts of my life with other artists and friends really helped me get through lockdown. 
Pieces isn't the only thing you're celebrating right now. Let's talk about EDC Las Vegas. It was your first time playing. Congratulations! Tell us about your experience and what it felt like playing under the electric sky?
Thank you! Yeah, I mean playing EDC was everything I could've hoped for and more. It was really a dream come true. I'm still trying to process it all at this point. The first time I heard about EDC I kind of laughed at my friend because what's even an "electric daisy carnival" anyways? Like every fan of electronic music though it was a dream for me to play ever since I first saw it in person. All I can say is it feels like everything you could ever hope for it to, and then some! Huge thanks to Insomniac for having me out, and I hope I'm back again as often as possible.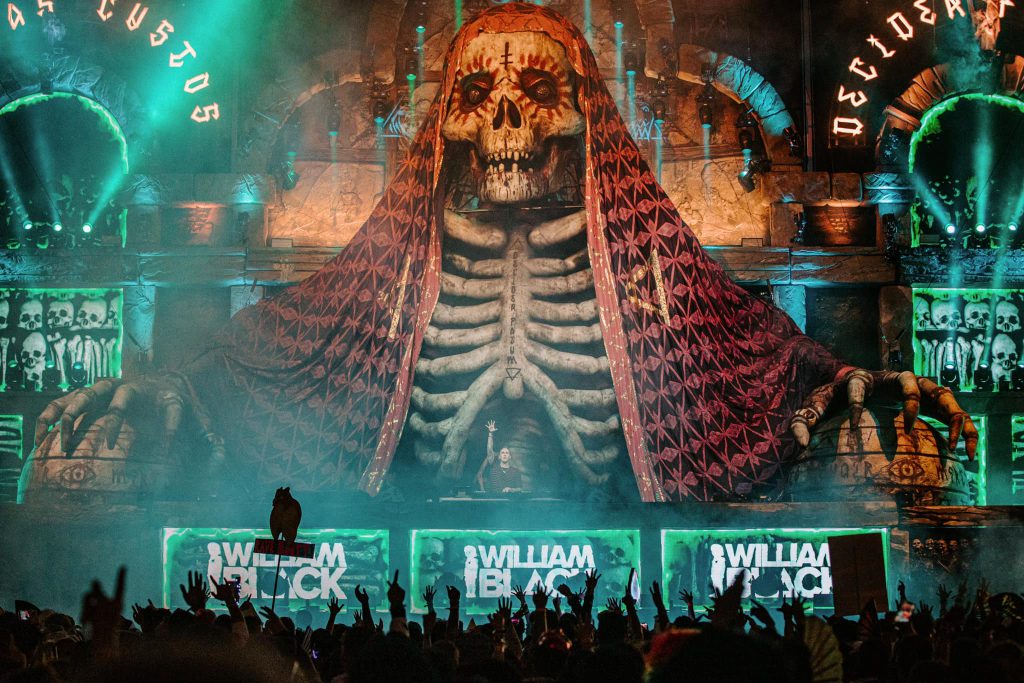 You're a veteran raver. You attended the first Escape, and ten years later, you're playing mainstage. Your set was brilliant, and thanks for playing "Only Now" by Seven Lions! For those who haven't seen you yet, how would you describe a William Black set?
I really appreciate that! Escape was so much fun. I've been going to Insomniac festivals since 2011. The first one I went to was actually at the NOS Events Center. It was life-changing for me. I didn't know how to be one of the people playing on stage but I knew it was the end goal from that moment on.
I'd describe my sets as an emotional journey. My sets have highs and lows. I want to take people on an adventure with my music. My goal has been to "create nostalgia through sound" and the longer I've done this, the closer I think I've gotten to that goal. Watching people sing along, cry, smile, dance, break the rail at my sets. I don't know what it's like to see from the crowd but for me, it's one of the best feelings in the world. 
Tell us how'd you get into raving, and who were some of your favorite artists back then (circa 2010)?
I went to my first rave in 2010 and it was love at first sight. I had been listening to dance music for about a year before then, but going to a rave was a whole different experience. I was listening to a lot of different styles but I think my biggest favorites were: Above & Beyond, Dash Berlin, Skrillex, Porter Robinson, and Nero.
You've experienced the dance community through two different lenses. What do you miss about being an attendee? And what do you love about being an artist?
I definitely miss not being so critical of music. A lot of times when I listen to music live I'm just thinking about how it was made. I do love being able to put my own emotions into music though. It makes me so happy that my fans can relate to my music and that it can help them. When people share what my songs mean to them, and the stories they associate with it is honestly a huge part of why I wanted to start making music in the first place.
Interest in dance music continues to grow, and new ravers are coming into the scene. As a veteran, what advice can you share with new ravers?
I'd say keep an open mind! I'm even guilty of being a genre snob in the past.  Be safe and please drink lots of water when you're going to shows. If you don't feel right or comfortable then say something. Go with your friends to see the acts that they like, I've found so many new artists that way. Lastly, don't go to fit in, festivals are made better by everyone being free to be themselves! 
2022 is looking bright for you. You're playing kineticFIELD at EDC Mexico, and we have a feeling a tour is coming soon for the album. What are you looking forward to most in the new year?
Yes! I can't wait. My team and I are finishing up planning a whole US tour for Pieces. I never got to do a headline tour for my last album, so I'm super excited about that. I'm really grateful for all the opportunities that are coming my way right now. It's honestly beyond words. None of it's possible without all the people who support me and allow me to do this. So if you're reading this thank you, I hope you love Pieces and that I get to play for you live really soon! Also, thank you to EDM Identity for taking the time to get to know me, I really appreciate it.
---
Follow William Black on Social Media:
Facebook | Twitter | Instagram | SoundCloud