Legendary artist ATB returns to select cities in the US this fall for the first time in nearly two years after the launch of his new EP series.
---
Few artists in the scene have a storied career quite much like ATB. This German dance music legend began his rise to the top before the millennium with iconic singles such as "9pm (Till I Come)" and "Don't Stop," and has continued to woo fans around the world ever since. Whether through his sensational tracks like "Ecstasy" and "Move On," his 10 studio albums, or his performances at some of the biggest festivals on the planet – ATB constantly brings forth some of the best in the dance music scene.
More recently, ATB dropped The DJ EP Vol. 01 for everyone to soak in and listen to. The first in a new series from the legendary artist features tracks like "Starfire" and a remix from Sequential One remix of "Your Love (9PM)," which is the group that he formed back in 1993 and pays homage to the classic track.
While ATB might be invading the speakers of his fans at home, those in the United States will be able to catch him live for the first time in nearly two years this fall as well. After taking the stage up in Seattle earlier this week, he is setting off on the Your Love US Tour with forthcoming dates in Dallas, Houston, Los Angeles, Chicago, San Francisco, Sacramento, and Sunnyvale. Don't sleep on his shows if you want to let loose and have a great time as each performance will bring plenty of hit tunes and more from this legend.
Listen to The DJ EP Vol. 01 on Spotify or your preferred platform, and make sure to catch ATB when he heads to a city near you. Tickets are available now!
Stream ATB's The DJ EP Vol. 01 on Spotify:
---
ATB Your Love US Tour: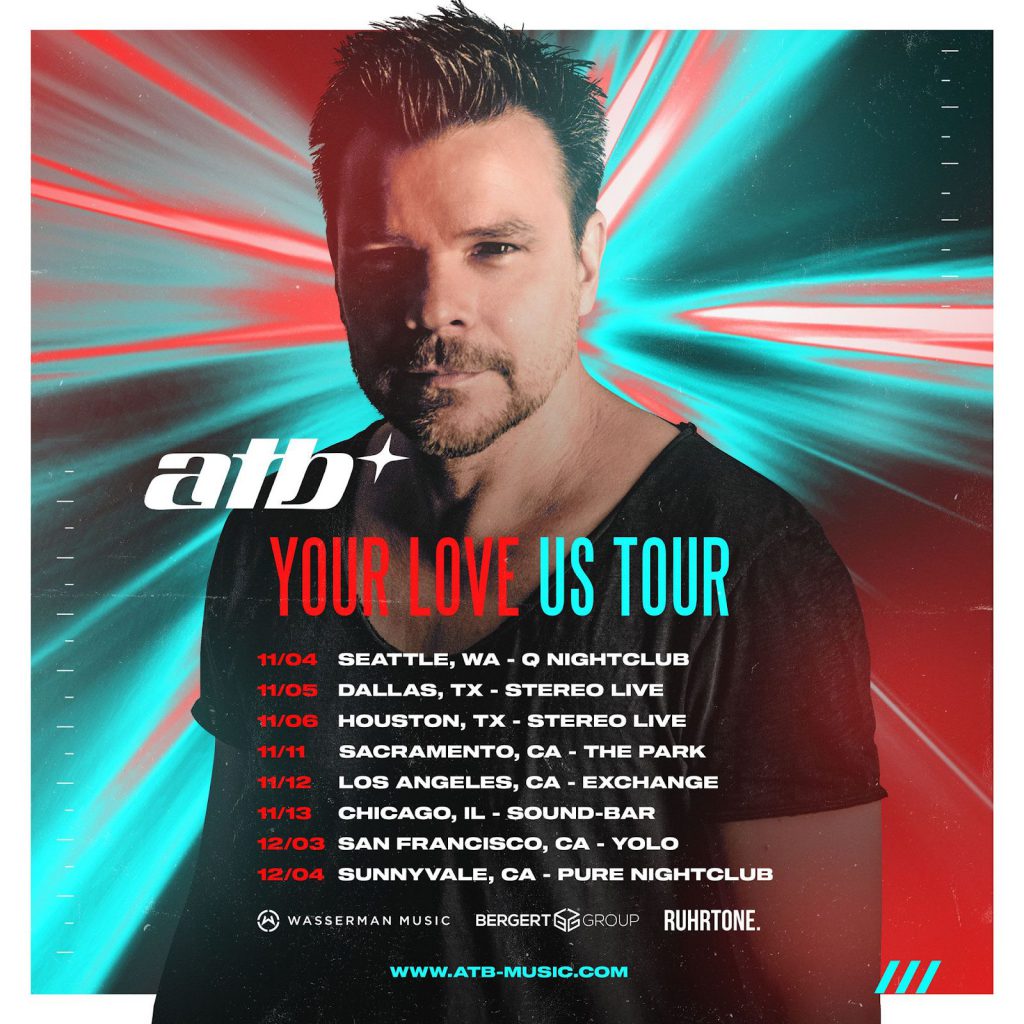 ---
ATB Your Love US Tour – Dates & Venues:
11/05 Dallas, TX – Stereo Live
11/06 Houston, TX – Stereo Live
11/11 Sacramento, CA – The Park
11/12 Los Angeles, CA – Exchange
11/13 Chicago, IL – Sound-Bar
12/03 San Francisco, CA – Yolo
12/04 Sunnyvale, CA – Pure Nightclub
---
Follow ATB on Social Media:
Website | Facebook | Twitter | Instagram | SoundCloud