We caught up with Huxley Anne at Beyond Wonderland at the Gorge to chat about getting back on the road, her narrative-driven sets, Audius and more!
---
A true pioneer in the scene, Gina Crow aka Huxley Anne, is practically a household name for anyone with a bass head in the family. Starting from her early days with the Los Angeles-based Courteous Family collective until now, she has been recognized by global tastemaker platforms including Noisia Radio, Ivy Lab's 20/20 LDN label, and LA's very own Dome of Doom. She will even be providing support for the LA stop of Noisia's highly anticipated farewell tour on November 4 with Bassrush.
Despite already boasting a hefty collection of high-profile accolades, Huxley Anne has never stopped pushing the envelope, consistently challenging herself to reach beyond the limits of her artistic expression. By finding new and interesting ways to share her vision with her community – whether through new techniques in sound design or explorations in film – she is a model for authentic leadership, and has more than established herself as a steward of underground bass music culture.
Inspired by themes of lust, pain, and movement, Huxley Anne's sound and creative mediums are forward-thinking. Her 2017 debut album Ilium is still turning heads, and to celebrate its continued influence on the sounds of our scene, she and the label have paired up with Catalog Works to release special selects as NFT offerings – fans can even begin their bidding now!
First up will be the haunting track "Nin," which evokes Huxley Anne's central themes in a beautiful yet dark manner, rife with hypnotic angst. Huxley Anne continues this foray into innovative digital landscapes in her new partnership with Audius where she will deliver exclusively captured sets from various performances.
When I had the opportunity to sit down with Huxley Anne after her performance at Beyond Wonderland at The Gorge, I couldn't have been more excited to dive into her mind's eye and get a glimpse behind the magic. So listen to "Nin" below and read on to learn more about this fiery phenom!
Listen to Huxley Anne – "Nin" on Spotify:
---
Hi Huxley Anne, thanks for sitting down with me today.
Thank you, Jenn.
So, I see you've been on a lot of great lineups lately. How does it feel being back playing shows again?
It has honestly felt pretty surreal. The first couple of shows didn't feel like they were actually happening, and I felt very unsure of my performance and the music I was selecting, and just nervous. Then, maybe my third or fourth show back, I was completely captivated and I felt like I was beginning anew, which was a really exciting feeling.
Leading into my last LA shows supporting Ivy Lab with System Error, and then playing the Dome of Doom 10th Anniversary Party, I got to feel really exploratory again, and it has felt almost like a rebirth. It's very powerful.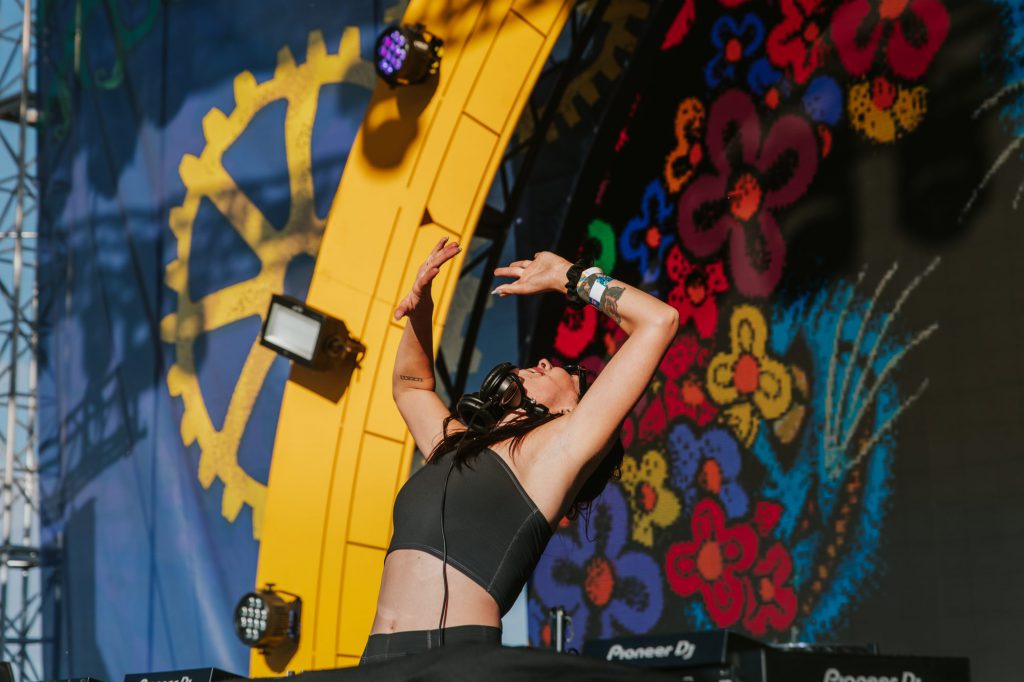 I love that, and honestly, it shows through your sets. I can really see the excitement, the amount of prep, and that satisfied look when you're executing your plan. Can you tell us more about your creative process in putting your sets together?
I've never wanted to stay in one genre. I never wanted to be a house DJ, or a bass DJ, or a hip-hop DJ. A lot of the work I do to prepare a performance is to lead people who are fans of bass music into other genres – whether that's into experimental electronica, trap, or house – to present them with a world where they can find themselves liking new genres. That's always been pretty paramount to how I present the narrative.
At the end of the day, every single set I prepare is fueled by some sort of narrative, and I imagine a character going through life and experiencing highs and lows. I utilize multiple genres because I want to mimic whatever story I'm trying to tell. It's pretty abstract, like it's never in solid form.
And that makes a lot of sense. I mean, that's the definitive hallmark of a well-crafted DJ set for sure. So what was the inspiration behind today's narrative?
Today's set was 100% inspired by the new Korean drama series Squid Game, not even joking. I took out the intro because it was too obvious, but I took the theme of this television show and mixed it with 50 Cent, and that was supposed to be telling the story of where we were going. There, it's a Korean survival drama – so here it's peaceful, and then all of a sudden, there are stakes of death on the table.
For this set, the first 10-15 minutes was me imagining a world from before those intense, game-playing rules were imposed on the character. Then as the rules get posed, I move up in BPM and density of sound, getting from the 130-140 range into more bass-heavy music. And then towards the end, it's these brief moments of pause where you're sort of reflecting on the intensity of the game.
I was literally inspired by a television show!
I'll definitely be checking that out. Speaking again of narratives, context, and setting – what's your favorite thing about playing big festivals like this versus club shows?
My favorite thing about festivals like this is that the songs I'm often playing are older. I can play a very old cut from 2003 mixed into a newer cut from 2010, and I can see it in the audience's eyes or just their movements that they've never heard it. It's so fun for me to bring back these songs that were so essential to me as an artist and present them to a younger group of people.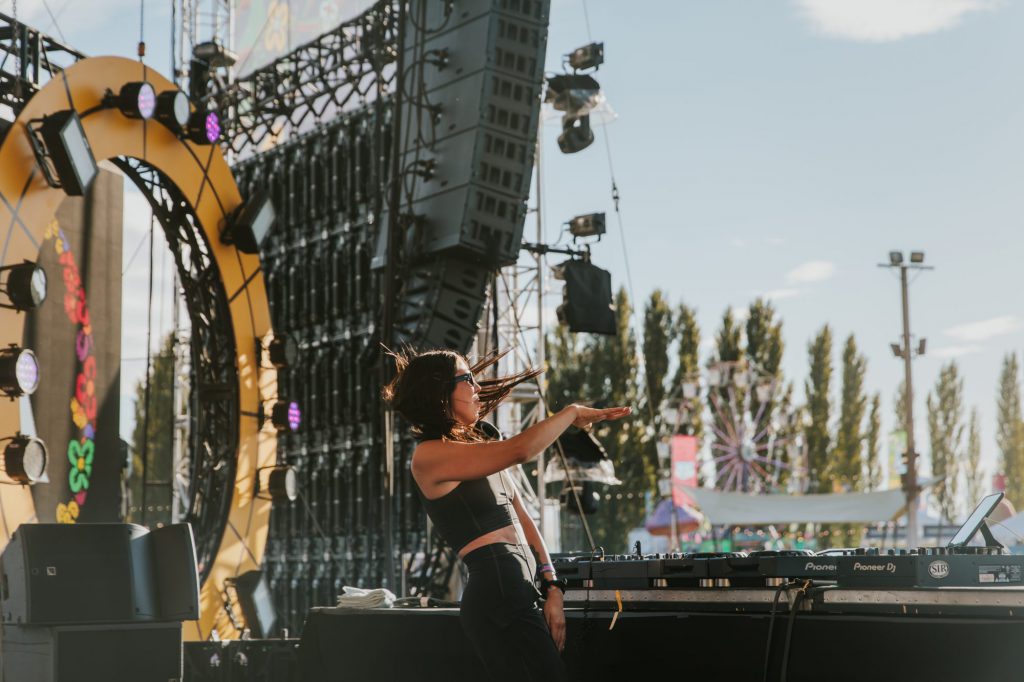 I definitely saw that effect in the crowd first-hand. Turning to things other than performing, what other projects have kept you busy recently? I know that you have a new partnership with Audius that's pretty exciting.
I'm working on a mix series with Audius, which is going to be really great. One of the things I was the saddest about during quarantine was that none of my live performances had been recorded. So I'm making an effort to record each set and release them over time with Audius, which has been really fun. It challenges me both as an artist and as a performer to not play the same set ever, to always adapt and change it, and to release these moments where, if you can't travel or be there, you can still listen.
Well, hopefully that mix from the last Bass Coast is making it on there because that was some fire! So, I know that you not only work on all the music projects, but you've been dabbling in some other mediums of creation as well?
Yeah! I've been working in film recently, which has been an extremely rewarding process for me as a narrative artist. As someone who writes poems and backstories to every song, it's been amazing to work in film and be able to express my ideas in a visual and audible way. That's led to some awesome music videos in the pipeline that I'm going to be directing.
In general, it's creating that sense of fulfillment and belief that I can stay in art for a long time, which I didn't use to have before COVID and the 'Great Pause.' I was worried I wouldn't be able to last forever; I wouldn't have enough ideas. Working in another medium has really opened my mind to a whole new set of processes, people, and creative identity. Accepting that into my world has only enriched everything I feel towards the music — story of my life.
Absolutely and I think that's a very powerful thing for our readership and all creatives to hear. So, something I like to ask all artists that I interview before we end off with the future outlook: what is a guilty pleasure you listen to that might surprise your fans?
Oh my gosh, okay, this is so embarrassing. I'm going to tell you because it's real, but geez. [Laughs] So I follow an online trainer and do workouts five times a week to stay in shape. For her birthday, she had this Ed Sheeran mix and she would dance to these Ed Sheeran songs, and because she inserted it into the workout so often, I have become an Ed Sheeran fan. Which is so not what you'd think for me, [Laughs] Ed Sheeran, Aqua, ABBA – there's an ABBA record coming out in 2022 people aren't ready – basically, a lot of classic pop!
I feel that. I love myself some pop too. Alright, well, thank you so much for being here. Before we send you off, what can we expect to see next from Huxley Anne? What should fans look out for?
Be on the lookout for new types of audiovisual presentations of my work.
We will indeed! Thank you very much for chatting with us today Gina, it was a pleasure.
Same to you. Thanks, Jenn!
---
Follow Huxley Anne on Social Media:
Website | Facebook | Twitter | Instagram | SoundCloud