OBERHASLI, the interactive music experience from deadmau5 in the Metaverse, is set to debut with a series of shows on October 15-17.
---
If there's one artist who has been at the cutting edge of technology in the electronic music scene over the years, it's deadmau5. From his larger-than-life Cube stages to embracing the connection between dance music and video games, he's always looked to go bigger and better with each project. More recently, this mission has seen the renowned DJ and producer team up with Manticore Games and their Core platform to craft up Oberhasli, an evolving social space paired with a virtual music experience.
Oberhasli was announced back in August and quickly caught the attention of deadmau5′ fans around the world. Now, the virtual experience is set to make its grand debut on the weekend of October 15-17. Those who enter the metaverse that deadmau5 has created will be gifted with an exclusive setlist of tunes as he guides everyone through 13 interactive worlds. The first of these shows kicks off on October 15 at 3pm PT, but have no fear if you can't make that one, because there are four additional shows to catch during the weekend as well.
But that isn't all that Oberhasli has to offer for those who download Core to immerse themselves in this new, digital frontier. Beyond these shows are more than 20 unique deadmau5 worlds that have been created by Core users, while there are also playable mini-games and social experiences that are planned to evolve over time. Further, those who download and play Core will get the chance to meet deadmau5 during a live VIP meet and greet, along with access to themed avatars and other in-game items.
Check out the schedule of deadmau5′ upcoming shows and head over to Oberhasli's website for more details. Core is available to download for free via the Epic Games Store.
---
deadmau5 Oberhasli Performance Schedule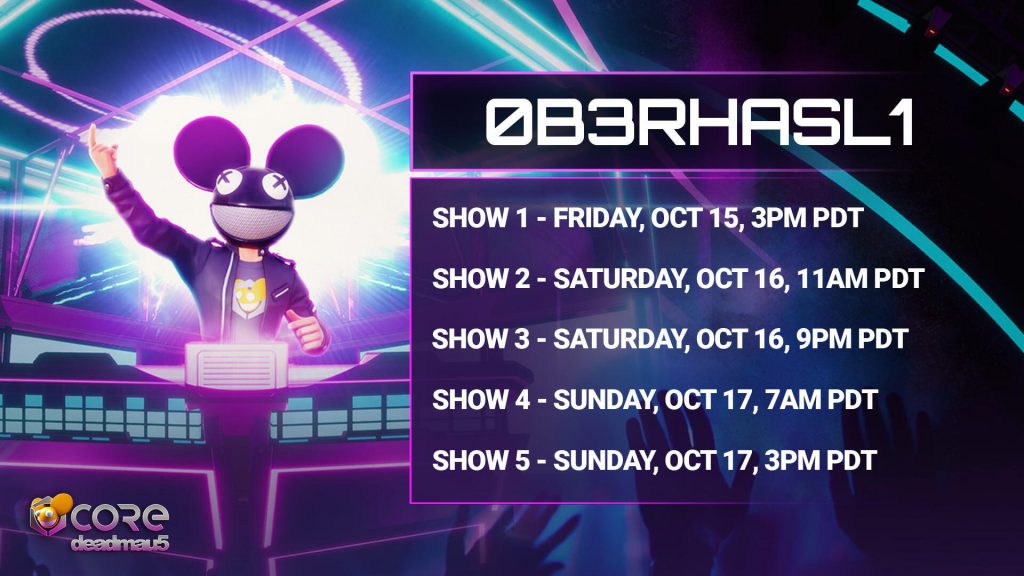 ---
Follow deadmau5 on Social Media:
Website | Facebook | Twitter | Instagram | SoundCloud | YouTube