RL Grime's highly anticipated Halloween X will stream live from The Hollywood Palladium, Thursday, October 28 via Moment House!
---
It's the most wonderful time of the year. We're 15 days away from RL Grime's Halloween Mix, and this year is an exceptional one for the Sable Valley founder, considering it's the 10th anniversary of the series. That's right, a decade of memorable mixes that continue to get better and better. 
Last month, RL Grime announced he's throwing the first-ever live edition of the iconic Halloween series in Los Angeles at The Hollywood Palladium. As expected, the community went wild, and tickets sold out instantly. The good news is that you can still watch and enjoy the show from the comforts of your home. Thanks to Moment House, Halloween X will broadcast live on Thursday, October 28, at 8pm PDT. 
If you can't watch the live broadcast, have no fear. Moment House will rebroadcast the entire show on Friday, October 29, across the world. So it's safe to say that this mix will be one for the books, and we're here for all the hype. Joining RL Grime for the evening are Sable Valley alumni, Juelz and Jawns, who will introduce their Enter The World project for the first time. Sheesh. 
Tickets are available now for the live stream broadcast of RL Grime's Halloween X. Head over to Moment House's official website and purchase your ticket for $13.13 (USD). Cute. Don't forget to share your favorite Halloween Mix in the comments below!
---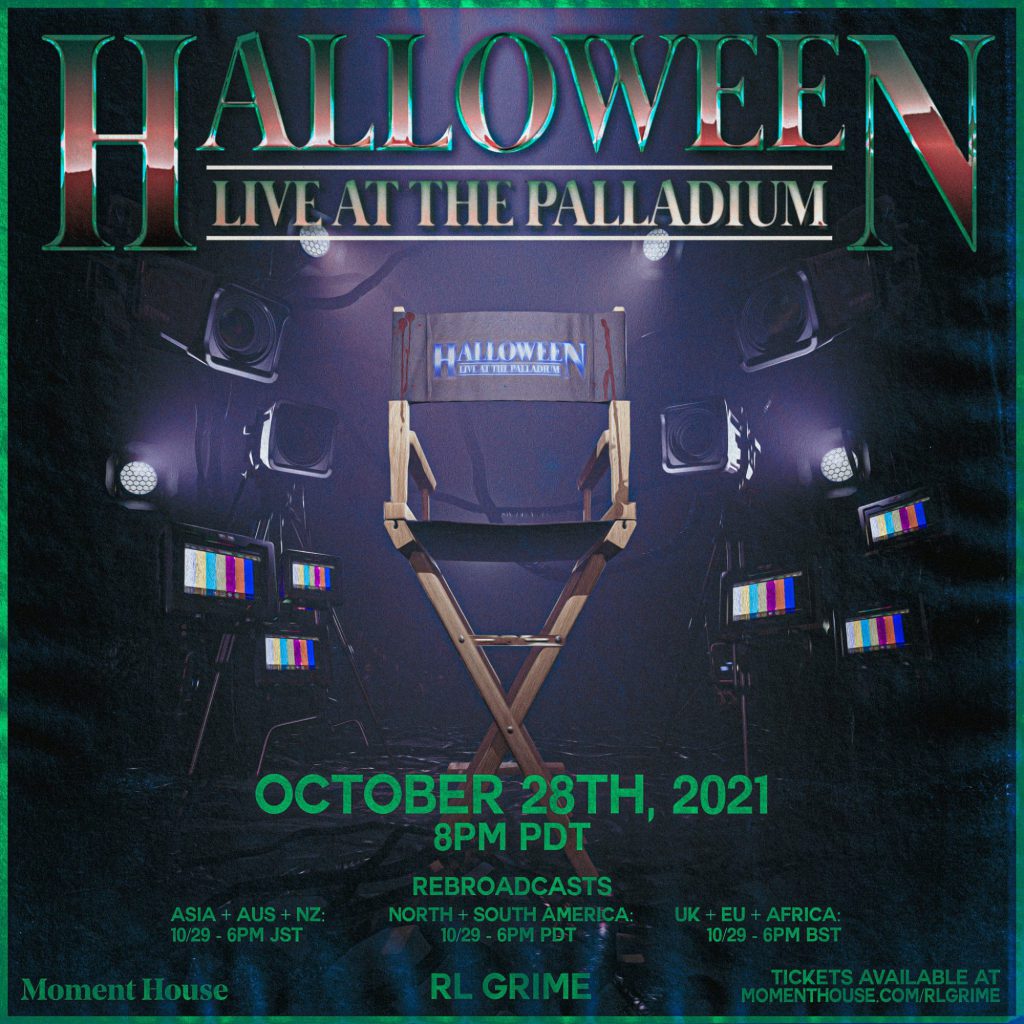 ---
RL Grime's Halloween X Livestream – Dates and Times by Territory:
Live from The Hollywood Palladium
October 28th, 8:00 PM PT
North & South America
October 29th, 6:00 PM PT / 9:00 PM ET
Asia, Australia & New Zealand
October 29th, 6:00 PM JST
Europe, UK & Africa
October 29th, 6:00 PM BST
---
Follow RL Grime on Social Media:
Website | Facebook | Twitter | Instagram | SoundCloud