ZHU, Slander, deadmau5 vs. Testpilot, Madeon, Qrion, and more are set to play the debut edition of Countdown Campout on NYE weekend.
---
Update November 15: Countdown Campout has moved to Orlando and will now be called Countdown Orlando Invasion. Please see this post for details on refunds and more.
---
Previously: A surprising addition to Insomniac's already expansive offering of festivals in North America surfaced when Countdown Campout appeared. Officially announced for New Year's Eve weekend earlier this year by the alien overlords when they targeted their usual stop in Southern California and then marked the Florida coast, the hype began to build for what was to come. Now, Insomniac has delivered even more details of what's to come when they land in Sunshine Grove on December 31, 2021 – January 1, 2022.
Countdown Campout will be a first-of-its-kind event on the East Coast as Insomniac and the Okeechobee Experience have partnered up to take attendees to another world filled with extraterrestrial production and unique experiences. This includes three otherworldly stages of music (The Mothership, Nebula hosted by Bassrush, and Twilight Zone hosted by Insomniac Records), along with loads of costumed performers, art, and more.
The debut edition of Countdown Campout will also see 2022 arrive with a bang because of its lineup that is filled to the brim with top-tier artists and exclusive sets. This includes everything from deadmau5 vs Testpilot and Flosstradamus b2b Nitti Gritti b2b Valentino Khan to sets from beloved artists like Madeon, Qrion, HI-LO, ZHU, and Adventure Club. Other notable names on the Countdown Campout lineup range from Audien and Deorro to Moore Kismet and Rusko to further show the diverse sonic offering that will be put on display over the weekend.
Unlike its sister event that will run simultaneously on the west coast, Countdown Campout will allow attendees to stay on-site at the event with tent, car, and RV camping options in the jungle-like venue. Tickets and camping passes for Countdown Campout on New Year's Eve weekend go on sale Thursday, October 14 at 12pm ET. Head over to their website for more details and get ready to grab yours via Front Gate.
---
Countdown Campout New Year's Eve Weekend – Lineup: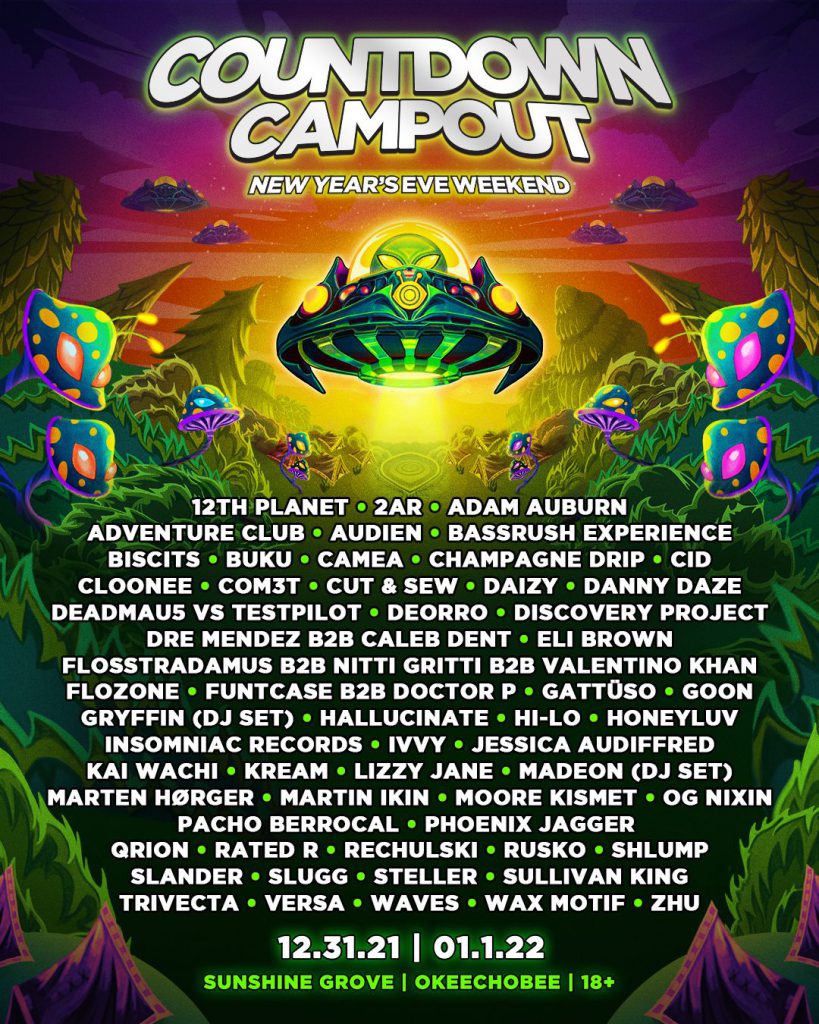 ---
Countdown Campout New Year's Eve Weekend – Lineup By Artist:
12th Planet
2AR
Adam Auburn
Adventure Club
Audien
Biscits
Buku
Camea
Champagne Drip
CID
Cloonee
COM3T
Cut & Sew
Daizy
Danny Daze
Deadmau5 vs Testpilot
Deorro
Discovery Project
Dre Mendez b2b Caleb Dent
Eli Brown
Flosstradamus b2b Nitti Gritti b2b Valentino Khan
Funtcase b2b Doctor P
Gattuso
Gryffin (DJ Set)
Hallucinate
HI-LO
Honey Luv
IVVY
Jessica Audiffred
Kai Wachi
KREAM
Lizzy Jane
Madeon (DJ Set)
Marten Horger
Martin Ikin
Moore Kismet
OG Nixin
Phoenix Jagger
Qrion
Rated R
Rechulski
Rusko
Shlump
Slander
Slugg
Steller
Sullivan King
Trivecta
Versa
Waves
Wax Motif
Zhu
---
Follow Countdown Campout on Social Media: