Are you ready to experience fall with the Graydient Collective? Tune in to catch BlindSpider, Anakim, Collizma, Forseti, and Spring Street.
---
Julian Gray and the Graydient Collective have been on a roll all year long with the Gallery Sessions series on Twitch. A plethora of talented artists have taken the virtual stage to showcase their unique stylings behind the decks each Sunday, with some special treats surfacing as well for those who have tuned in. Now, as Graydient Collective continues to drop singles ahead of the release of their latest Colors compilation, they're putting a focus on their own artists in the month of September.
After a summer filled with plenty of heat, it's time for everyone to settle in for the cooler months of fall – but that doesn't mean that the sets during Graydient Collective's Gallery Sessions series won't be on fire in October. Julian Gray and his crew have curated a fantastic lineup to take over their ongoing series on Twitch that takes place each Sunday, and if you haven't tuned in yet you definitely want to this month.
Kicking off the run of shows on October 3 is BlindSpider. Those who have tuned in to previous editions of the Gallery Sessions series will know how impressive his sets have been and there's little doubt that he will bring another surreal set along with him. Then, October 10 will see the series receive a blessing from none other than Anakim, who has consistently delivered some immersive releases over the past few years and is only further expanding on his mastery in creating fantastic soundscapes.
Related: Did you miss out on past editions of the Gallery Sessions series? Head over to Graydient Collective's YouTube channel to dive into the archived performances.
Collizma is set to take the reins of the series mid-way through the month on October 17 with his dynamic, multi-genre style in tow before rising techno talent Forseti dives into the depths of the underground on October 24. And for Halloween itself, there's a definite treat in store as Spring Street will throw down to help everyone have a spooky good time – you won't want to miss this one.
Make sure to follow Graydient Collective on Facebook and Twitch so you know the moment they go live, watch each episode below, and stay tuned for more from this fantastic group of artists in 2021!
Tune in to Graydient Collective's Gallery Sessions series on Twitch:
---
Graydient Sessions – October 2021 Schedule: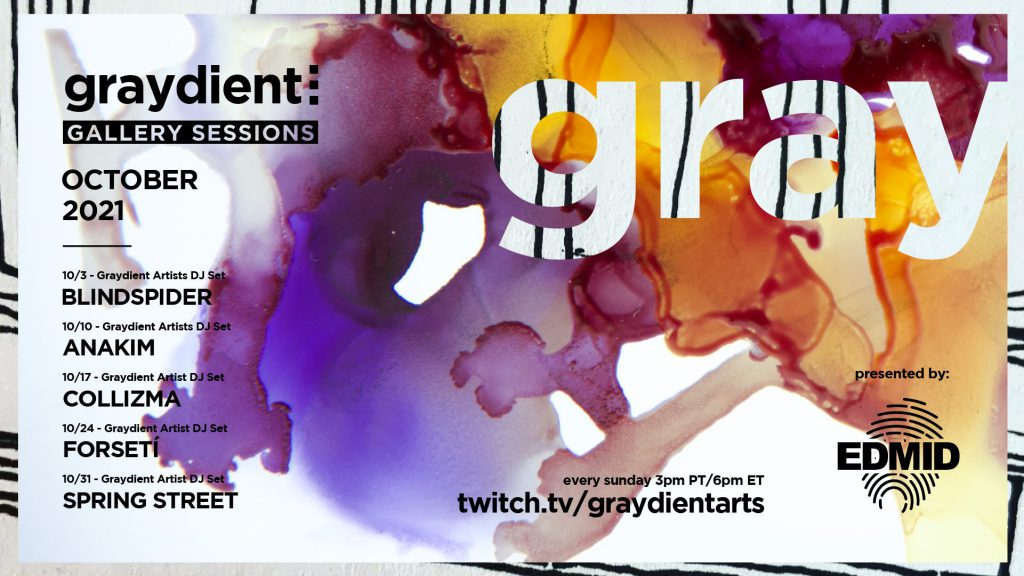 ---
Follow Graydient Collective on Social Media:
Website | Facebook | Twitter | Instagram | SoundCloud | YouTube | Twitch