Subtronics is steadily recruiting new troops to be part of his Cyclops Army to prepare for Armageddon and now it's upon us all.
---
Subtronics' Cyclops Recordings has certainly earned its medals in bass music over the past year, being on the front line of everyone's playlists as they get down in the dirt with filthy dubstep. Now, the day of reckoning has come as Armageddon has been released upon the world. The Cyclops Army has started to march in step to every beat with the latest compilation from the label as their soundtrack. Not only will this collection of tunes help them keep pace, though, it will also have them breaking rails along the way.
Armageddon is going nuclear, as the 18 track compilation offers up a plethora of forward-thinking, underground sounds that will explode your speakers. Joining the battle are a highly curated group of artists new and old alike, such as Space Wizard, Codd Dubz, JANDI, WARNED, Paper Skies, Jeulzz, and plenty more. Two tracks that stood tall immediately among the rest include "Electric Noodle Soup," with UBUR and Subtronics that shocks you back, or "YIKES" from Psymbionic that will liquefy your brain cells.
Staying true to the label's mission, Cyclops Recordings recruited a handful of impressive artists for the collaboration to follow in the steps of other recognized artists. Newcomer Sharploud represents himself strongly with his first release on the label splitting our equilibrium with "Cyber Monkey" while other fresh faces include the likes of Echo Drone and Evilnoiz. You'll also want to "TAKE DOWN" notes from new recruits Codd Dubz, Decimate, and Bommer as they bring your knees to your chest with fast beats and a grimy-driven bass.
The weird, wonky vibe has really infected genres like riddim, experimental bass, dubstep, and trap as of late – and Armageddon has that and more. Make sure to stream the compilation on Spotify or your preferred platform and join the revolution that's coming with Cyclops Recordings.
Stream Armageddon on Spotify:
---
Armageddon – Tracklist:
UBUR ft. Subtronics – Electric Noodle Soup
Codd Dubz ft. Decimate ft. Bommer – Take Down
Paper Skies – Operator
Cyclops ft. LEVEL UP – Shadow Spells
Echo Drone – Beep Boop
EVVDE – Hellrave
Space Wizard ft. BLVNKSPVCE – Mind Fluid
JANDI – Corruption Cutter
Psymbionic – Yikes
WARNED – Death Rythm
Izzy Vadim ft. Stoned Level – Boot Sequence
Jeulzzz – The Axe
Sharploud – Cyber Monkey
Prosecute – Vandal
Evilnoiz – Potion
Nvctve – The New
MUERTE – Summon The King
SQISHI – Zipper Gun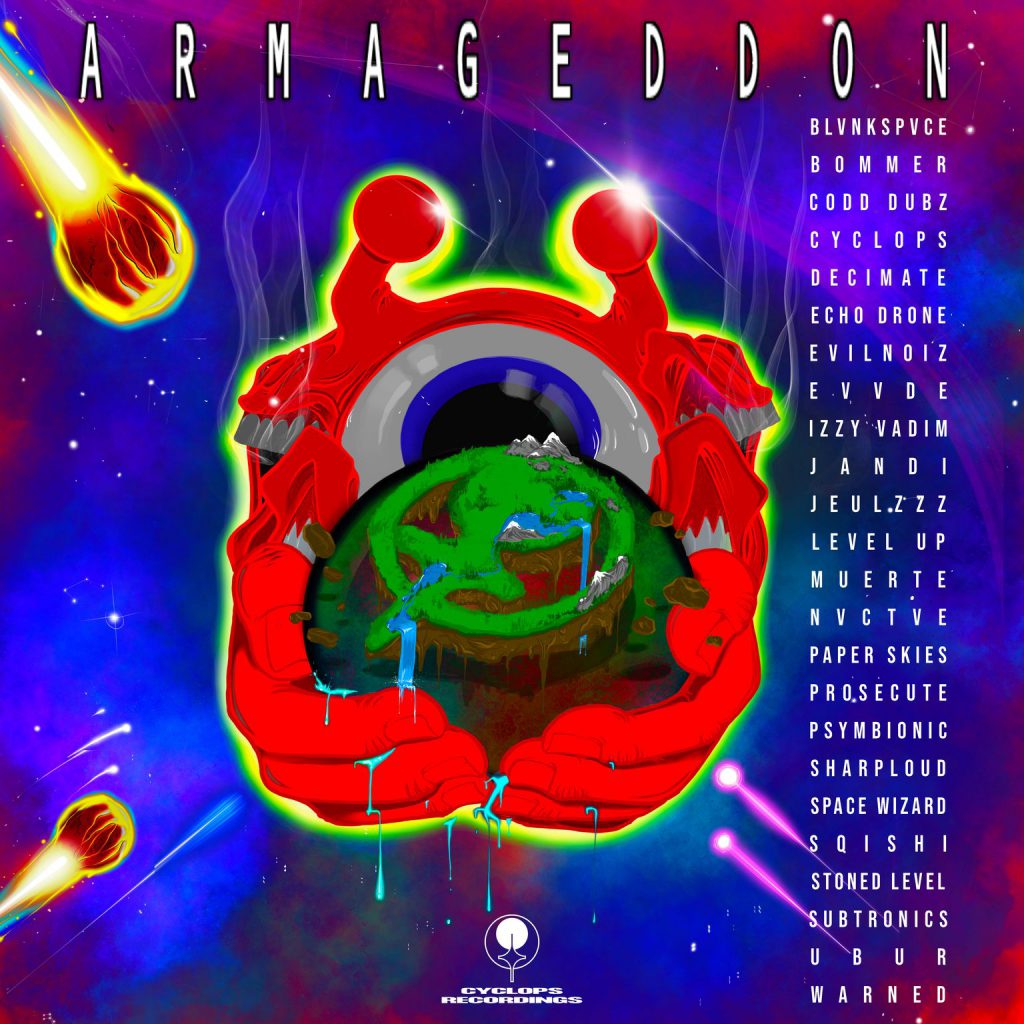 ---
Follow Cyclops Recordings on Social Media:
Facebook | Twitter | Instagram | SoundCloud | YouTube