Get ready for the fall madness of CRSSD Festival Fall 2021 by staying in the know with the set times and all the other important info!
---
It may be hard to believe that September 2021 is almost all wrapped up, but San Diego no doubt keeps the summer mood alive as the air cools with CRSSD Festival Fall! A staple of the California scene since 2015, this festival caters to a different vibe and loves to lift up the house and techno community from near and far.
Whether it's chic fashion, craft culture, or the joy of dancing near the bay, CRSSD Festival always shines as a bright gem in the festival circuit. From the biggest names on the talent bill to the fan who just scraped together enough cash for a ticket, everyone enjoys their time at the Waterfront Park in America's Finest City.
Related: Check out our CRSSD Festival Fall playlist for a taste of the sounds that will permeate this year's edition!
With that said, we love to keep you ready and safe dancing from noon to night each day of the weekend. Dive into the do's and don't below, remember to bring your ID and ticket, and get ready to groove the day away thanks to this essential information!
---
CRSSD Festival Fall 2021 Essential Info:
Dates: September, 25-26 2021
Hours: 12pm to 10pm, Daily.
Venue Address: 1600 Pacific Coast Highway, San Diego, CA, USA
Tickets: Purchase via Showclix or visit Lyte Exchange
Facebook Event Page: RSVP HERE
Acceptable Forms of Identification for Entry
Any US government-issued driver's license or ID card containing a photograph and date of birth
US or foreign government-issued passport containing a photograph and date of birth
Important Information For CRSSD Festival
This is a cashless event. CRSSD Festival accepts Credit Cards, Debit Cards, Apple Pay & Google Pay.
The County of San Diego's Waterfront Park is a 100% smoke free venue. As such we are a NON-SMOKING event! No cigarettes, e-cigs or vapes please.
Tickets are good for one entry to the fest per day. No re-entry.
---
CRSSD Festival Fall 2021 Set Times: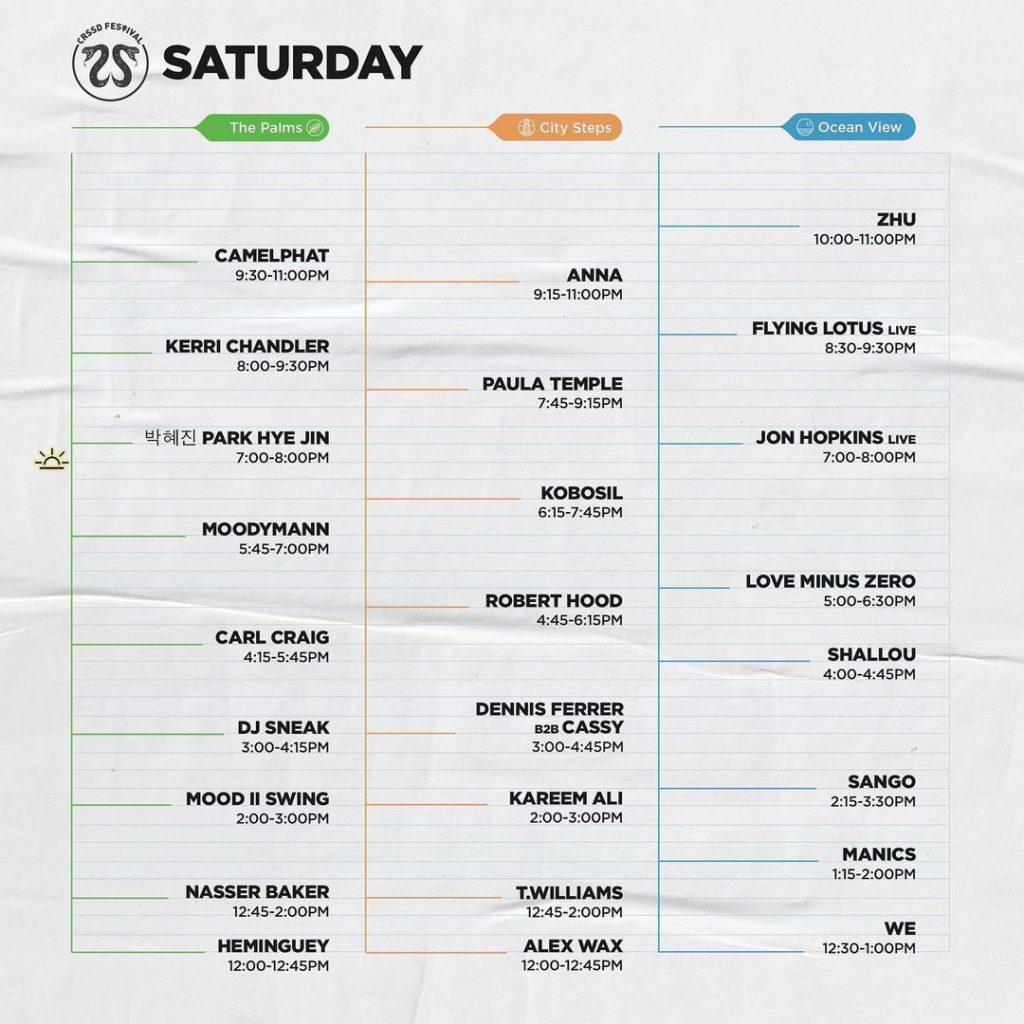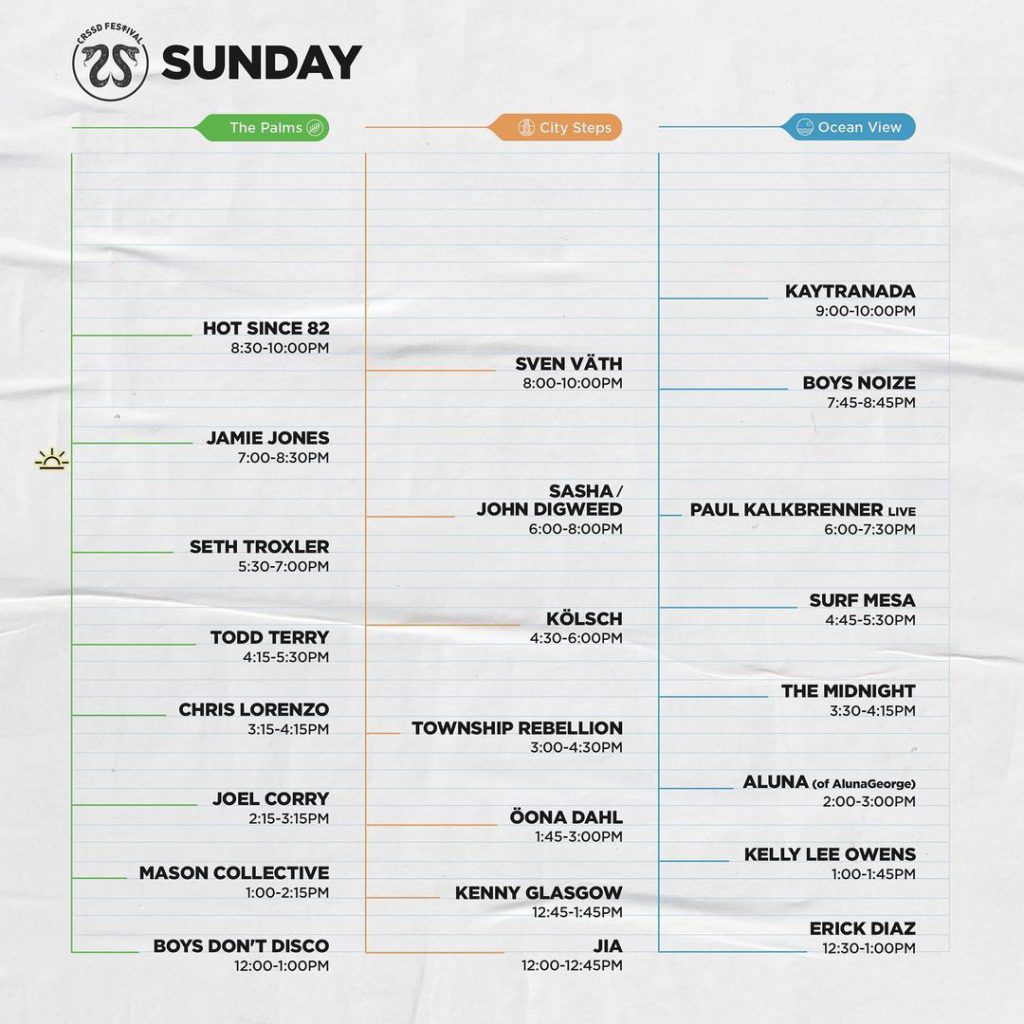 ---
CRSSD Festival Fall 2021 Festival Map: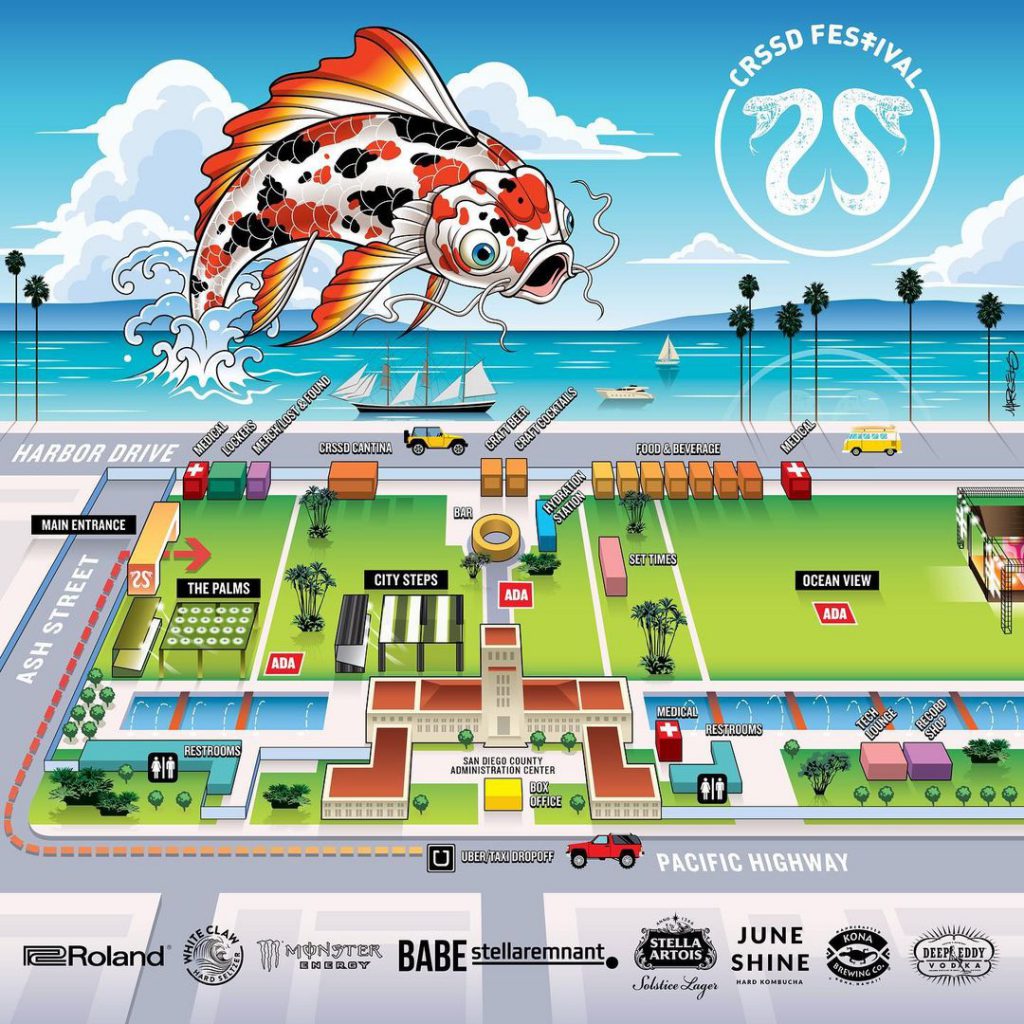 ---
Reminder To Mind Your Belongings:
Unfortunately, many people have reported pickpockets, bag slashings, and theft of wallets, smartphones, purses and other valuables during this festival season. While this small number of bad apples in the bunch doesn't define an entire crowd, there are opportunistic people who come to these events to take advantage of unsuspecting partygoers and it's important to be mindful of your valuables while at CRSSD Festival Fall 2021.
Looking for tips to keep your belongings safe? Check our post highlighting some ideas!
---
Bag Policy
CRSSD Festival has a rather specific bag policy thanks to its unique location. Attendees should heed the policy to make for a smooth entry to the event. All details follow below:
All persons and bags are subject to search. Clear tote bags (including handbags/purses) that are clear plastic, vinyl or PVC and do not exceed 12" x 6" x 12" will be admitted inside after inspection. Small clutch bags or wallets that do not exceed 4.5" x 6.5 ", with or without a handle or strap, may be carried into the venue along with one of the clear bag options (clear tote or storage bag). Oversized bags (i.e. backpacks, suitcases, beach bags, laptop bags, etc.) and camelbacks are prohibited.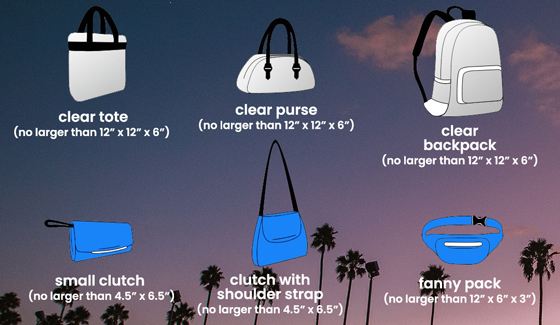 ---
CRSSD Festival Fall 2021 Do's & Don'ts:
Prohibited Items
Totems
Hula hoops
LED gloves, Flowlights, etc
Nudity, pasties, thongs (Clothing must not when wet expose parts of body under County Code 32.1002 prohibiting public nudity)
Drugs / drug paraphernalia
Cigarettes, E-Cigs, Vapes
Outside food + drink [sealed outside food allowed for those who have a documented need (must have Dr.'s note that matches ID)]
Laser Pointers
Lighters
CamelBaks / bladders (water stations provided + one empty 24oz (or less) transparent plastic bottle (Nalgene style) or clear plastic water bottle OK)
Large backpacks (CLEAR BAGS ONLY – SEE CLEAR BAG POLICY)
Glass bottles or containers
Weapons of any kind
Laser pointers
Selfie sticks
Audio recording devices
Professional photo / video cameras
Drones
Umbrellas (Parasols ok)
Open Makeup
Chalk, markers, sharpies
Chains / chain wallets
Stickers / flyers / solicitations
Pets (guide/service dogs OK)
Cleated shoes
Rave attire
No furry boots. (Some kandi is ok, but overboard will be turned away. Use your judgment.)
Fan Slapping (You may be asked to stop. If you don't, you may be asked to leave. Please respect your neighbors!)
Permitted Items
Clear backpacks, totes, handbags, plastic that are vinyl or PVC and do not exceed 12" x 12" x 6"
Small clutch bags, fanny packs & wallets that do not exceed 4.5" x 6.5
Prescribed medication (in container with matching ID to be checked at entry and only containing the number of doses needed for duration of event as prescribed on the pill container.)
Cell phones
Non-professional cameras
Blankets/towels
Hand sanitizer and/or wipes (open/unsealed ok)
Sunscreen (contents to be checked at entry)
Sealed gum
Sealed chapstick
Sealed lipstick
Sealed eyedrops
Sealed makeup
Empty 24oz (or less) transparent plastic bottle (Nalgene style) or clear plastic water bottle
GoPros (w/o sticks)
Sunglasses
Earplugs
Good times
---
Follow CRSSD Festival on Social Media:
Website | Facebook | Twitter | Instagram | SoundCloud | YouTube