Electro-psychedelic duo KUNZITE takes VISUALS to a whole new universe and offers electrifying sounds on their sophomore album!
---
The imaginative minds of White Flight's Agustin White and Ratatat's Mike Stroud came together to form KUNZITE and they've discovered new colors together through their curiosity of sound ever since. The two stars have been in orbit with each other throughout the years touring, but it wasn't until they both reached a stellar collision to create Birds Don't Fly on the Sol System Records imprint that the project truly took hold.
Last year, KUNZITE released two singles including the mind-stirring "SATURN," as well as "NOVAS," to build up the invitation to a galaxy of hues. This year, they arrived in style with "JUPITER," "FROSTY," "LEMON SWAYZE," and "HALOHEAD" to get everyone's taste buds craving VISUALS, their sophomore album, even more. Now, that album has officially landed via Lowly/Wilder and the duo puts their gamma-ray energy on full display throughout its entire 14 track run as they seamlessly innovate in the electronic music spectrum.
Further, KUNZITE has set few tour dates in California, New Mexico, Washington, and Arizona. So if you are stateside or elsewhere in the world, you may not be able to catch a live show this year, but you can at least enjoy the new album in its entirety. Listen to VISUALS on Spotify or your preferred platform, check out the tour dates, and read on for a deeper dive into the tracks!
Stream KUNZITE – VISUALS on Spotify:
---
VISUALS begins with "LEMON SWAYZE" and quickly showcases KUNZITE's sweet zest for merging instruments.
Listeners will immediately pucker their lips when the citrusy summer taste of "LEMON SWAYZE" enters their ears. KUNZITE effortlessly combines distorted rock guitar riffs from Ratatat and pairs bright pop vocals before dropping into sustained psychedelic keys. This tune has an impeccable balance of energy that will take anyone on a ride through the cosmos. Much like every track on the album, the arrangement keeps the vibes high making it one you'll want to have on repeat as you skate in the summer sun.
"NOVAS" is a transgressive track that helps the listener dream up another universe we haven't yet discovered before continuing the flow with "FLUX."
"NOVAS" is one of those songs that will put you in a haze with spacey synths and voice-over-like vocals. KUNZITE layer airy vocals with a rock drum kick that allows you to close your eyes into another world. But before you know it, you're snapped out of the state and "FLUX " into an intermission. The downtempo of the track is bursting with an array of colorful synths and sustained subwoofers that showcase the darker side of the album.
Suddenly KUNZITE sends listeners space and land within the colorful walls of their minds.
The following three tracks lead with distortion and dominance taking over the body. While "JUPITER" layers new voice-over vocals similar to "NOVA," the track also has a rock vibe in its drum kit and guitar riffs perfect for encouraging listeners to "lean on back so the colors can flow." On "SATURN," the heavy distortion and radial pitch-shifting mind-benders that melt the head and heart into a nostalgic yet energetic bliss.
Creating warmth in the atmosphere, "HOLOHEAD" offers up heated lyrics with, "it's a miracle you even give a fuck", and "got drunk on the power and the magic." Additionally, the tune touches on self-doubt and laying down relationship boundaries with the self and an affiliated social circle to add even more depth.
As we push further past our solar system, the expedition gets "FROSTY" before transitioning into a unique burst of energy with "WAIMALIEN."
"FROSTY" offers a solid opening to electrifying power chords. Yet, at the same time, gentle vocals sweep to accompany the rhythm and profound chorus through the lyrics, "Another atmosphere, new pressure you found," leaves listeners empowered. KUNZITE then surprises listeners with "WAIMALIEN," a dynamic track that will captivate the mind from the moment it begins. It later infuses laser-like tempo, angelic vocals, and accents of electric guitar leads that jolt the cardio-vascular system to full excitement.
The album continues with "CLIPS" before the tempo slows down and shifts the pitch of vocals to a lower octave on "PLN."
With the drums laid out as the foundation, KUNZITE explores various elements on "CLIPS," which features low-end kicks, chimes, and optimistic lyrics that envision better days coming. Simply put, it's an uplifting message to "keep swimming in the rain." Then, on "PLN" the piano keys imitate the shock waves carried through space. With arpeggios in the forefront of the tune, the guitar riff pulls listeners into the magnetic waves into a new universe.
Listeners are greeted into a new electronic universe that probes the body as the album comes to an end.
"SUPREME SUNBEAM" is a tune that's honestly as hot as the sun, and "AZURITE" closes everything down in style by giving those who hear its sensational offering of sounds the ability to soar freely. In hard times where it seems impossible to see the light in the world, the music from KUNZITE provides a bright future ahead. It's an album that can change listeners' perspectives on electronic music and be a gateway portal for interstellar travels to navigate the trip we call life.
While distortion and stellar guitar riffs are the album's foundation, KUNZITE expertly infuses a vibrant piece of art. With their second album officially on the radar of fans and tastemakers, there isn't anything this duo can't launch into space. So while we listen to VISUALS on repeat, let us close our eyes and imagine a vibrant reality of optimism we may bring into our universe to share with those around us.
---
KUNZITE – VISUALS – Tracklist:
LEMON SWAYZE
NOVAS
FLUX
JUPITER
SATURN
HALOHEAD
FROSTY
WAIMALIEN
CLIPS
PLN
SUPREME BEAM
CIELO
WHISTLES
AZURITE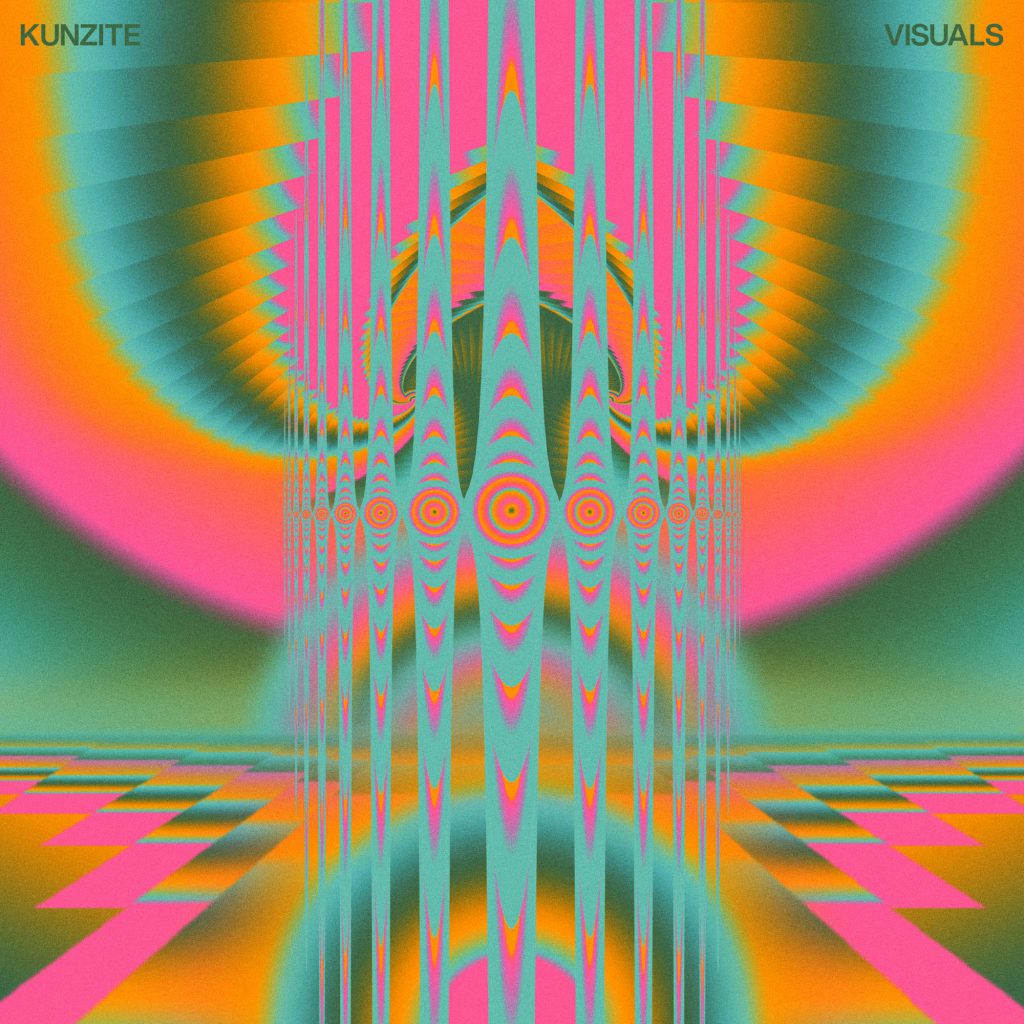 ---
Follow KUNZITE on Social Media:
Website | Facebook | Twitter | Instagram | SoundCloud | YouTube