The Funk Hunters, Tony Romera, and more will be taking the stage at Monstercat's free block party in Vancouver, Monstercat Compound!
---
Monstercat continues to prove with each passing year that they're one of the most dynamic brands in the dance music scene, and it's clear that they have no plans on slowing down anytime soon. While the releases that have surfaced on their growing offering of sub-labels have their fans around the world grooving or headbanging away to the beat, they've also put a huge focus on unique experiences as well. This includes everything from partnering up with video games like Rocket League to hosting livestreams, along with showcases and events as well – one of those being Monstercat Compound in Vancouver.
In 2019, Monstercat assembled some of their finest artists for the third edition of Monstercat Compound, but as we all know the plans for its return in 2020 were put on pause. But now that the return of the scene in North America is looking brighter, they've announced that the free block party will return to the Monstercat HQ in Vancouver on Saturday, September 18 with a fantastic lineup and more in tow.
Taking over the two stages at the upcoming edition of Monstercat Compound is a flurry of DJs that you simply shouldn't be sleeping on. This includes everyone from The Funk Hunters and Tony Romera to Defunk and Kotek. Additionally, the sets from Rylan Taggart, So Sus, Eminence, and Sabai are also ones not to miss if you're planning to make your way to the Monstercat HQ next month.
Presented by Sapporo, those who attend Monstercat Compound this September won't just be treated to some electronic beats, but plenty more as well including tasty eats from local food trucks, a spacious beer garden, panels on career building and NFTs, and street artists who will be creating their latest masterpiece. The Monstercat Street Piano (created by Roland Sound) and The Gaming Stadium with Rocket League battles and more will also be returning to the block party as well.
Those planning to attend can RSVP for free via the Monstercat website, while those who want to upgrade their experience to have a separate bar, private lounge, and better views of the stage can do so by opting for the premium pass via TicketFairy.
---
Monstercat Compound 2021 – Lineup: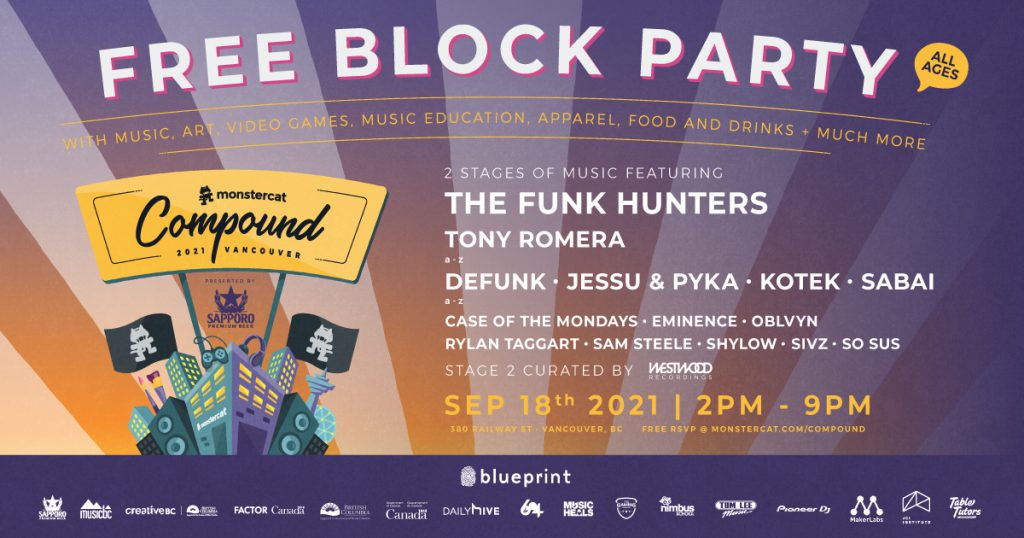 ---
Follow Monstercat on Social Media:
Website | Facebook | Twitter | Instagram | SoundCloud