Vincent is set to take the stage in Palm Springs at Splash House this weekend and he's curated some tasty tunes to get you in a groove.
---
Dance music lovers from near and far flock to Palm Springs each summer to catch some tunes and splash around with friends at Splash House. Featuring a diverse lineup that is spread throughout three different hotels in the sun-soaked city, and two legendary after-parties at the Air Museum as well, it's a true delight for anyone on the hunt for one of the most unique experiences in the scene. This year saw Splash House look to August for their return, and after the first weekend's festivities, Vincent has arrived to heat things up further ahead of the second weekend.
Vincent is an artist who has truly come into his own since first emerging on the scene. Initially decimating minds with his insane, jaw-dropping bass soundscapes on tracks like "Breathe" and "HER," he's only further continued his exploration of different styles with tunes such as "Lost & In Love" with The Griswolds and "I'm No Magician" with Love, Alexa. More recently, Vincent teamed up with HOFFEY on the sensational tune "GOOD THINGS ARE COMING" while also dropping "SABER TOOTH" with TIGER DROOL and QUIX for his fans to consume.
On Sunday, Vincent will be performing at Splash House on the Margaritaville stage as one of the final sets of the weekend – but he's intent on getting everyone grooving away ahead of that. To achieve this, he curated a playlist that is brimming with tunes that will set a vibe in a matter of seconds from the likes of MK, Rome in Silver, Flume, Wavedash, Swedish House Mafia, Leotrix, Skrillex, and more.
Check out the playlist below, dance away with even more tunes from Blossom, and let us know how you're planning to get hyped up for Splash House 2021!
Stream Vincent's Splash House Selections Playlist on Spotify:
---
Tracklist:
Swedish House Mafia; Ty Dolla $ign; 070 Shake – Lifetime (with Ty Dolla $ign & 070 Shake)
Rome in Silver – Like You
pluko; Manila Killa; ilo ilo – on the way
MK – 17
Yung Bae; Macross 82-99 – Welcome to the Disco
Sigrid; Maliboux – Mirror – Maliboux Remix
Vintage Culture; Zerky; Cherub – Doses & Mimosas (Vintage Culture & Zerky Remix) – Radio Edit
Whethan; K.Flay – Hurting on Purpose (feat. K.Flay)
San Holo; Chet Porter – you've changed, i've changed
Skrillex; Swae Lee; Siiickbrain – Too Bizarre (with Swae Lee & Siiickbrain)
Robotaki; Record Heat – Identity
Disclosure; Eliza Doolittle; Flume – You & Me – Flume Remix
Wavedash – Dummo Loop
Bazzi vs.; Vincent – Paradise – Bazzi vs. Vincent Remix
Leotrix – Sight
Fox Stevenson – Bruises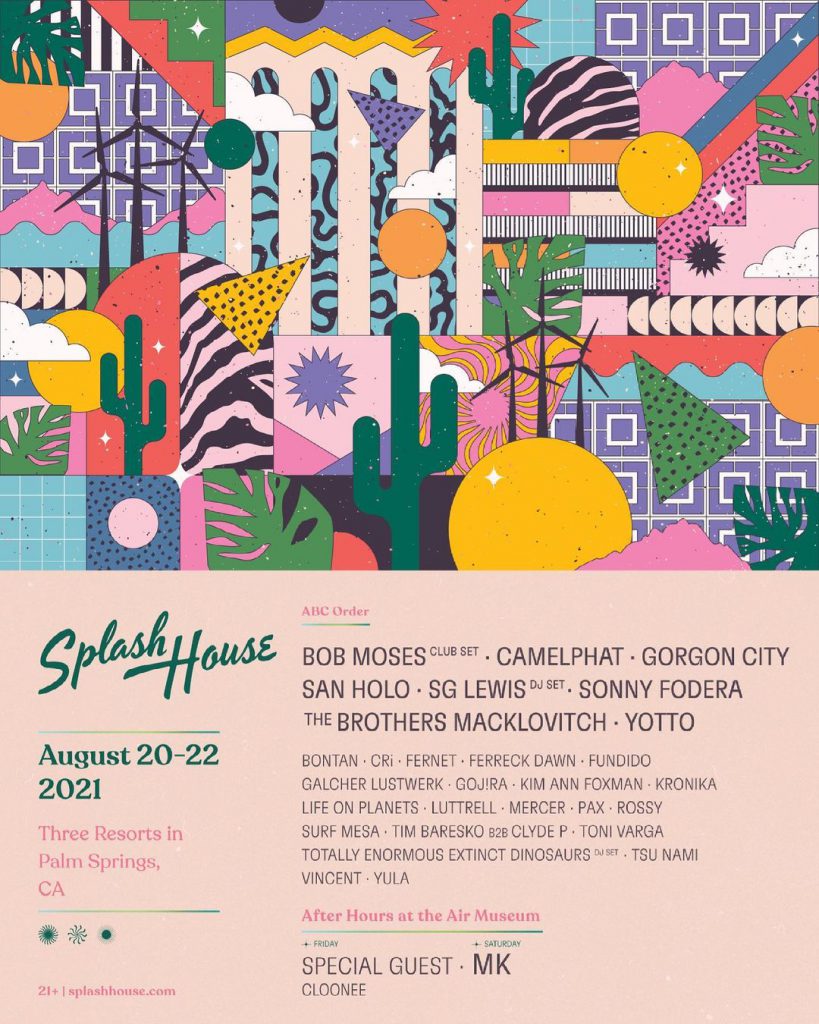 ---
Follow Vincent on Social Media:  
Website | Facebook | Twitter | Instagram | SoundCloud | YouTube