We sat down with Noizu after his heater-filled set at HARD Summer to talk about his latest release and upcoming Rave Alarm show with Dombresky!
---
If there's one artist who's been taking the house scene by storm as of late, it's Noizu. He's been dropping heaters left and right since 2017 while collaborating with big names in the scene and also releasing plenty of tunes on his record label Techne. With a load of fiery releases and a plethora of shows now under his belt, fans know that the future of Noizu is a bright one full of good vibes and house music that'll make you want to dance all night long.
Since we last spoke with the man himself in early 2019, he's surely been up quite a bit. Last year he released "Summer 91 (Looking Back)" which has taken the world by storm, has a jam-packed schedule with shows picking up after the pandemic, and has also been branching out with signing other artists to his label. And with his upcoming Rave Alarm show with Dombresky at the Hollywood Palladium this September as well, fans definitely have a lot to look forward to in the world of Noizu.
We recently caught up with Noizu after his hot HARD Summer set which rattled the Pink Stage with loads of high-energy and banging house heaters. Read on for more insight into his tour life, music production, upcoming projects, and more. So listen to "Middle" below and read on for the conversation!
---
Hannah: Hi Noizu! First of all, thanks for taking the time to chat with us today. What did it feel like to be back performing on stage after such a long time without live shows?
Noizu: It was amazing, it was really good. It's just so nice to play back in LA as well. Because LA is always a good place to play. The energy was really high, I definitely took it for granted before the pandemic. And then yeah, when it all went away, you kind of realize how much you miss it. So it's great to be back again.
Jessica: Yeah, awesome, I bet it was nice, it was even for us on the attendee side, so I can't imagine how nice it was for y'all artists to be back. Is it any different performing at HARD summer, with so many different genres, versus a typical rave? Do you notice anything different about the crowds or the atmosphere?
N: There's definitely more energy in a place like HARD, I think because the music they have is dubstep and hip-hop the crowd, in general, is a bit more amped. But I kind of just always try to play mostly my music. So I never really change my set to fit the festival, you know? So I mean, yeah, it is different for different festivals you play, depending on what kind of crowd it is. Like sometimes house festivals, the crowd's a bit more mellow. And they kind of just like, you know, bobbing their head. But HARD, that crowd's just like jumping up and down.
H: You just played four shows back to back in Portland, Denver, Albuquerque, and just now HARD, how do you find time to relax and recharge between shows, or just you just kind of keep the party going?
N: It is hard, you kind of have to focus on trying to eat healthy and try and get any sleep that you can. Actually, this weekend, I didn't really party. I actually tried to refrain just because I wanted to be fresh for HARD festival. But, yeah, sometimes it's easy to get carried away.
It also just depends on your schedule. Like, if your flights are crazy. Sometimes that's when it's hard. Or if you finish a show at 3am, and then you fly at like 9am, it's like, do you just stay up and party? Or do you try to sleep for two hours? I can't sleep on planes. So I sleep at the hotel or nothing.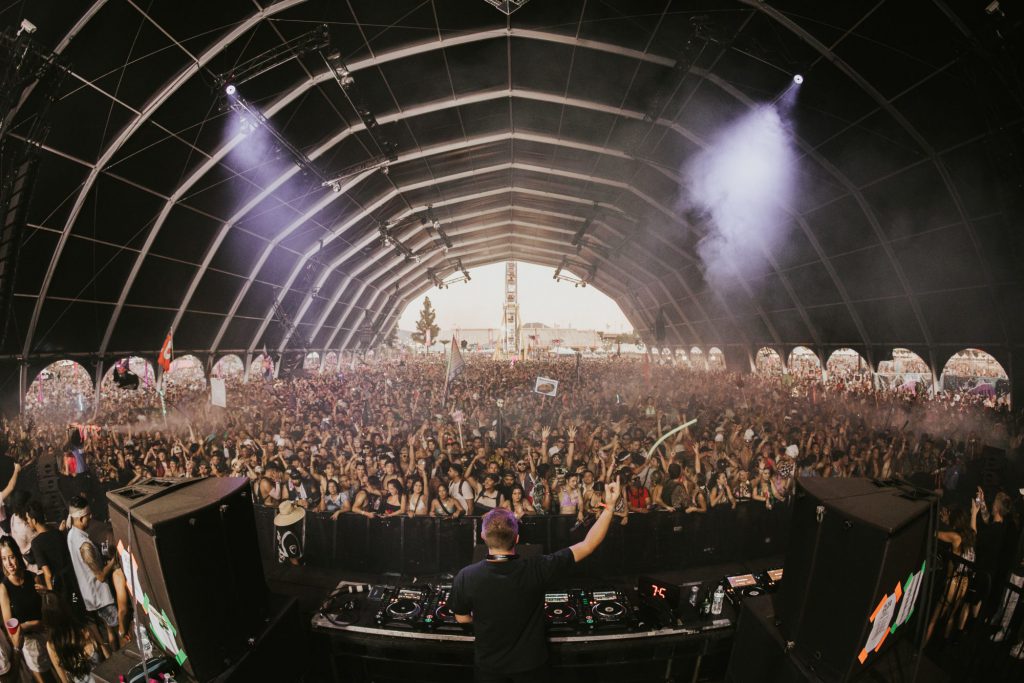 J: You dropped "Summer '91 (Looking Back)" during the pandemic when a lot of artists went a more laid-back, melodic route. I think that energy was something that we all didn't know we needed. What was your process behind creating an update track during that rough time?
N: Well, at the time, I was just listening to loads of 90s music. And it was hard because no one really knew, even though there was a scene, you didn't really know what was going on, because no one's playing shows. So without shows, scenes don't really move forward. So I was just looking back at 90's music, and I thought, let's try and make something like that. But obviously with a modern twist.
Then I wrote the instrumental, and then Annaca, a singer-songwriter, wrote the top line, and it just worked really well. And to be honest, I was really nervous about putting that song out. For some reason, I don't know why. But ended up being my success with some of this stuff.
I think it took four days in total from start to finish. I had the instrumental by day two, then we spent two days on the vocals and getting different versions together. So yeah, it was fun. It was a really good time.
H: Awesome. And your latest release, "Middle," explores a different side of your sound with lyrics that aren't necessarily the happiest or brightest. Is there a story behind this track?
N: Yeah, well, that was just more for Techne; anything that I release on Techne is mainly just for my DJ sets. So at that point, I was doing shows again, so I felt I needed something that was a bit harder, and just a bit more club-orientated. And then with the lyrics again, that was written by the same singer and writer, Annaca. So there was no kind of real thought process behind it, we just did a session. And it worked out well, and yeah, we put it out.
J: Nice. And then speaking of Techne, taking the initiative to start your own label to release your own records is a boss move. At what point did you decide to take it to that next level of signing other artists? What's been your experience having your own label?
N: Yeah, that was last year we decided to start doing that. Because we obviously are friends with loads of artists and DJs, so we always get sent music. And yeah, we just found there was a lot of good stuff coming in and no one had labels play songs. We were like, we should just do it. And it's always been something I've wanted to do as well, build a label. It just takes time. It's still early days, but we're gonna get there.
H: Your visuals are pretty funny, unique, and eye-catching, with an animated version of yourself doing different activities, like driving a car or dancing. What made you decide to make these visuals a key part of your branding?
N: We decided to do that from the start. I think it was just when we first started, there were a lot of DJs that all looked the same. And I don't know, we just thought it'd be interesting to kind of have something else to stand out, I suppose. Because you know, when you see flyers and posters for shows, every DJ wears the same thing, looks the same. So we were like, why don't we just make a cartoon? So we started! It's just trying to be fun, you know? Nothing too serious.
J: I love that. And finally, what's next for Noizu? And what can fans expect from your Rave Alarm LA show in September?
N: So me and Dom, we're working on some music together for the Rave Alarm show. We're doing the back-to-back in the Palladium at the end of the year, which I'm really excited about. And yeah, just new music, I have a few more remixes coming out, and lots of shows. It's a busy year!
---
Connect with Noizu on Social Media:
Facebook | Twitter | Instagram | SoundCloud