HAY! swung by to show us why he's the new bass buzz to keep an eye on with some stunning collabs and a major upcoming release.
---
With a thriving number of bass music artists, it's easy to overlook some of the fresh talents in the scene – but HAY! is one who should be on your radar. Hailing from Texas, this young bass music artist is already making some serious waves after first learning how to produce and DJ before he was 18. While originally influenced in the big room era of dance music, he grew to love a more bass-centered sound and soon began producing dubstep which then led him to the left-field trap and dark bass sound that he creates today.
Entering the production game at such a young age has definitely brought some advantages to HAY!. He's quickly learned the ropes and has received praise with his stunning releases on major labels such as Buygore and Heavyweight Records. The last two years have also been quite productive for him as well with some new ground shaking releases including his tune "Push" with best friend and fellow upcoming artist Pyro, as well as "Hit A Lick" with Freaky, featuring BluePill.
Now, as the scene recovers, HAY! has re-emerged in full force. He's relocated to Los Angeles and is continuing to work hard to bring the deep wubs his growing fanbase desires the most. With a new EP wrapped up and already signed to a major bass music label, this member of the future era of the bass scene definitely has some surprises in store, and we caught up with him for a quality chat to dive deeper into his mind. Listen to his guest mix and read on for the conversation.
Stream EDMID Guest Mix 284 || HAY! on SoundCloud:
---
Hey, HAY! Thanks so much for taking the time to sit down with us today. What were some of your first inspirations to begin producing music, and what led you to the genre of bass-heavy trap in particular? Can you share some of the artists that influenced you early on?
Funny story! I got into EDM when Big Room and Melbourne Bounce were at the forefront of the genre. I was around 12-13 at the time, was DJing, and really aspired to be the next Skrillex and a little later, Marshmello. This started during the "Cinema" era and ended shortly after the first iteration of "Joytime." I got to see the rise of both artists as a kid and was so fascinated.
As soon as I started to produce music around 16-17, a mentor introduced me to Dubstep. I fell in love with the more intense and dark energy. I was a pretty angsty kid and had a lot of tension to ease. I immediately wanted to imitate the likes of Virtual Riot & Herobust. After I learned some basic skills, I caught on to Liquid Stranger, Tipper, Jantsen, and LSDream. This was around the time I opened for Luzcid and Champagne Drip on the San Antonio stop of the Double Vision tour. I was sold and immediately fell in love with wook bass and left-field trap. That show was life-changing for me. I've never really looked back.
You've worked with Pyro often and you've shared that he's a childhood friend of yours. What is the chemistry between the two of you like when in the studio?
Cristian and I do and have done everything together, I consider him a brother. We're inseparable. It's interesting, we don't get in the studio together that often. While our friendship was certainly created because of music, most of it exists in normalcy. Our origin story could certainly be a series of multiple articles but to answer your question, when we create together, it just feels like I'm talking to my best friend. We understand the same concepts and can just build off each other very quickly no matter what genre, sound, or tempo we go for. I will say, he has a much better ear for rhythm than I do.
Can you share some of your creative processes with us? What tools and DAW do you use when sitting down to produce?
Sure! I'm scattered across the board creatively. As for DAW's, I generally write and work in Ableton or ProTools. Most of my process is all about sound design. My college degree is in sound design for film and television so that's a process I integrate a lot. I love to record and use my own samples. As for synthesis, I use a lot of wavetable and granular-based plugins.
While many artists have had to create their own path on their artistic journey, they've also received some help and advice along the way. What would you say is the most helpful tip you've received so far in your career and how did it help you grow?
The most helpful tip has been explained to me by many friends and mentors. Sometimes I feel like I made the mistake of not coming into the industry with an authentic story behind my brand. For a while, I switched between genres, attempted to imitate others, and did a lot of hiding behind those in my immediate circle. I guess it kind of worked but it's something I regret. I
would say if you're in this for more than just fun you need to take time to assess not only your skills but also the story that you find important to tell with your music. Only after you are confident about those two things should you begin to release music.
As a rising artist during the pandemic year, how would you say the year of quarantine affected you most? You've previously shared that you took some time for yourself this year, how do you think that affected your vision for Hay?
I did take a lot of time for myself, and for my mental health, which has been a very long road. Covid gave me the opportunity to refocus. Aside from spending time with friends and family this past year, I opted to follow the aforementioned advice and really solidify my brand messaging behind the scenes. I think this is what will ultimately help HAY! in the long run.
You're quite a young artist and you've already created a label, Barnyard Records. How did the idea come to fruition and what can we expect to see from it?
Love this question! I've always said I'm a marketer before an artist. I love the process of creating brands and cooperative concepts sometimes even above my music. With Barnyard, I wanted to have an outlet to be able to do my own marketing for releases. The plans for it in the next year are to really integrate it with HAY! so I can retain control of my creative decision-making.
Another huge benefit would be that I could continue to own my entire revenue stream outright. Barnyard does have agreements with several artists and we are working on pushing them through my release marketing strategy as well. The goal here would be to use it so that my team and I can gain experience from a more industry-focused sandbox. However, at this time, we are keeping it very small.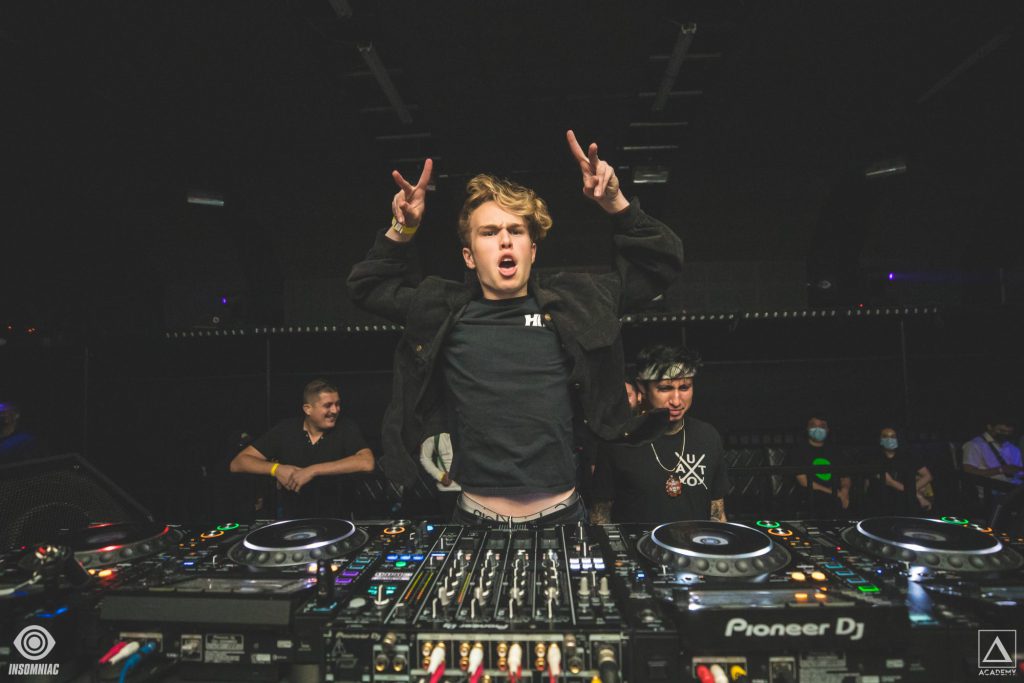 As a born and raised Texan, what do you feel makes the scene in Texas unique from other places you've attended or played shows at?
Mainly, I would say there isn't a ton of industry in Texas but this comment is the furthest from a diss. Everyone knows or has at least heard of everyone, and it is very helpful. Intercity networking is so valuable. I was raised in San Antonio but have peers that I know well all the way in Dallas and El Paso. It seems like Texas aims to circulate rising artists through its hot spots which creates an excellent growth pattern.
If you're a Texas-based artist and you work hard to make connections in the scene, you will get pushed through. Most want to see you win. I would say that that factor is the most notable. Secondly, Texan ravers are addicted to heavy bass and love to get extremely rowdy. This sometimes proves a little difficult with my subgenre but it's always a blast to pull the weirdest, heaviest stuff from my USB and see how it goes over every time I return.
On that note, can you share some of your favorite local venues or festivals that you think we should definitely make sure to catch when we come for a visit?
Absolutely. If you're in San Antonio, check out 800 Live when Vivid oversees production. You will be blown away. Locally, I also have attended and played at Hotel Discoteque, Burnhouse, Lush, Liv Ultra Lounge, and Cowboys Dance Hall. As for festivals, stay tuned to Electric Fiesta. Outside of San Antonio, Disco Donnie Presents runs Freaky Deaky and Ubbi Dubbi. In Austin, you have to check out Baked Up, Space Yacht, or Grimefest. Lights All Night in Dallas is another incredible option, you could also check out Bassession at The Green Elephant there as well. You really can't go wrong in Texas.
You previously also moved to Los Angeles from Texas. How has the transition been and what are your goals with this move?
My goal in moving was really to attend school but living in California has certainly played a huge factor in music as well. I now have direct access to all the friends I have been speaking with online for years. It is so much easier to network as a lot of key players in the scene also reside in Los Angeles. The transition has been easier than I expected.
Don't get me wrong, I miss the familiarity of home a lot but really appreciate being able to be more fast-paced. I like to ground myself emotionally in my friends and a significant other. Mentally, I have been preparing for this move since I was much younger. I always knew San Antonio couldn't be permanent with my desire to work in entertainment. I'm 20 now and need to focus on what makes me feel fulfilled. As for location, we will see what becomes most practical for my life in the future. I truly believe home is where the heart is and at this moment that is LA.
Finally, with half of the year now in the rear-view mirror, what can we expect from HAY! in the rest of 2021 and beyond?
Lots of music, maybe some shows. Kind of simple! I'm super excited about an EP I'm working on called "Novel." It's kind of a rebirth for me as an artist. I'll put it out when it's right. For the rest of 2021, I'm not focused on pushing art through the process just because. I want to really focus on timing and story with my releases and create longevity through that. All I know is that everyone who has been paying attention will see my strategy evolve.
I wanted to also say thank you very much for having me and for reading. I've always looked up to EDM Identity and am honored to have been included here. I'm truly wishing you all an excellent rest of the year.
---
Follow Hay on Social Media:
Facebook | Twitter | Instagram | SoundCloud