EDX is set to embark on a huge summer tour that will take him across North America to cities like New York, San Diego, Austin, and more.
---
As the scene continues to ramp back up in North America, artists and brands have delivered an insane amount of shows for those who have been craving live events after a year without them. One of the artists who has heard the call back to the stage is none other than EDX, who has become renowned for his sensational sets and magical tunes over the years.
Riding the wave of his singles "Ecletric" and "Take Me Home" with Jess Ball, along with a number of shows already in the books in 2021, EDX has now announced his official USA Summer Tour. Kicking off on Friday, August 6 with a NoXcuses Boat Cruise in New York City, he will then traverse the country to take the stage in cities like Tampa, San Diego, Dallas, Austin, Washington DC, and San Francisco, while also making multiple stops in Las Vegas at Marquee. And that final date on the flyer in Arizona during Goldrush isn't the last as there are more cities that are still to be announced in the coming weeks.
Related: Want to get inside the mind of EDX? Check out our interview with him where he discusses his tune "Eclectric" and more.
Paired with the dates of his USA Summer Tour comes the news that EDX has a fresh tune in store for his fans around the world. "Vommuli" is due out on August 20 via his imprint, PinkStar, and will be the first club-ready tune to grace speakers since the aforementioned track "Ecletric" re-energized us all back in April this year.
Check out the cities that EDX will be heading to on his tour below, grab tickets to the shows via his website, and stay tuned for more from the #NoXcuses boss as we dive deeper into 2021!
---
EDX USA Summer Tour 2021 – Dates & Venues: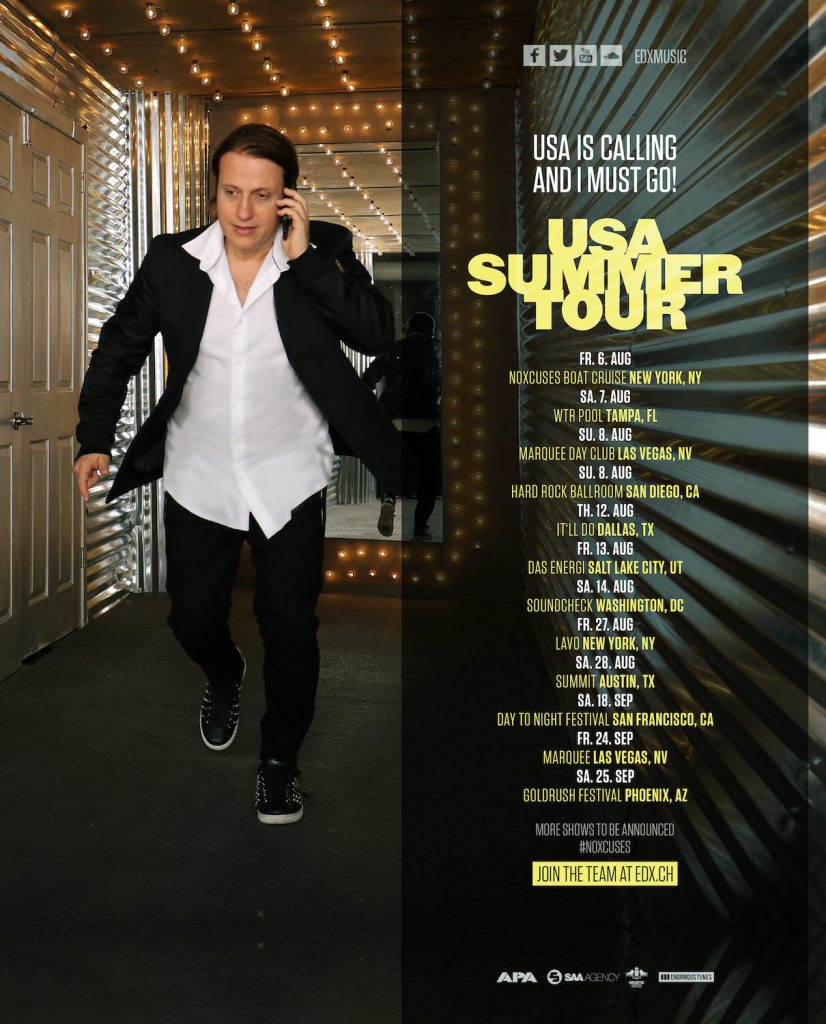 ---
EDX USA Summer Tour 2021 – Dates & Venues:
August 6 – No Xcuses Boat Cruise, New York, NY
August 7 – WTR Pool, Tampa, FL
August 8 – Marquee Day Club, Las Vegas, NV
August 8 – Hard Rock Ballroom, San Diego, CA
August 12 – It'll Do, Dallas, TX
August 13 – Das Energi, Salt Lake City, UT
August 14 – Soundcheck, Washington, DC
August 27 – Lavo, New York, NY
August 28 – Summit, Austin, TX
September 18 – Day To Night Festival, San Francisco, CA
September 24 – Marquee, Las Vegas, NV
September 25 – Goldrush Festival, Phoenix, AZ
Many more dates to be announced
---
Connect with EDX on Social Media:
Website | Facebook | Twitter | Instagram | SoundCloud | YouTube