After canceling their edition in May, Movement Detroit announced that they will not be hosting the festival until 2022 due to the pandemic.
---
While some festivals in North America have moved forward as planned or with slightly different dates this year, others are continuing to set their sights on greener pastures in 2022. The latest festival to announce that the show won't go on this year is Movement Detroit. Previously announcing that their edition would not be taking place in May, today, PAXAHAU sent an email out to those who had purchased passes stating that the show will not go on as planned in 2021.
"We truly appreciate your continued patience and support as our team has been navigating the pandemic and trying to make plans for the future," the email from PAXAHAU reads. "After many discussions over the last few months, we have learned that producing a Movement festival in Hart Plaza this fall is not realistic. It's extremely important to us that we provide our attendees and artists with the full Movement experience that continues to bring people together from across the globe, sharing their love of music and the Detroit community."
The Movement Detroit team goes on to say that they plan for the full festival to return in May 2022 and that they will be automatically issuing refunds to all ticket holders via SeeTickets over the next 30 days. All refunds will be sent to the card originally used for the transaction/payment.
Further, PAXAHAU has also announced that a Movement Ultimate Fan Appreciation Sale will be held for those who have patiently supported Movement Detroit during this difficult time. This special advance ticket sale will be the best opportunity to lock in your experience at the festival when it returns in 2022.
Stay tuned for more information about other cancellations and postponements from around the world as we continue to follow the impact coronavirus has on the festival season this year.
---
Read the email from Movement Detroit: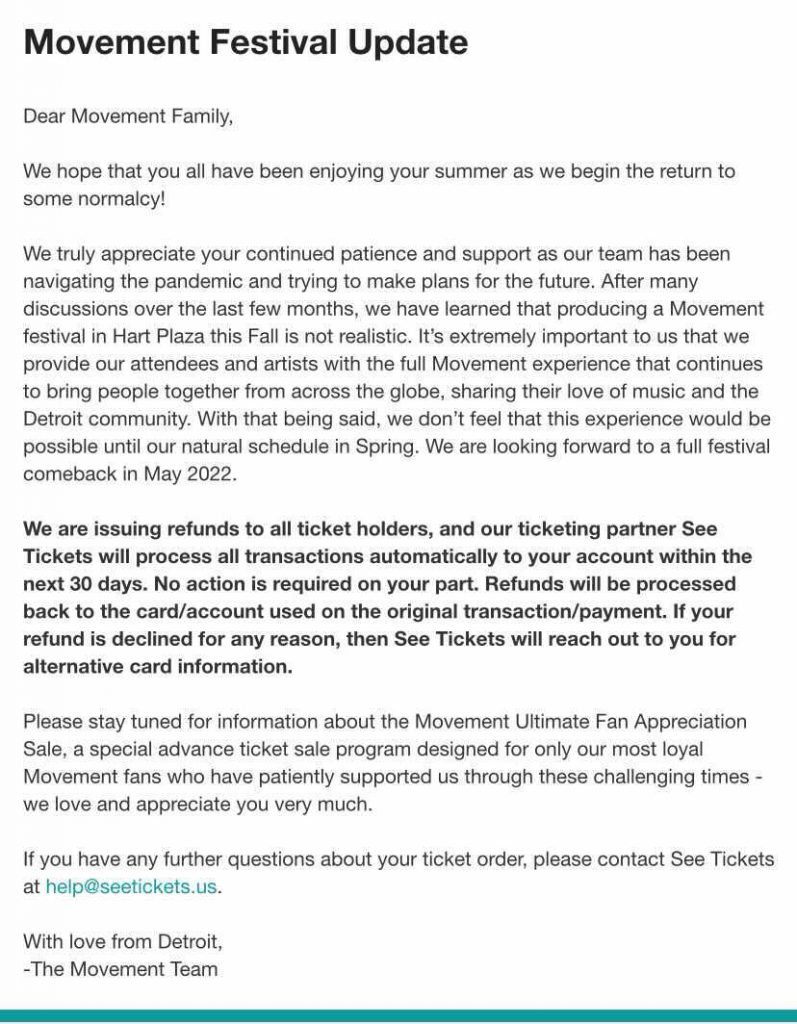 ---
Connect with Movement Music Festival on Social Media: