Iconic music festival Caprices returns to the Swiss Alps for two weeks in September with Bedouin, DJ Tennis, Hot Since 82, and more.
---
Caprices Festival, the scenic festival that takes place up in Crans-Montana, Switzerland, returns for another edition over the weekends of September 17-19 and 24-26 this year. The festival combines the views of the Swiss Alps with house and techno grooves. While the brand did slow down thanks to the COVID-19 pandemic, they appear ready to take us all up the mountain for an experience unlike any other.
In 2018, we shared how the festival offers something unique to experience over many of the other more well-known options out there. We recommended it as a travel destination festival and that recommendation remains today. However, things continued to evolve on the festival's structure so let us share what's new. The old Modernity Stage that called the night hours home now focuses on the daytime vibes. As the curtain falls on the day and we turn the page towards the night two new experiences take hold: the 2020-revealed Forest Stage (in a 360-degree cable car station) and the brand new Signal Stage, buried deeper into the forest for the fans of night-time techno.
The three stages will play out to some brand hosts as well during this special September edition. The Modernity Stage remains the bastion of Caprices Festival's own image. It will host the likes of Ricardo Villalobos B2B Luciano (4 hour set), DJ Tennis, Blond:ish, Lee Burridge, and more. The Forest Stage taps international brands Epizode Festival (Vietnam), Picnic (London) & UNUM Festival (Albania) and brings out talents like Francesco Del Garda, Lekë, Rostam, Tyoma, and Zendid. Finally, The Signal Stage offers hosts Movement Festival (Italy), Sunrise Events (Romania), and Techno V (The Netherlands) with big talents Deborah De Luca, Hot Since 82, and Marco Bailey.
Ready to travel the to Swiss Alps this September? Lock in your tickets now!
---
Caprices Festival 2021 – Phase Two Lineup: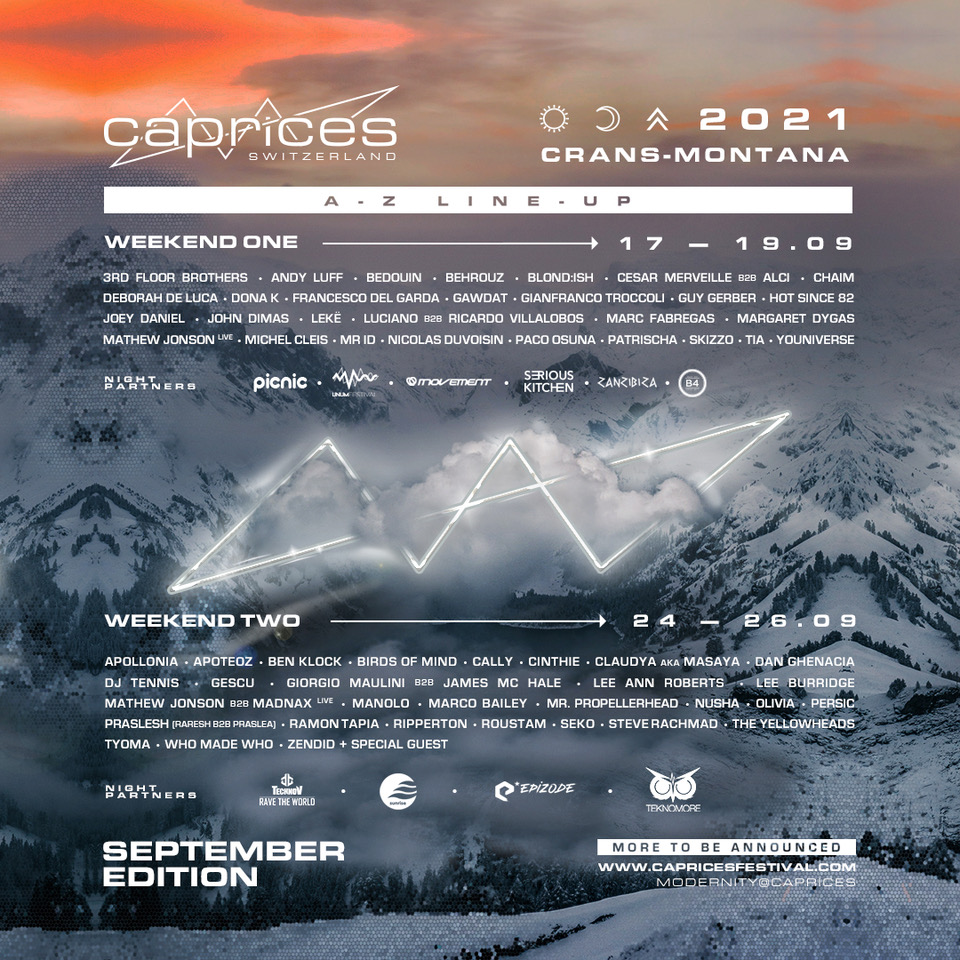 ---
Caprices Festival 2021 – Phase Two Lineup By Artist:
Weekend One (17 – 19 September)
Modernity Stage: Bedouin, Behrouz, Blondish, Cesar Marveille b2b Alci, Chaim, Guy Gerber, Luciano b2b Ricardo Villalobos, Mathew Jonson (live), Mr ID, Nicolas Duvoisin, Patrischa, Tia
Forest Stage: Andy Luff, Dona K, Francesco Del Garda, John Dimas, Lekë, Margaret Dygas
Signal Stage: 3rd Floor Brothers, Deborah De Luca, Hot Since 82, Joey Daniel, Michel Cleis, Paco Osuna, Youniverse
Weekend Two (24 – 26 September)
Modernity Stage: Apollonia, DJ Tennis, Ben Klock, Birds Of Mind, Claudya aka Masaya, Lee Burridge, Manolo, Ripperton, Steve Rachmad, Who Made Who + Special Guest
Forest Stage: Apoteoz, Cinthie, Dan Ghenacia, Giorgio Maulini b2b James Mc Hale, Mathew Jonson b2b Madnax Live, Rostam, Tyoma, Zendid
Signal Stage: Cally, Gescu, Lee Ann, Marco Bailey, Nusha, Praslesh (Raresh b2b Praslea), Ramon Tapia, The YellowHeads
---
Follow Caprices Festival on Social Media: