All Day I Dream is celebrating a decade of stunning releases and shows with a world tour stopping in London, Mykonos, Los Angeles, and more.
---
As one of the premiere labels and party-throwers in the scene, All Day I Dream (ADID) has built up quite a reputation over the years. Helmed by Lee Burridge, they have captured the hearts of dance music lovers around the world with their dream-like releases, memorable showcases, and overall good vibes. Now, All Day I Dream is marking a decade of their global growth with the dates and more details for their 2021 World Tour.
Over the next four months, Lee Burridge and the All Day I Dream crew embarking on 17 stop tour that will touch down in picturesque locations and large cities alike. The festivities began at Scorpios, their home base in Mykonos, where they will touch down again for four additional dates throughout the run of this tour. ADID will also take up a residency this summer at Cova Santa on the White Isle (Ibiza) with multiple showcases happening all summer long before ending the tour there in October.
But those two residencies aren't all that the All Day I Dream crew has in store for their fans as those in London will be delighted to hear that they are set to take over Studio 338 on August 1. They also are set to cross the Atlantic and make their way to the US for dates in Brooklyn, Los Angeles, Chicago, Denver, and San Francisco as well.
Paired with the news of their 2021 World Tour, ADID also unveiled Lost Desert & Friends II. This new EP features four fresh collaborations that see Lost Desert team up with the likes of Lee Burridge, Amand, Reigan, Hermanez, and Junior to induce those dreamy tones that the world really needs right now. Listen to it on your preferred platform and let your worries melt away.
Check out the full list of dates for the All Day I Dream 2021 World Tour below, grab tickets via their website, and let us know if you'll be catching them when they come to a city near you this year!
---
All Day I Dream 2021 World Tour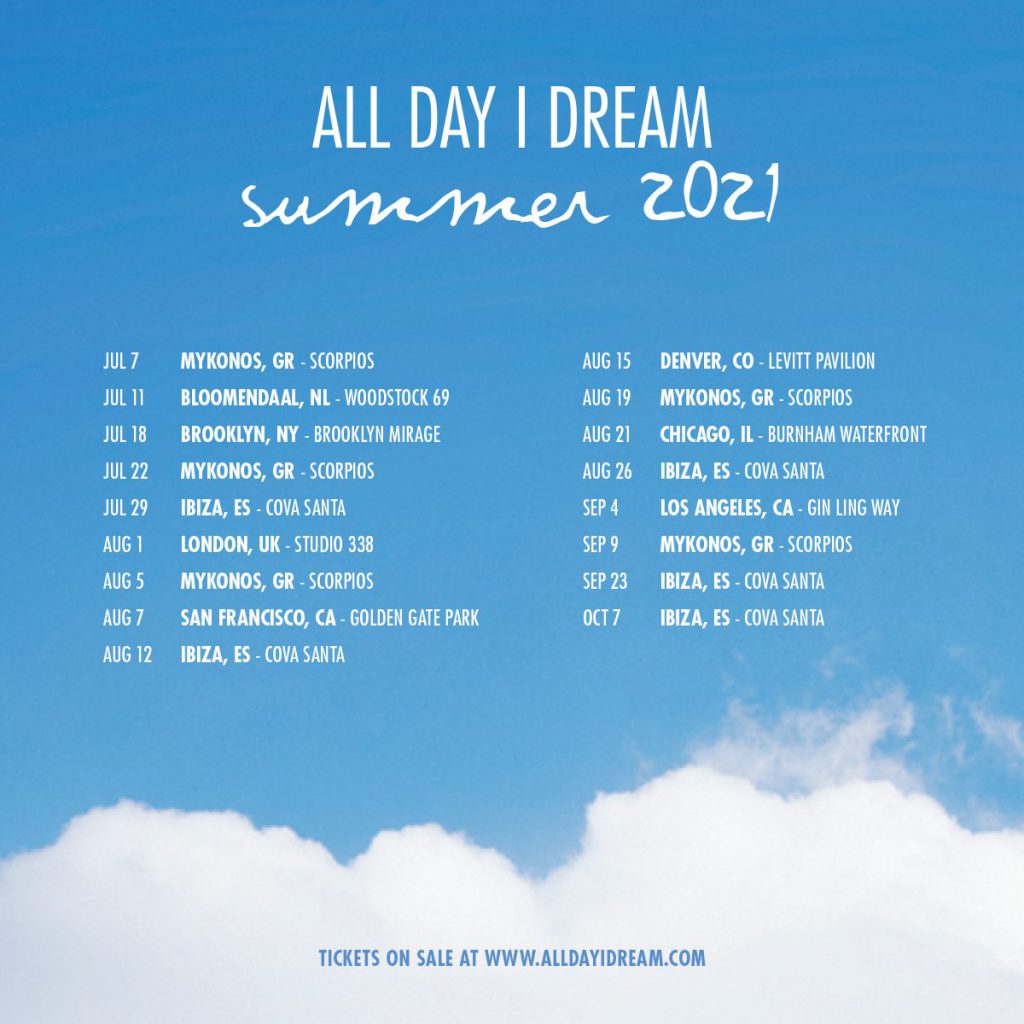 ---
All Day I Dream 2021 World Tour – Dates and Venues:
July 7 – Mykonos, GR – Scorpios
July 11 – Bloomendaal, NL – Woodstock 69
July 18 – Brooklyn, NY – Brooklyn Mirage
July 22 – Mykonos, GR – Scorpios
July 29 – Ibiza, ES – Cova Santa
August 1 – London, UK – Studio 338
August 5 – Mykonos, GR – Scorpios
August 7 – San Francisco, CA – Golden Gate Park
August 12 – Ibiza, ES – Cova Santa
August 15 – Denver, CO – Levitt Pavilion
August 19 – Mykonos, GR – Scorpios
August 21 – Chicago, IL – Burnham Waterfront
August 26 – Ibiza, ES – Cova Santa
September 4 – Los Angeles, CA – Gin Ling Way
September 9 – Mykonos, GR – Scorpios
September 23 – Ibiza, ES- Cova Santa
October 7 – Ibiza, ES – Cova Santa
---
Follow All Day I Dream:
Website | Facebook | Twitter | Instagram | SoundCloud