Underground producers Chark and PELOQUIN combined their musical abilities to create ARTHROLORD – an EP filled with massive sounds.
---
Summer is here and the underground bass scene is thriving fully with new music dropping right and left with sounds that are both fresh and addicting. Two artists that are exceptional at bringing something new to the table are Chark and PELOQUIN. Chark is a beloved staple of the Wavecraft crew and has brooding and otherworldly soundscapes. PELOQUIN also has a knack for soul snatching sounds and has released on labels like The Untz and Rapture Studios. Now, the two have come together to craft up their EP and next Wavecraft release, ARTHROLORD.
Consisting of five tracks, ARTHROLORD is sure to have listeners gasping for air through its entirety. Chark and PELOQUIN display an impressive sound design that's absolutely bonkers – you can feel the energy they poured into each tune. As soon as this EP begins, make sure you buckle up and prepare for the wild ride you're about to embark on because it's clear that these artist's tasteful styles feel like they were meant to be together.
Stream the ARTHROLORD EP on your preferred music platform, let us know your favorite track in the comments, and read for my take on its tracks!
Stream Chark x PELOQUIN – ARTHROLORD on SoundCloud:
---
There is no better way to start off this EP than with the sounds on "ARRIVAL."
PELOQUIN takes the lead with "ARRIVAL" and instantly pulls you into this dark, haunting place. If evil creatures were to surface from their underground caverns, the mood of this track is how it would feel on the planet. Bone-chilling synths and distorted bass that will rip through a set of speakers fill the track as PELOQUIN gives listeners no time to catch their breath.
Keeping up with the vibes set in the first track, Chark summons a "CREATURE" from deep in the underworld. The listener is met once again with tasteful distortions that will send chills up their spine. Listening to this track might just have you looking over your shoulder for fear of what lurks in the dark.
Then, Chark and PELOQUIN are sure to have jaws dropping when people hear "ARTHROLORD." Not only is it the title track, but it's also the track that saw them combine their brilliant minds together to create. The feelings and sounds that this EP puts forth are chilling and haunting – but in the best possible way. You can hear each element that these two brought into the studio and the result is pure bass bliss.
"NEO.SAPIAN" is another one from PELOQUIN that will have you questioning your own reality. Maybe your life is just a dream. If you've ever been lost in the woods at night, this track will stir up some memories with its slow tempo and bassline packed with murky, deep sounds.
Finally, Chark brings listeners home with "COLONY." This stood out from the rest of the EP for the mere fact it was mostly just a collection of different sounds. While there wasn't a beat per se, something about the sounds found within this track pulls you in and hypnotizes your mind. It acts as a perfect end to this spooky journey, and if you told me that it was from the end credits of a horror flick I'd believe you instantly.
If you have yet to listen to either PELOQUIN or Chark, this EP will have you quickly wanting to dig deeper into their discographies. Stay tuned for more releases from both artists, but we can only hope they'll come together to create some magic in the future as well.
---
Chark x PELOQUIN – ARTHROLORD – Tracklist:
PELOQUIN – ARRIVAL
Chark – CREATURE
Chark x PELOQUIN – ARTHROLORD
PELOQUIN – NEO.SAPIAN
Chark – COLONY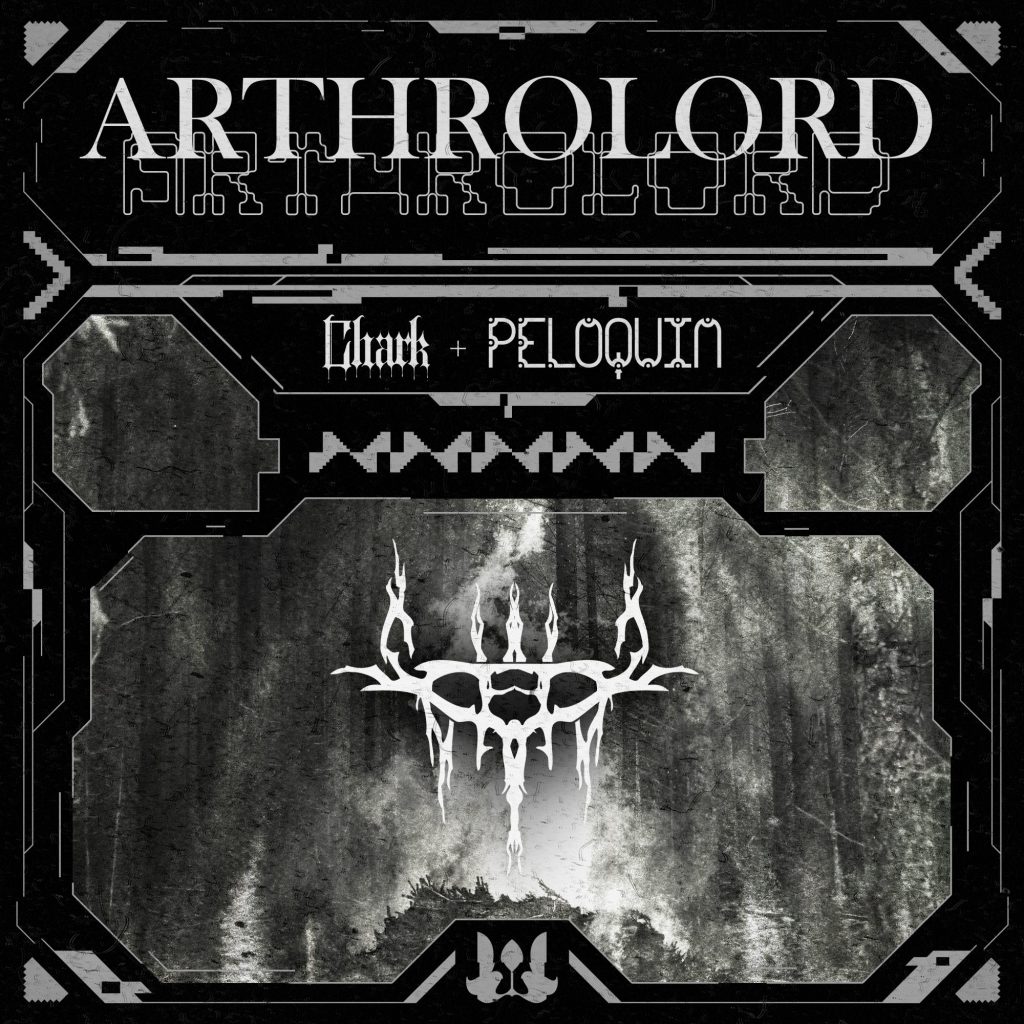 ---
Follow Chark on Social Media:
Facebook | Twitter | Instagram | SoundCloud | Bandcamp
Follow PELOQUIN on Social Media:
Website | Facebook | Twitter | Instagram | SoundCloud | YouTube | Bandcamp