Graydient Collective's Gallery Sessions series is set to host R4CSCO, Psypherix, ChrisWashArt, and HD-4884 throughout the month of July.
---
Graydient Collective has continued to press on as one of the dance music scene's burgeoning brands, and they have no plans on slowing down anytime soon. Since the debut of their Gallery Sessions series on Twitch, the weekly showcase has featured some dynamic artists who have spun everything from progressive house to driving techno with names like Kindrid, Dezza, Rhett, Jeff Ozmits, and their fearless leader Julian Gray, gracing the virtual stage.
Now, after delivering some heat in June, Graydient Collective looks to continue their series in the month of July and is set to feature another offering of artists that are sure to throw down some wicked sets. Kicking off the month on July 4 is R4CSCO, an artist who has made Twitch her home and put together a number of charity streams over the past year for charities like Mind with her sidekick, Velvet the Lazy Greyhound, as the center of attention.
Related: Did you miss out on past editions of the Gallery Sessions series? Head over to Graydient Collective's YouTube channel to dive into the archived performances.
Sunday, July 11 is set to bring Psypherix to the stage. Describing themselves as a "prototype android programmed with an advanced A.I. that generates data that resembles Trance and other subgenres of EDM," we can only expect some unique soundscapes to explore for this one. Then, just after the midpoint of the month on July 18, ChrisWashArt will be changing things up and bringing a Visual Arts Stream to the channel. If you missed the last time they featured some artists back in March, then this is your chance to immerse yourself in a different side of the collective.
The final artist to join the series in the month of July is HD-4884 who is sure to decimate your mind with stunning midtempo sounds. Recently releasing "Portals" with HVDES and throwing down a massive remix of "Show Me Love" earlier this year, we can't wait to see what will be spun during this set to carry us over the hump of 2021.
Make sure to follow Graydient Collective on Facebook and Twitch so you know the moment they go live, watch each episode below, and stay tuned for more from this fantastic group of artists in 2021!
Tune in to Graydient Collective's Gallery Sessions series on Twitch:
---
Graydient Sessions – July 2021 Schedule: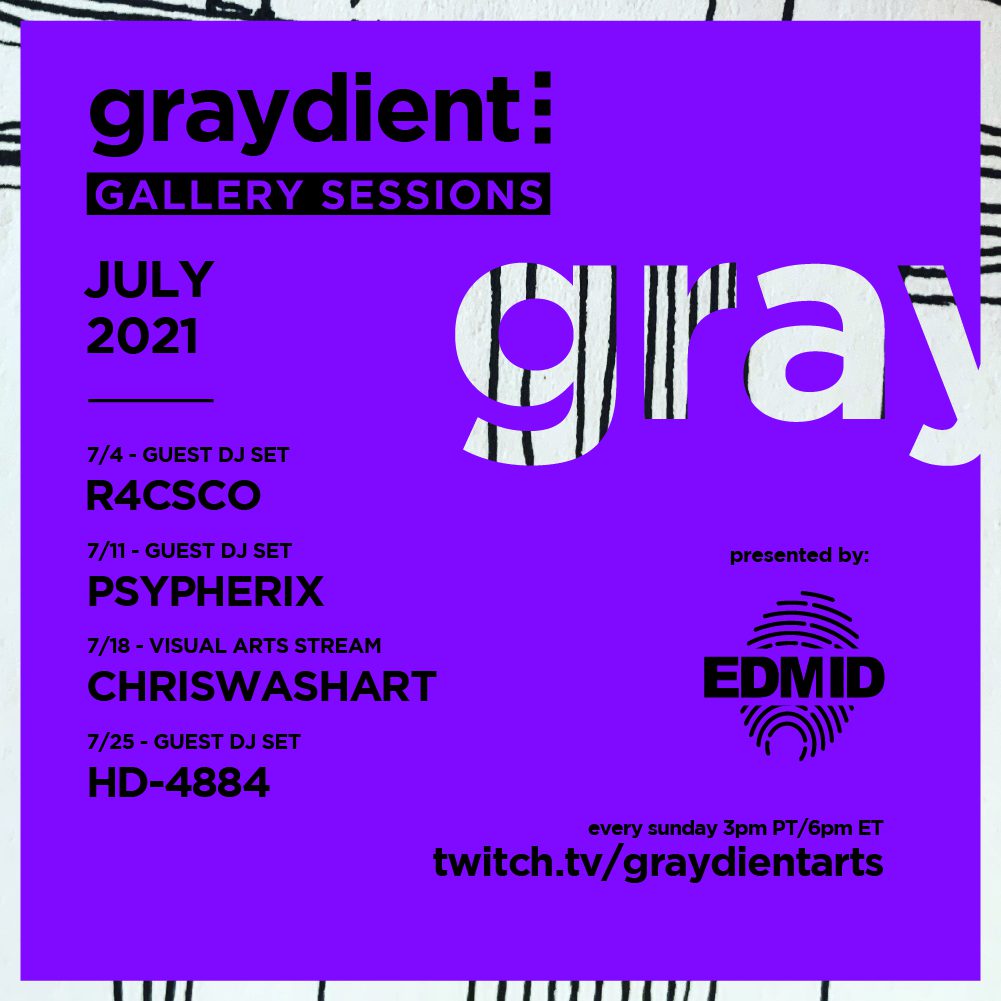 ---
Follow Graydient Collective on Social Media:
Website | Facebook | Twitter | Instagram | SoundCloud | YouTube | Twitch